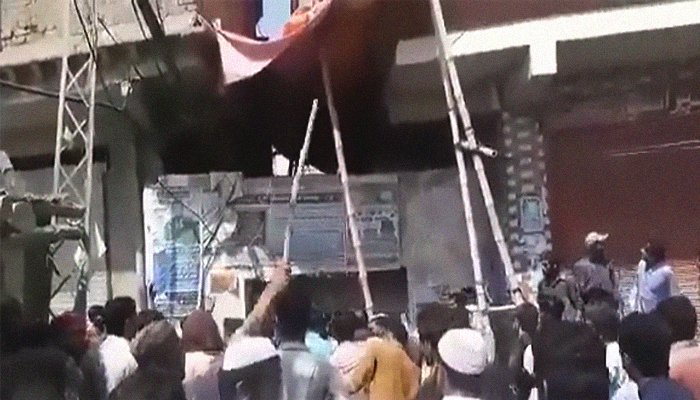 Mob violence targeting the Hindu community consumed Ghotki, Sindh on Sunday following blasphemy accusations against the principal of a local school.
The father of a student filed a FIR (First Information Report) against the Hindu principal of Sindh Public School in Ghotki for passing derogatory remarks against Prophet Muhammad (S.A.W) on Saturday. Shortly after the FIR was registered, angry protesters created a riot-like situation in the small town and its adjoining areas.
Read: Pakistan Loses Another Son, Professor Khalid Hameed, To Blasphemy Accusation And We Cannot Keep Count Anymore!
As per reports and a statement made by PTI MNA, Ramesh Kumar, three Hindu temples as well as the building of Sindh Public School was attacked by the mob. This statement was supplemented by viral videos and images shared by human rights groups on social media.
Additional Inspector General of Police, Jamil Ahmed also took to Twitter confirming the volatile situation in Ghotki following the blasphemy accusation, assuring that the police was doing its best to deal with the situation "…ina cool, calculated, impartial and professional manner."
Read: Why Asia Bibi's Acquittal In The Controversial Blasphemy Case Is Good News For Pakistan!
A Local mullah, who goes by the alias, Mian Miththoo has been accused of conspiring against the Hindu principal and inciting violence in the district.
The cleric, who seems to enjoy access to power corridors has also been accused for kidnapping and forcefully converting Hindu girls in Ghotki and other parts of Sindh.
A blasphemy case has been registered against 50 protesters accused of ransacking three Hindu temples.
The accused principal has been taken into protective custody and PTI MNA Ramesh Kumar was assured of his protection by the local police.
Do you have anything to say about the mob violence in Ghotki, Sindh following the blasphemy accusation? Share your views in the comments below.