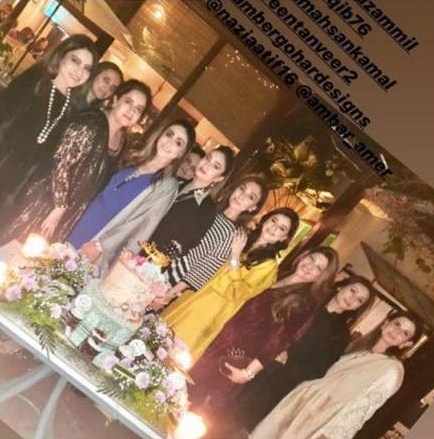 Coronavirus aka COVID-19 is spreading like wildfire in Pakistan but the desis just can't seem to understand the severity of the situation. Literate or not, it is proving hard across the board to convince Pakistanis to socially distance themselves from others to contain the spread of the novel virus.
Nazia Gulzar, who is the sister of ex-senator, Waqar Gulzar, is one of the desi elitists who went against all the advised precautionary measures to mingle in large gatherings despite having tested positive for coronavirus.
While the whole world was urging people to stay home and avoid human contact, our Lahori elitist seemed to think itself above the pandemic. During the last couple of weeks Instagram was visibly flooded with pictures of the rich and fancy partying and attending social gatherings in huge numbers – and dare I say – without a shred of shame or concern.
Nazia Gulzar attended a social gathering of around 60 people in the Gulberg area AFTER being tested positive for coronavirus and she might just have infected scores of people!
Also Read: 17 Funny Memes That'll Help You Stay Sane Amid The Coronavirus Panic
Authorities have since quarantined all those involved at the gathering and the residents of the Gulzar House. Gulzar House has been sealed and tests are being conducted to check the spread of the virus. Nazia Gulzar has been admitted at Mayo Hospital but people are enraged at her ignorant behavior.
At this point it is important to understand that social distancing not merely about protecting one's own self from the deadly virus but more so about slowing down its spread. And the only viable way to slacken the pace of the pandemic's spread is to drastically minimize human contact.
In a nutshell, for the sake of the whole human-race and in the interest of saving the country's fragile healthcare system from a complete breakdown: PLEASE STAY AT HOME!