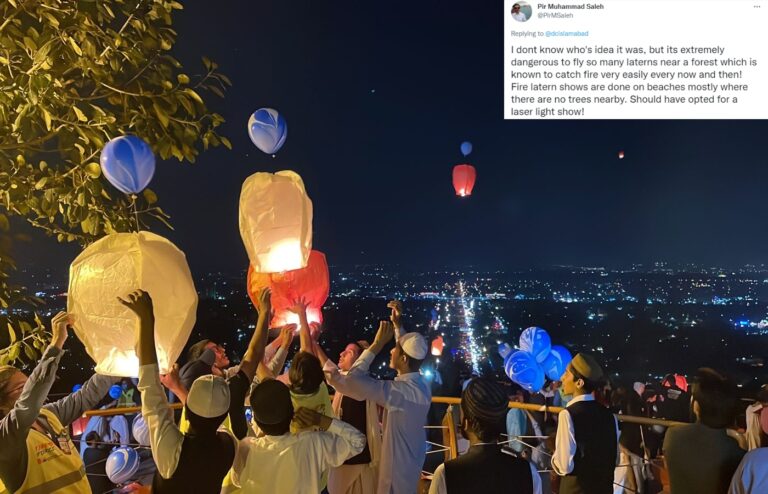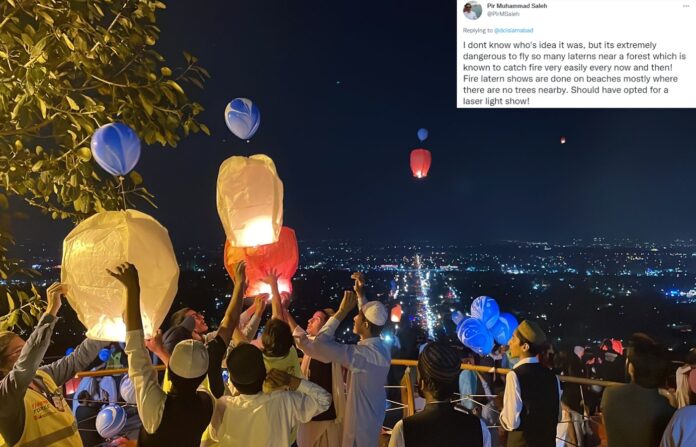 The District Administration in Islamabad celebrated Eid Milad un Nabi (SAW) with religious fervor on Tuesday. To commemorate the birth of the Last Prophet (PBUH), the government of the capital decided to fly helium lanterns at Margalla Hills.
The Office of the deputy commissioner announced the celebration on its official Facebook page.
Read: These 7 Memes About DC Islamabad Hamza Shafqaat Will Make You Snort-Laugh
Since the weather has gotten chilly, and because it is windy in Islamabad at night, the temperature wasn't favourable to fly the lanterns at the hills. They could have gone to places and put the nearby forests on fire.
Deputy Commissioner, Hamza Shafqaat took to Twitter to update about the event, saying that there were fire experts with them to keep any unforeseen situation under control.
However, the Isloo-ites were not ready to buy this lack of judgment from the administration's end. They immediately took to Twitter to express their concerns and anger.
One of the concerned shehris pointed out that this was not a safe decision in this weather and the administration should have opted for a different place to carry out this activity. Moreover, he suggested that a laser light show would have been a more suitable option for this place and weather conditions.
I dont know who's idea it was, but its extremely dangerous to fly so many laterns near a forest which is known to catch fire very easily every now and then! Fire latern shows are done on beaches mostly where there are no trees nearby. Should have opted for a laser light show!

— Pir Muhammad Saleh (@PirMSaleh) October 19, 2021
"City administration could have used some common sense before planning a lantern show at #MargallaHills which would have proven dangerous had the trees caught fire. I wonder why @CDAthecapital did not take advice from the 'fire experts' before planning such an event," wrote an angry resident.
"It was a bad idea to begin with. Who sets off lanterns in an area where wildfires can occur?" asked writer Shoaib Taimur.
Some of them were just shocked to see helium balloons tied to the lanterns flying at Margalla Hills in Islamabad. They pointed out that lanterns can fly on their own and do not need balloons for support.
After endless criticism, DC Islamabad had something to say in his defense.
He even apologized for the miscalculation.
And this is how he ended it all…
Have something else to add to the story? Share in the comments.