Recently, Asim Azhar rubbished rumors of his engagement to newly emerging model, Meerub Ali, as there was news floating about the same.
As media houses went crazy speculating the alleged relationship, a screenshot of the singer's conversation went viral on social media. In the image, the text revealed Azhar's conversation with a person where he clearly denied the rumors of his engagement with Ali.
Read: A Look Back At The Life Of 'Tragedy King,' Dilip Kumar ( 1922-2021)
It was an Instagram message, where Asim requested his fan to not spread rumors about him and Ali like that as it could affect his family and friends. "She's [Merub] a really good family friend of mine, I consider her just like my sister and I request you to please remove the posts portraying wrong messages," it read.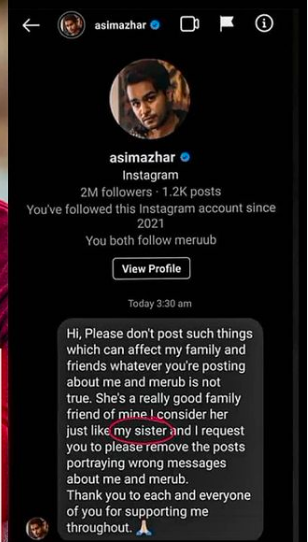 However, there's a twist to it!
Asim Azhar took to social media to dispel the rumors himself, but not about what you think. He didn't deny the rumors of his engagement, he only called the screenshot 'FAKE!'
Read: Fashion Disasters At Hum Style Awards Trigger A Meme Storm!
"The screenshot floating around of my chat with a fan is FAKE. I request all to not spread it any further," the singer wrote, clearly denying the conversation with his fans.
Azhar assured everyone that if anything happens in his life, he will directly make an announcement.
Read: Order Scented Candles From These 5 e-Stores To Unwind & Thank Me Later!
This got his fans thinking and talking ke daal mein kuch tau kala hai. Moreover, they asked him to announce it already and stop giving his fans mini heart attacks.
What do you have to say about the engagement rumors of Asim Azhar? Write it down in the comments.