Famous TV presenter, VJ, and actress Anoushey Ashraf shared some essential tips for her followers on how to get away from a toxic relationship, during a Q&A session on Instagram.
Read: Anoushey Ashraf's DMs Are A Beautiful Proof Of Women Lifting Up Women
Celebrities, influencers and many other people with a substantial following on the photo-sharing app, regularly do these sessions with their fans to either catch up with them, give them some sneak peaks into their lives, or to simply answer their queries.
In a similar episode, the well-known VJ answered a question regarding toxic relationships and how to move on from them.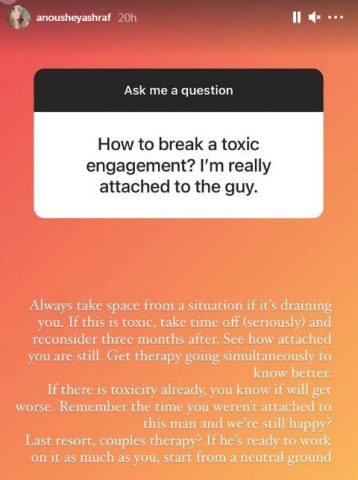 Anoushey advised her to "Always take space from a situation if it's draining you. If this is toxic, take time off (seriously) and reconsider three months after."
Read: Syra Yousuf & Sheheryar Munawar Did A Shoot And The Internet Is Losing Its Mind
The RJ suggested her follower to seek therapy to get to know the situation better. She furthered that if toxicity already exists, it will get worse.
Ashraf recommended her to remember the time she was single and happy to know how it felt without him. Furthermore, she suggested couples therapy as the "last resort." "If he's ready to work on it as much as you, start from a neutral ground."
Another person asked her if a man can make a loyal husband if he's already engaged to someone else?
"Don't know about him but why exactly do you want to stay with such a man?" Anoushey prompted.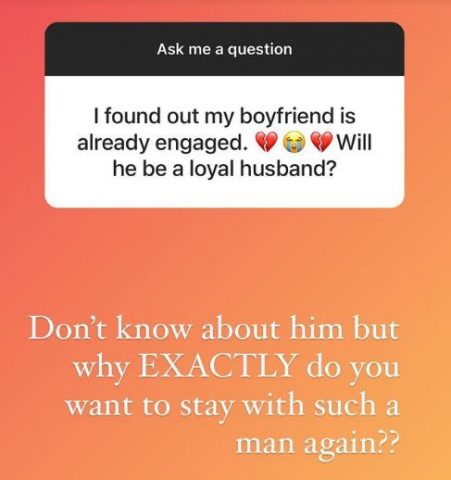 Tbh, we absolutely agree with Anoushey Ashraf on that. Well, that person is a chalta phirta red flag, get over him already!
Do you agree with what Anoushey Ashraf said about getting over a toxic relationship? Let us know in the comments.