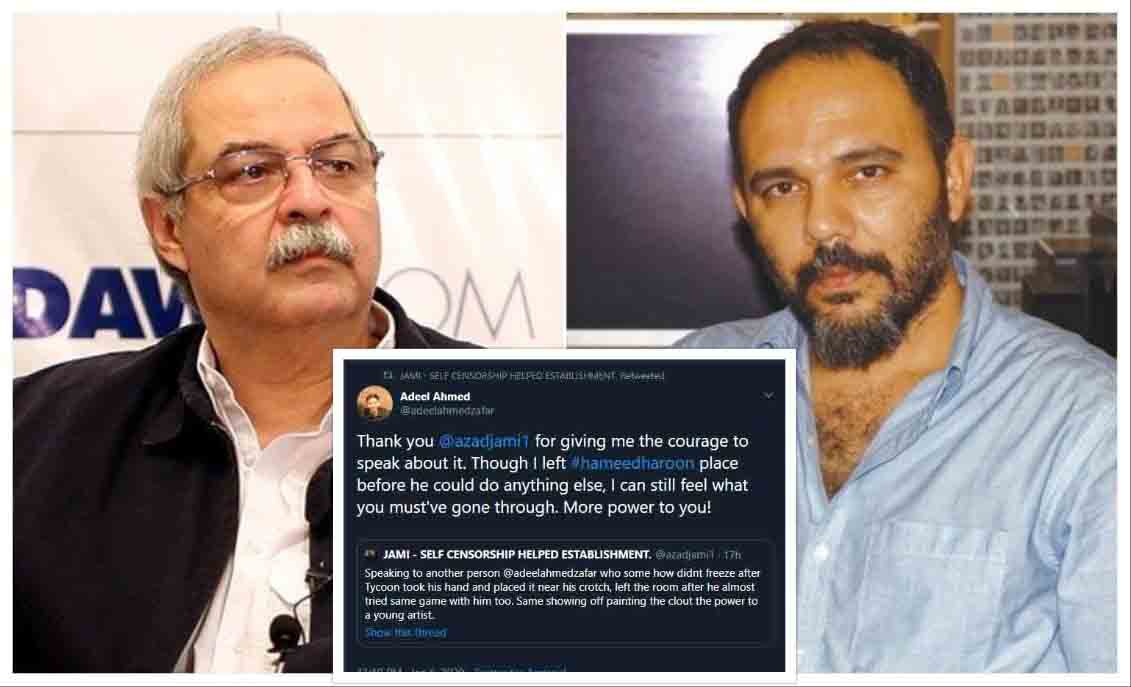 Following the sexual assault allegations from Jami, another man, Adeel Ahmed has come forward with allegations of sexual harassment against Dawn's CEO, Hameed Haroon.
In a tweet, Jami thanked Adeel Ahmed for contacting him and sharing his sexual harassment story.
Read: Jami Vs Hameed Haroon: As A Pakistani Liberal, I'm Hugely Disappointed With These 5 People
In response, Adeel Ahmed acknowledged the incident and thanked Jami for giving him the courage to speak about it.
The latest accusation has come a day after Hameed Haroon sent Jami a defamation notice under Section 8 of the Defamation Ordinance, 2002, in response to the allegations leveled against him.
Read: Twitterati Lash Out At Media Silence After Jami Names His Alleged Rapist, Hameed Haroon
According to the defamation notice, unless Jami circulates an unconditional public apology and issues a public statement retracting his rape claims from all social media posts and other media outlets within 14 days of the receipt of the notice, Hameed Haroon reserves the right to initiate civil and criminal legal proceedings against the filmmaker under Section 499 of the Pakistan Penal Code, 1860, and the Defamation Ordinance, 2002, and other applicable laws.
The notice claims that Jami's allegations are part of a scheme to target freedom of press.
Read: #MeToo: Jami Has No Legal Protection As Pakistani Law Does Not Recognize Male Rape
Almost two days after Jami named Hameed Haroon as his assailant, Dawn published an article carrying a statement of denial by its CEO. Jami, on the other hand had not been reached out by the publication for a comment.
Read: This Is How Twitterati Are Reacting After Dawn Finally Responded To Jami's Accusations Against Hameed Haroon
However, Dawn finally contacted Jami on Monday to ask about the defamation notice he had just received.
What are your thoughts as another man comes forward with allegations of sexual harassment after Hameed Haroon has sent defamation notice to Jami ? Share in the comments below!