Imran Khan in his election manifesto promised right to freedom of speech but it seems like the PTI government has long forgotten its promise.
And Pakistani media continue to operate in a fearful environment, many times resorting to self censorship to avoid heavy fine and ban.
At the same time, there seems to be a deep state within mainstream media that has actively curtailed news items that highlight the media industry's own dark side.
Cases of state enforced censorship
'Killing Fields of Karachi'
Karachi Biennale 2019, an art exhibition became the center of controversy when an artist Adeela Suleman displayed her art which revolved around the alleged 444 victims of Senior Superintendent of Police (SSP) Rao Anwar, accused of extrajudicial killings.
Read: All You Need To Know About Jibran Nasir & Rao Anwar – Frere Hall Controversy That Has Pakistan Talking
Some unknown men came and demolished the pillars symbolizing the 444 victims. They also locked the lower gallery at Frere Hall where a documentary was shown featuring Muhammad Khan, the father of Naqeebullah Mehsud, who was allegedly killed in a fake police encounter on Rao Anwar's orders.
Ban on Maulana Fazlur Rehman's speech
According to Geo News, PEMRA has banned the live coverage of Maulana Fazlur Rehman's speeches during Azadi March.
PEMRA and state enforced censorship on media in Pakistan
Pakistan Electronic Media Regulatory Authority (PEMRA) forbade television anchors from giving their "opinions" during talk shows and limit their role to "moderators" only.
According to PEMRA, "The role of anchors is to moderate the programmes in an objective, unbiased and impartial manner, excluding themselves from their personal opinions, biases and judgements on any issue."
Further, PEMRA directed the anchors hosting regular shows to not appear as experts in other talk shows. PEMRA asked the anchors to select the guests who have proper knowledge of a particular subject.
PEMRA warned the media houses that non-compliance with its directives/guidelines shall force it to initiate legal action under sections 27, 29, 30 and 33 of the PEMRA Ordinance 2002.
Such directives force media institutions to resort to self censorship or face the consequences.
What did PM Imran Khan say about the PEMRA's directive?
Federal Minster Shireen Mazari tweeted challenging PEMRA's directive.
Fawad Chaudhry also described PEMRA's act as "illogical" and "uncalled for."
PM Imran Khan then admonished the Federal Ministers for their statements against PEMRA and advised them not to talk against their own government's decisions.
After backlash from journalists and Federal Ministers, government's chief spokesperson Firdous Ashiq Awan said that PEMRA had not stopped any television anchor from expressing their views during talk shows.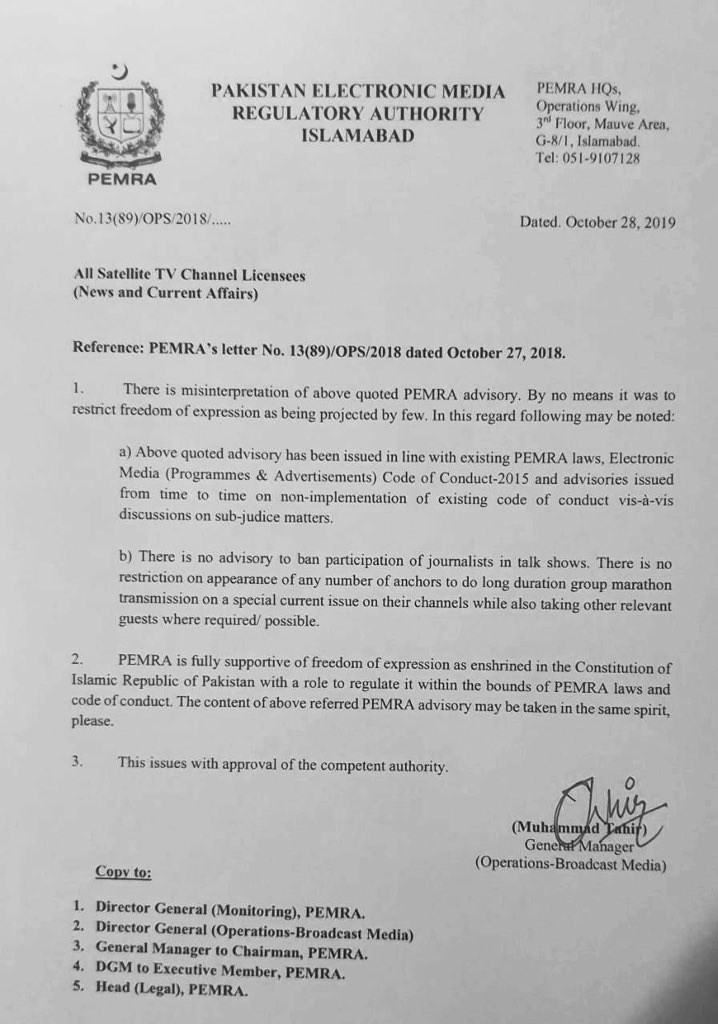 Ban on Hafiz Hamdullah on appearing on talk shows
Hafiz Hamdullah's citizenship was cancelled by NADRA and talk shows were barred by PEMRA to invite him even though there is no law barring non-Pakistanis to appear on Pakistani television channels.
Self-censorship & media in Pakistan
Jami's #MeToo Story
Filmmaker Jami Mahmood came forward with his own #MeToo story on social media alleging a "powerful media tycoon" of sexual assaulting him.
Dawn, The News and Geo News initially published the story but when it went viral, they removed it, made changes and restored the story after downplaying the media tycoon bit and identifying details of the rapist.
Resignation of Cyril Almeida
Pakistani journalist, Cyril Almeida resigned from Dawn hinting self-censorship as the reason.
What do you think about this blatant censorship in Pakistan? Let us know in the comments below.