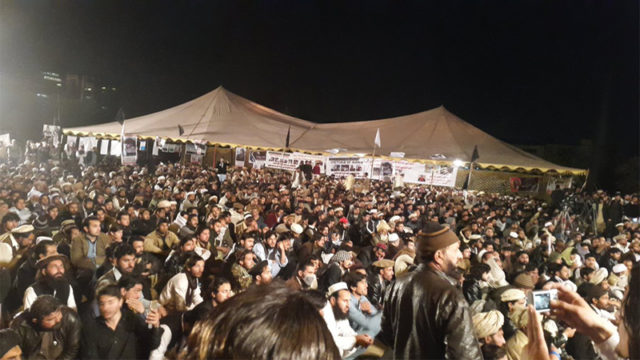 #PashtunLongMarch has been trending on Twitter long enough for one to notice despite the undercoverage of the event by the mainstream media. A sizeable number of Pashtun community has gathered in front of the National Press Club, Islamabad since February 1st, 2018 to demand justice for Naqeeb Ullah Mehsud, a young Pashtun who became victim of extrajudicial killing in Karachi earlier last month.
Read: Pakistanis Demand Action After The Video Of PML-N Senator Goes Viral
Thousands are participating in the #PashtunLongMarch. Men and women of all ages are present. This is something unprecedented. pic.twitter.com/Fn9wrhvRQG

— Dr Nauman (@naumanulhaqkhan) February 5, 2018
Day five of the #PashtunLongMarch protest in front of the Islamabad Press Club. The energy of the protesters is commendable. #JusticeForNaqeeb pic.twitter.com/mCclP9Zdqb

— Khushal Khan (@Khushal_Khattak) February 5, 2018
According to the following tweet, besides seeking justice for Naqeeb, the agenda of the peaceful sit-in also includes demands to curb racial profiling of Pashtuns and discrimination against their community.
This is the list of demands distributed in #PashtunLongMarch pic.twitter.com/DwsivGAsjT

— Saleem (@memzarma) February 3, 2018
Renowned social activist, M. Jibran Nasir also took to Twitter on Sunday to give voice to the protesters.
Demands of #PashtunLongMarch where 1000s are participating outside National Press Club Islamabad
1. Punish killers of #NaqeebMehsud
2. Remove land mines from FATA
3. Present all missing persons in Court
4. End the policy of applying curfew after every untoward incident in FATA pic.twitter.com/qr82kU4ywL

— M. Jibran Nasir (@MJibranNasir) February 4, 2018
While the hashtag is being used to underscore the objectives of #PashtunLongMarch, many people including noted journalists and activists are tweeting out to highlight the blatant hypocrisy of mainstream media. Here is what Gulalai Ismail and others had to say!
Read: Editor of Newsweek Pakistan, Fasih Ahmed Is Cracking Jokes About Rape And They're NOT Funny!
It's such a shame to see the biased media, today's protest in Islamabad wasn't a small protest. Thousands of Pashtuns came from all over to protest against Pashtun Genocide but the mainstream media didn't give it any coverage. #pashtunlongmarch #NaqeebMehsud

— Gulalai_Ismail (@Gulalai_Ismail) February 1, 2018
The so called mainstream media of Pakistan has completely ignored a non-violent resistance to oppression, target killing, Pashtun genocide and rights movement.#PashtunLongMarch pic.twitter.com/gEUu8aBt8L

— Khadim Hussain (@Khadimhussain4) February 1, 2018
Shame on Pakistani media that is not giving coverage to the Pashtun's protest moves to Islamabad, demands end to Pashtun genocide in front of Islamabad press club. #JusticeForNaqeeb#PashtunLongMarch@BushraGohar @a_siab @Khushal_Khattak pic.twitter.com/WpgBKAPawP

— Faizan Hafeez (@IamFaizanhafeez) February 2, 2018
The real protest is the one that #Pakistani media avoid to cover. The #PashtunLongMarch is the best example of original protest in #Islamabad.#JusticeForNaqib #HumanRights #YesToPeace #NoToTerrorism pic.twitter.com/CIbv5lmVjA

— Boriwal Kakar (@BoriwalKakar) February 1, 2018
No rights for Pashtun, no safety, no justice, and now the list includes no coverage in the so called mainstream media? Why are these Pashtun cornered and pushed to the wall though they ask for democratic/constitutional/basic human rights as citizens of Pakistan #PashtunLongMarch

— Malik Achakzai (@MalikAchkJourno) February 1, 2018
Read: The Murderer of 7 Year Old Zainab Has Been Caught But What About The Hundreds Of Child Rapists Still At Large?
A huge gathering of Pashtuns at Capital totally washedout from main stream media ,and this is not for the first time that we have faced such discrimination from media #JusticeForNaqeeb#PashtunLongMarch pic.twitter.com/Zhzq2c45Iw

— Palwasha Abbas (@Palwasha_Abbas) February 2, 2018
This is not the first time that Pakistani mainstream media has given selective coverage to the protests emerging in the country. That being said, this is surely the first time that this misconduct has been called out so loudly on the social media.
In fact, if it weren't for alternate platforms like Twitter, we would have never known about the #PashtunLongMarch, let alone questioning its under-reporting.
Read: Zainab, Politics, Media And Us
We hope and pray that after this episode, media will try to do better by giving voice to the causes which are more important than a groom covering his own wedding!
Read: Dr. Shahid Masood Lied On Live Television And Pakistan Wants Him Banned
Whether a Pashtun, Punjabi, Sindhi, Kashmiri, Baloch, Saraiki or Muhajir, Pakistan must stand united and demand an end to racial profiling and extrajudicial killings of our citizens. The only way we can save innocent Naqeebs from becoming easy victims of the corrupt system is by standing firm with each other as a single, strong front.