Coronavirus outbreak has been getting on everybody's nerves in the world. Amid the pandemic fake news has become rampant. And this report by Yasir Shami of Daily Pakistan is one such example.
Yasir Shami made a whole report making fake claims about an aircraft being used as an air ambulance during the coronavirus outbreak.
Tahir Imran Mian, an award winning investigative journalist, took to Twitter to flag this fake news report.
The anchor starts by claiming that Captain Asif Raza has donated his "private jet worth Rs. 4-5 crore" to people residing in the remote areas of Pakistan.
The aircraft which he refers to as a "jet" is evidently a turbo prop. And it does not appear to be in a condition worth the price mentioned by Yasir Shami.
As far as one can tell, the anchor didn't have any knowledge about the topic that he was covering. Apparently, he didn't even bother to conduct a prior research before spreading the misleading information.
Read: Coronavirus Outbreak Pakistan: Media Needs To Stop Creating Panic & Should Report Responsibly
Interestingly, Shami declared this non-existent ambulance service the first of its kind in the country when…
…Ironically, Daily Pakistan, itself had reported when Edhi Foundation had added new air ambulances to its network back in 2019!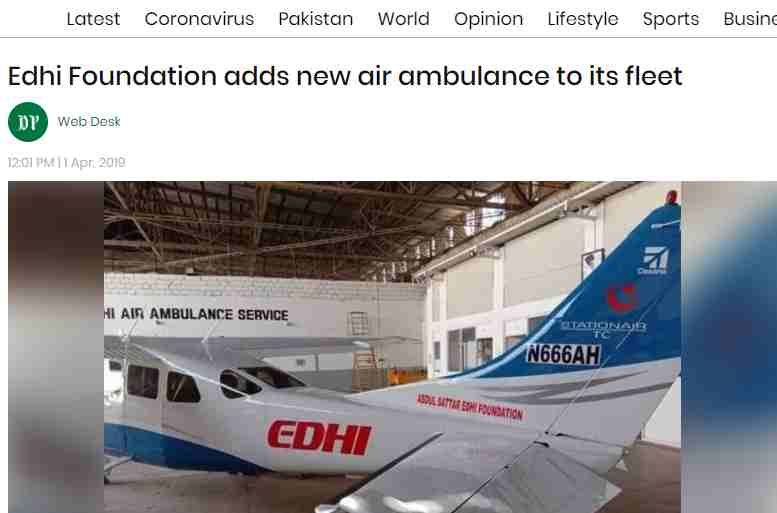 O! And there's more!
The so-called claimed in the video that he was providing "this service free of cost."
Of course, its free since the plane can't fly!
The captain while boasting about his "voluntary" service, shamefully also makes an appeal for funds from the general public!
It goes without saying: DO NOT GIVE ANYTHING TO THIS FRAUDSTER!
Tahir Imran pointed out how "it (the plane) has no turbo props, flat tyres, the paint is off from the wings & propellers, plus the plane is in a horrible condition."
Journalist Tahir Imran, who reports on aviation, shared an official statement from the aviation division that stated:
"It is further informed in Public interest that the individual Asif Raza and his so called crew is not a PCAA license holder and doesn't own any airworthy aircraft. Aircraft AP-AYJ is not airworthy and presently de-registered by PCAA."