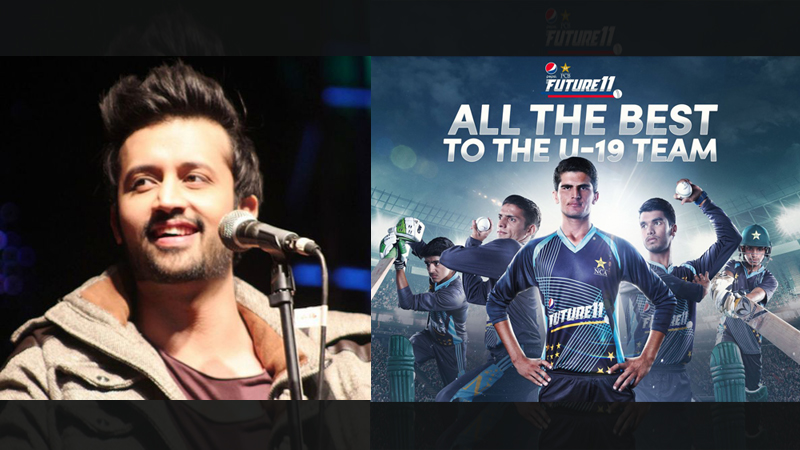 Earlier this year, Pepsi and Pakistan Cricket Board (PCB) launched a Future 11 program under which young Pakistani raw talent from all over the country were given a platform to give trials for the National Under –19 Cricket squad. Few months later we have a team of 11 boys all set to represent Pakistan in 2018 ICC U19 World Cup being held in New Zealand.
Also Read: This Is What Ali Zafar Had To Say About The Whole Aamir Liaquat & Bol TV Chaos.
In an effort to motivate the team, PCB in collaboration with Pepsi organized a grand send-off ceremony yesterday.
Pakistan U19 stars are ready to make their mark at the @cricketworldcup. The squad lined up at the glittering PCB-Pepsi #Future11 send off ceremony. #TheBigSendOff pic.twitter.com/7KWsNk0z1w

— Pakistan Cricket (@TheRealPCB) December 19, 2017
Celebrities from both Cricket and Showbiz came out in large numbers to express their support for the young talent. Big names like Shoaib Malik, Junaid Khan, Usman Shinwari, Ali Azmat Mawra Hocane, Hareem Farooq, Meesha Shafi, Imran Abbas and Ahmed Ali made it to the guests' list.
Also Read: Wrap-up 2017: 7 Defining Moments In Pakistan Cricket
Pakistan senior team stars Shoaib Malik, Junaid Khan and Usman Shinwari giving some inspiring tips to the World Cup bound Pakistan U19 team. Pepsi #Future11 #TheBigSendOff pic.twitter.com/Vn7j4mAwkU

— Pakistan Cricket (@TheRealPCB) December 19, 2017
Also Read: This Super Uncle Is Breaking The Internet With His Cool Biker Dude Moves
A special thanks to Pakistani showbiz stars for their support of PCB-Pepsi #Future11
Motivational talk for Pakistan U19 World Cup bound team. #TheBigSendOff pic.twitter.com/MQOC7QHuuN

— Pakistan Cricket (@TheRealPCB) December 19, 2017
Team Parchi earlier today at the PCB Future 11 event at Qaddafi Stadium! #Parchi #5Jan2018 #Future11 #TheBigSendOff

Parchi releasing in USA and Canada on 12th January 2018!#DaewooExpress@FarooqHareem @AhmedAliAkbar @MukhtarHoonMein @mojizhasan pic.twitter.com/HyMdLPKyVG

— Parchi (@ParchiTheMovie) December 19, 2017
A ceremony was also held in which the boys were handed over their official green blazers by the senior team players. So happy they must be!
Also Read: When Atif Aslam Pulled an Anu Malik!
Pakistan U19 team grand send off at the PCB-Pepsi #Future11, National Cricket Academy (NCA) Lahore. Aren't the boys looking super smart? pic.twitter.com/cFsggLFCdw

— Pakistan Cricket (@TheRealPCB) December 19, 2017
However, what won our hearts was this speech made by Atif Aslam in which he encouraged the players to feel confident and proud in giving their post match speeches in Urdu. Here, have a look at it!
Also Read: The Teaser of Parchi Makes for One Wicked Gangster Flick!
Wonderful heartwarming, motivating and thought provoking message by Atif Aslam at the #Future11 event. On the other hand some twisted analysis by one usual suspect on a TV show undermining stars like Atif, jealousies further colluding already colluded minds! pic.twitter.com/LabZjAQxDU

— Emmad Hameed (@Emmad81) December 19, 2017
In a society where speaking English is considered a symbol of status, pride, intelligence and superiority and those who fail to meet this standard are mocked, Atif Aslam's message has come across as a breath of fresh air and reminded us why we love him so much.
Also Read: Twitter Seems Lit After Imam-ul-Haq Hit A Ton On His ODI Debut
https://twitter.com/TheGrumpyDoctor/status/943065314174087169
This is my favorite part of the event. While many speeches were given using English, Atif Aslam told the players that's it's completely fine if they feel more comfortable speaking and understanding Urdu. #Future11 pic.twitter.com/DgFEFaHUtG

— mnl🧣 (@meemelif) December 19, 2017
Many Pakistani cricketers in the past have been made fun of for not being able to speak fluent or correct English. Amidst such a trend, Atif Aslam's golden advice to the boys is exactly what they needed. After all no one should be made to feel embarrassed for speaking their national language!
Also Read: Film And Sports Celebrities Wish Anushka Sharma and Virat Kohli
Sir Jee tussi great ho!