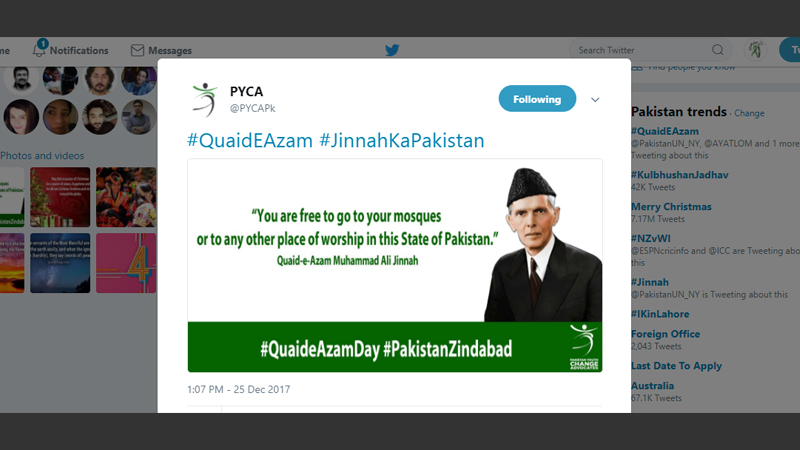 Here is a look at some very interesting and thought provoking Jinnah quotes that were shared on twitter by Pakistanis on the occasion of his 142nd birthday under the hashtag #JinnahkaPakistan.
Also Read: 5 Interesting Facts About Quaid-e-Azam That You Don't Learn In Text Books
Seems so relevant even after 70 years of independence!
My message to you all is of
Hope,Courage and Confidence
Quaid e Azam#JinnahKaPakistan pic.twitter.com/QmeIzH3uox

— Mashal Fatima (@MashalFatma) December 24, 2017
Goes on to show quite clearly that Quaid was a staunch advocate of equality!
https://twitter.com/ZaraAli_Iam/status/944932245785202688
We are members of the brotherhood of Islam in which all are equal in rights, dignity and self-respect.#JinnahKaPakistan pic.twitter.com/ul5pyLFbaE

— ڪومل (@Komal__Komal) December 24, 2017
A pretty straight forward guide for those who aim to rule the country!
The Govt Can Only Have For Its Aim One Objective – How To Serve The People, How To Devise Ways & Means For Their Walfare, For Their Betterment.#JinnahKaPakistan

— Muhammad Sufyan Khan (@VoiceOfSufyan) December 24, 2017
https://twitter.com/iamsyed28/status/945282067360878593
Reading this I really wish Jinnah could somehow explain the whole thing once more to the people of Pakistan.
Also Read: Our Indifference To Education is Failing Our Children
https://twitter.com/AishaKhanPK/status/944938483457642499
Let's wind up with our beloved Quaid's simple formula of success!
Also Read: In Pictures: 50 Years Of Pakistan Peoples Party – The Zulfikar Ali Bhutto Years
https://twitter.com/KiranDiamant4u/status/944929771049373697