Irfan Mehsood, who hails from South Waziristan is one of a kind martial artist, and he is a serial Guinness world record-breaker. Looking at his current pace, it feels he is on a spree of making world records.
This is his 43rd achievement. HELLO, who are you, superman?
To clinch the 43rd title, Mehsood broke the record of French athlete, Eric Lejeune. For this, he did 31 pushups with one leg raised while carrying 45 kilos on his back in 1 minute – whoa!
Read: Mashal Aamir Wins Lady Diana Award For Humanitarian Work
Prior to that, he defeated Spain's Alejandro Solar Tari for the most pushups in a 1-minute challenge. Tari did 49 push-ups in one minute while Irfan Mehsud broke the record with 55 push-ups.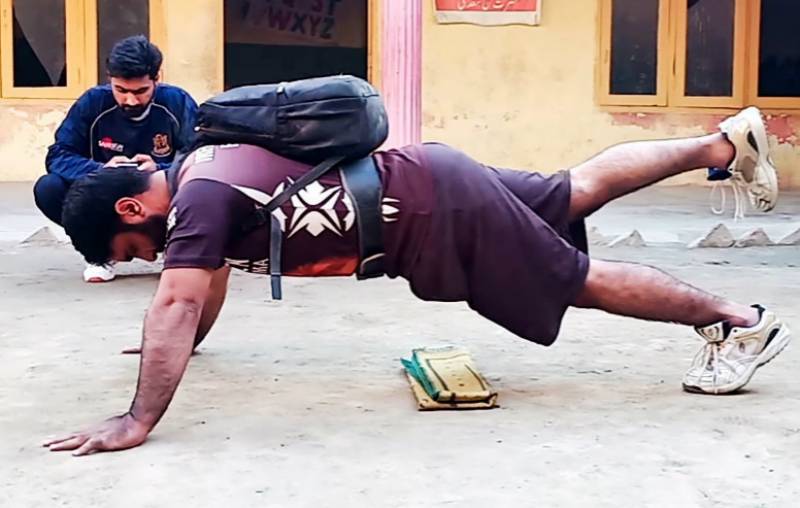 Mehsood said he trains for four to five hours daily in order to see his progress towards the goal. His aim is to promote his much neglected region, South Waziristan, and to represent a positive image across the globe.
Read: Hunza School Kids Dancing To A Shina Song Is The Best Thing You'll See On The Internet Today!
"My aim through breaking records is to promote my region of Waziristan all while advocating a healthy lifestyle and staying active. I hope to achieve a total of fifty record titles," he said.
Congratulate Irfan Mehsood on clinching the 43 Guinness world record for most pushups in one minute in the comments down below.