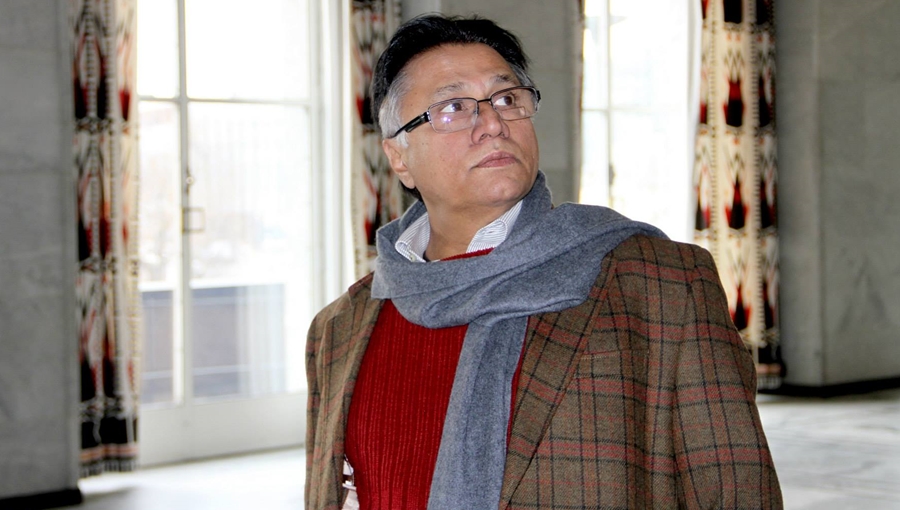 A couple of days ago a video of senior journalist and political analyst, Hassan Nisar went viral in which he was seen using foul language for a female colleague.
Read: Hassan Nisar Caught On Camera Using Filthy Language For A Woman, But Will Anyone Care?
Since Nisar is famous for lecturing his viewers on ethics and morality, the leaked video had left many of his fans shell-shocked.
I didn't expect that from Hassan Nisar at all.

— Twinkling Star 🇵🇰 (@GhamHour) October 25, 2018
Is it real or not sir??? pic.twitter.com/WPxxg0e0tQ

— Ashir Aryan (@Ashiraryan2) October 27, 2018
Ladies sisters freinds Hassan Nisar abused women how can you quiet. Click link and retweet. https://t.co/Y281zTAHtv @geonews_urdu @ImranKhanPTI

— Malik Sohail⭕️ (@K2MOTORSS) October 26, 2018
Disgusted with Nisar's despicable choice of words, many took to Twitter to condemn him.
What a vile, despicable man Hassan Nisar is. Caught on camera using filthy language against his female co-host on Mere Mutabik. Shame. pic.twitter.com/ZbiNyGf8ZM

— Naila Inayat (@nailainayat) October 25, 2018
Hassan Nisar abusing female producer off-camera. Never liked him anyway. pic.twitter.com/rsHXmRWbQz

— Laila (@Laila_Taariq) October 25, 2018
This doesn't stop here with Hassan Nisar alone. We are a crowd full of double faced people. That's such a shame.

— Muhamamd Sajwani (@msajwani) October 25, 2018
Just when condemnation started pouring in, another senior journalist, Matihullah Jan felt the need to defend Nisar's behaviour. 
Jan's argument was that since the conversation had taken place off-camera, it was "unethical" to leak the video.
I don't like Hassan Nisar for his bias & arrogance. But isn't it an off the camera conversation-supposed 2 b a trust to be respected by young cameramen & their org? This is not journalism, we should all condemn it. It's like a naive messenger conveying abusive outbursts word2word

— Matiullah Jan (@Matiullahjan919) October 26, 2018
As soon as Matihullah Jan sent out the tweet, he was bombarded with a barrage of tweets that called him out for having double standards.
Hasan nisar runs campaigns to twist public interest against democracy,
Lunatic still lives in 16th century,
So this is not only matter of public interest but also human rights.
Their very basic independence right

— M Babar (@MBabarchaudhry) October 26, 2018
Exposing a saint, daily give sermons to nation on health, honesty, respect, etc. May be its against professionalism but its a big big help of nation to understand such goons. You mean his privacy is more respectable but to whom he abuse daily on TV are less humans?

— Saeed ur Rehman (@saanwal2001) October 26, 2018
سر اصل میں ہم خود نا انصافی کرتے ہیں یہ ویڈیو اور گالیاں دیکھتے ہوئے ہمیں کم از کم ایسی چیزوں پر پردہ ڈالنے کے لیئے صحافت کے اقدار کو سامنے لانے کی ضرورت نہیں ہے کیونکہ وہ اقدار اس ویڈیو کے بعد بہت پیچھے رہ گئی ہیں ہمیں صرف مذمت کرنی چاہیئے بلکہ قابل گرفت مذمت۔

— Sher Dil🇵🇰 (@lionheartpak) October 26, 2018
Why condemn it… Why people with dual faces are allowed to share their opinion on TV… Why??? If you are not sincere to your profession and colleagues then you dont have the right to work in this profession… please stop defending this kind of acts…

— SM (@DesiPakistani79) October 26, 2018
#CHANGE
Internet changed the world
Why be abusive on /off camera
If off camera abusive lang ok then it's hypocracy
Leaks occurred in West too w public outcry & now Pak is catching up
This wud be under the rug but Thanks to 3/4G phones & Twitt ppl got a platform 2 speak up

— Sofi (@Drsofikhan9) October 26, 2018
Jan was not the only journalist who tried to do damage control on Hassan Nisar's behalf.
However, each attempt was met with resistance. What was most heartening was the fact that not just women, but a huge number of men made it a point to denounce abusive workplace environment, especially when the abuse is directed towards a woman.
Can help to retweet below link of HASSAN NISAR. HE ABUSED SO BADLY HIS OFFICE STAFF A WOMEN. HE HAVE RESPECT FOR WOMEN. PLS CLICK BELOW LINK AND WATCH IF IAM WRONG NO NEED TO RETWEET. BUT IF YOU FEEL HE IS WRONG THEN LADY NEED WRITTEN APOLOGY https://t.co/Y281zTAHtv https://t.co/7N7Vv4uv2P

— Malik Sohail⭕️ (@K2MOTORSS) October 26, 2018
Perennially angry people like Mr. Hassan Nisar shouldn't be on TV. Liberal voices shouldn't celebrate someone just because he launches angry attacks on everyone he disagrees with or is annoyed at. I've never understood why he was so popular on TV.

— Waqqas Mir (@wordoflaw) October 26, 2018
https://twitter.com/RizwanZafar04/status/1055716867082457088
Despite such outrage, there's little reason to expect an apology or corrective action. In fact the whole episode is already being labelled as a "political conspiracy" to defame Hassan Nisar.
https://twitter.com/mariamsmadness/status/1055484722854486016
https://twitter.com/QaziAbid0054/status/1055747800716230656
Read: Everything That Is Wrong With Exposing Little Ahmed On Morning Shows
This of course makes no sense at all. The only person responsible for "defaming" Nisar is Hassan Nisar himself. If he does not have the maturity and integrity to keep his filthy vocabulary in control, he also has no right to preach ethics and morality to his viewers. It is his own double-standards that have become his enemy; nothing more, nothing less.