Shah Mahmood Qureshi is being panned by Pakistanis for keeping a helper to hold his umbrella while his Russian counterpart, Sergey Lavrov was seen doing the deed himself.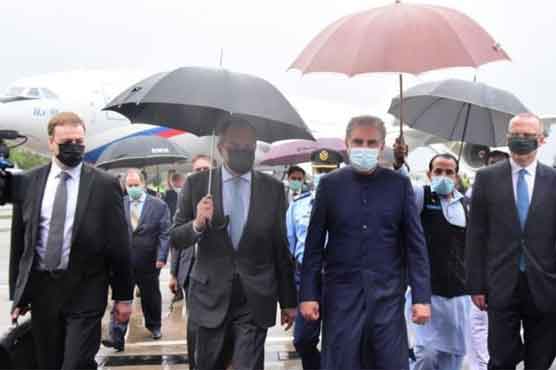 Read: 10 Conflicting Thoughts That Crossed My Mind After Reading Iffat Omar's Apology Tweet
Russian Foreign Minister, Sergey Lavrov was in Pakistan on an official visit to discuss some of the most pressing issues with Pakistan's Minister of Foreign Affairs, Shah Mahmood Qureshi and country's other top political leadership.
Mr. Qureshi shared pictures on his Twitter where he was seen giving a warm welcome to Lavrov, but this one aspect in particular ticked Pakistanis off. They were fuming at Qureshi's attitude for not wanting to do the basic task of holding his own umbrella!
Read: Russian Foreign Minister, Sergey Lavrov To Hold Talks With Pakistan's Top Political and Military Leadership
If only Pakistanis could keep their entitlements in check and display a little humility in times like these.
"Russian Foreign Minister will hold his umbrella but Pak FM SMQ needs an official helper to hold it for him," senior journalist Rauf Klasra tweeted.
Interesting to see Lavrov holding his own umbrella while Shah Mahmood Qureshi needs a helper to do that for him!
Have something else to add to this? Write in the comments.