Science Fuse's second live webinar was dedicated to the role of teachers and its significance in advocating for girls education. The session shed light on a wide range of issues from the perception of a teacher in our society to the challenges that they faced in distance learning in low tech communities during school closures. The Government's decision to re-open schools was also discussed specifically the role of government school teachers and their engagement with the local communities to prevent student dropout rate.
The webinar was moderated by Numrah Bokhari, a Teacher Educator at Durbeen, an NGO that is established with the long term goal of improving public schools of Pakistan. The Panelists included Baela Raza Jamil, CEO Idara-e-Taleem-o-Agahi, Farzana Sial Science Teacher at Government Boys Elementary school Khairpur, Granaz Baloch, Teaching Fellow University of Turbat and Nawal Zara, a Teach for Pakistan Fellow.
The Panelists unanimously agreed that female teachers play a transformational role in educating girls and can play a key role in nurturing their self confidence and character building.
Our Panelist Granaz Baloch stressed on the fact that teachers should be friends with their students. She advised, " ​A teacher should create a friendly and a non- judgemental environment in class for their students to be comfortable in sharing their personal problems" because often girls are more comfortable sharing their problems with the teachers rather than their mothers due to the conservative environment at home.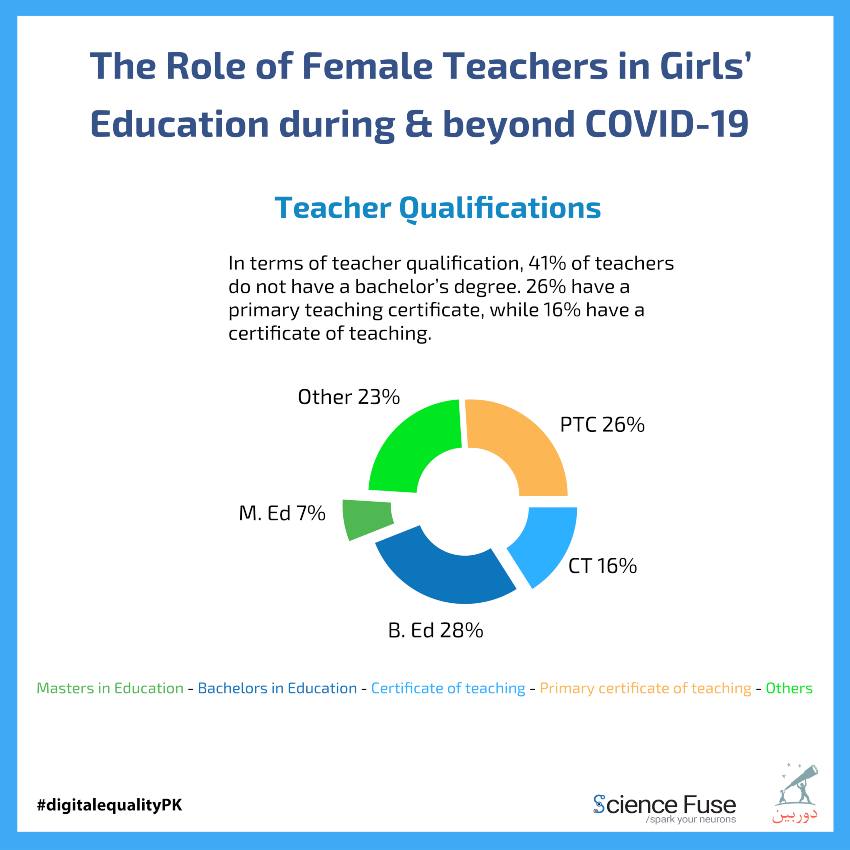 Role of Female Teachers in our Society
Teaching in Pakistan is considered a safe and a passive profession for females. However, Our Panelist Ms. Baela Jamil said that Education is a mega industry in the country and the role of a teacher is quite transformed.
The economic status of a teacher has also improved thanks to the government who has increased salaries and the officer grade for teachers. The social role of a female is very important as a " ​teacher defines you" .
Moreover, Ms. Farzana Sial mentioned, " In rural Sindh, families will only send their girls to school if there are female teachers in school". ​ She further elaborated how it's important to involve families, especially mothers, to keep girls in school.
Female teachers are not just role models for their students but they also act as community influencers & mobilisers and have the power to challenge norms to bring a positive change in their communities.
Also Read: Digital Divide In Pakistan: Science Fuse Webinar Highlights Disparity & Challenges To Country's Shift To Online Education
Barriers Faced by Teachers
Female teachers in Pakistan face various barriers in their profession including mobility, safety and lack of availability of substitutes. However, the school closures during covid-19 added creating distance learning materials to their challenges.
Nawal Zahra, Teach for Pakistan fellow shared her experience of teaching in a Government school in Islamabad and how she kept students engaged in learning via WhatsApp. She reported that, "​reaching out to our students was the biggest challenge as only 40% of students had access to a digital device and some students then had to leave for their ancestral village with their parents due to lack of work".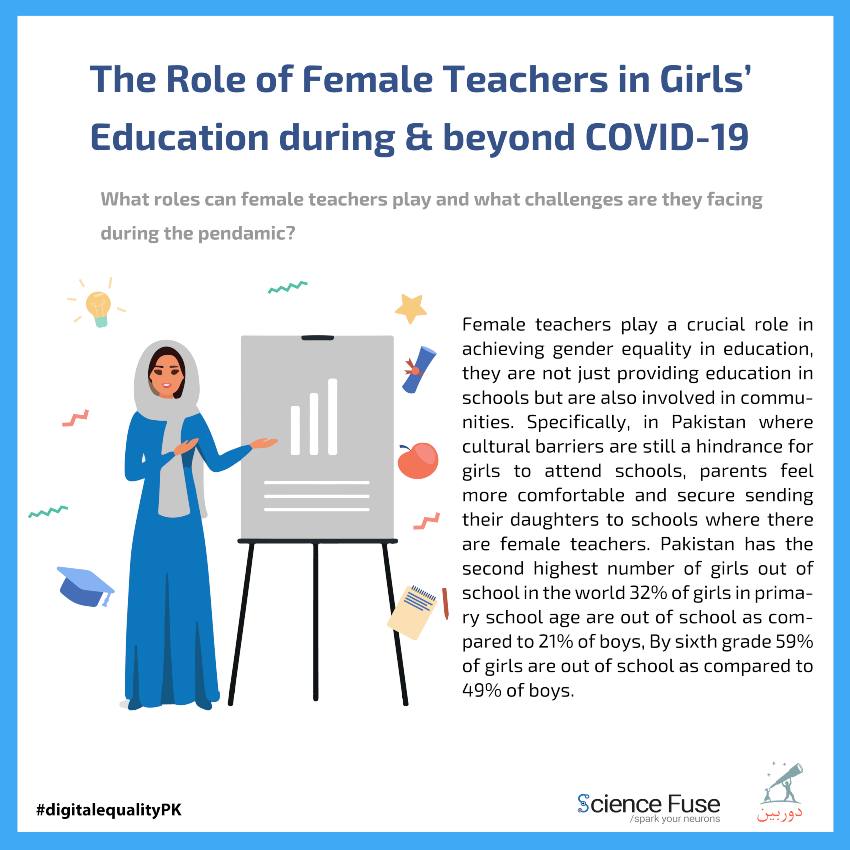 Despite these challenges she and her fellow teachers worked hard during the pandemic to engage with their students through consistent phone calls and also involved the community mosques to distribute learning materials to their students.
Ms. Baela Raza also mentioned ITA's Corona Saviors Platform to assist teachers to create digital learning resources. She further elaborated that, "​technology has given a new meaning to learning and created new learning cadre".
Supporting and Assisting Teachers in Reopening Schools
The past six months have been uncertain for everyone including teachers, it's important that we emphasize on the well-being of our teachers especially now that the schools are reopening from 15th of September 2020.
Teachers should be given proper training to fully understand SOPs for their own as well as the students' safety. Pakistan already has an alarming number of out of school children and students dropping out due to prolonged school closure is a real threat specifically for adolescent girls and boys whose parents would opt them out of school for contributing to the household income