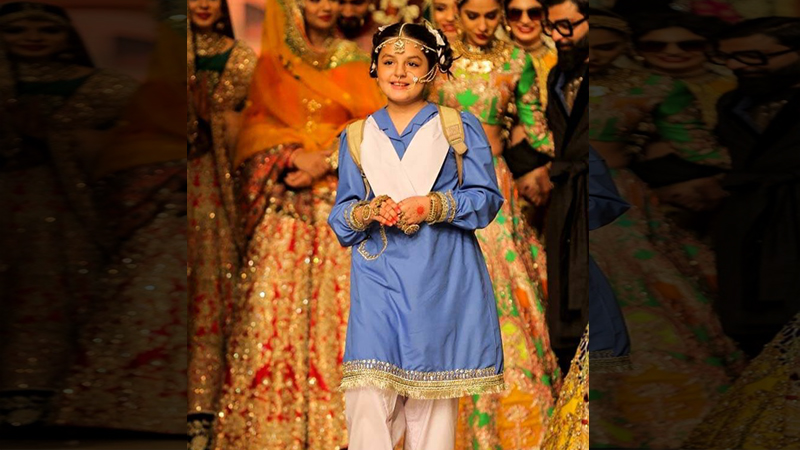 Pick any random person walking on the road and ask him/her where they believe children belong. Most – even the politically incorrect ones – are likely to respond with "School" or "Play ground."
There is universal agreement on the fact that children have the right to enjoy a carefree and happy childhood away from the hustle and worries of the lives that adults live.
Also Read: Our Indifference To Education is Failing Our Children
However, the moment one brings up the subject of making child marriages unlawful in Pakistan, there are certain elements in the society that would contradict their earlier stance on a "…happy and healthy childhood" and begin a counterproductive argument that in essence demands destroying a girl-child's innocence and childhood with the responsibilities of marriage and bearing children.
Many Muslim countries (including Egypt, Syria, Morocco, Iraq, Oman and Bangladesh) have raised the minimum age of marriage for both boys and girls to 18 years or above.
Also Read: This Unsung Hero is Providing Free Education to Poor Children in Rural Khyber Pakhtunkhwa
So unanimous is the agreement in the Muslim world regarding the protection of the innocence, health and happiness of a child that Article 26 of the Organization of Islamic Conference's (OIC) Khartoum Declaration of 2009 states:
"Take the necessary measures to eliminate all forms of discrimination against girls and all harmful traditional or customary practices, such as child marriage and female genital mutilation, in the light of the relevant declarations, instruments and conventions."
However, despite 9 years having passed since the Khartoum Declaration and almost 30 years since Pakistan ratified the UN Convention on the Rights of the Child, the country is still unable to provide adequate safeguard to its girl-children.
Also Read: Shireen and Hasan Zafar Win Global Award for Educating Street Children
Pakistan does have a Child Marriage Restraint Act in place, however, the law contradicts both the Constitution of Pakistan and the many human rights conventions that the country has signed and ratified.
Under the Constitution of Pakistan as well as various UN Conventions, a child is defined as any individual under the age of 18 years. While, the Child Marriage Restraint Act 1929 sets the minimum age of marriage of males at 18 years, the minimum age of marriage for girls in the same piece of law is 16 years.
Also Read: Anjali's Story: The Trauma that Children Born with Intersex Bodies Go Through
It baffles the mind why the lawmakers would overlook the very title of the legislation and disregard the Constitution itself to go out of the way to discriminate against children, simply because they are females.
Years of advocacy and evidence proving the adverse impact of child marriages on a girl's physical and mental health as well as her social status and future prospects have borne virtually no fruit. Conservative elements in the legislature, have consistently blocked attempts to protect our girl-children by setting 18 years as the minimum age of marriage for females.
Even Sindh – which is the only province in the country with the minimum age of marriage being 18 years for both boys and girls – is not an example to flaunt. I say this, because despite having the law in place, Sindh has the highest rate of underage marriages in the country. A law is only good enough when there is political and administrative will to implement it. Sadly, the case of Sindh is no different from the rest of Pakistan.
Also Read: CM Shehbaz Sharif, Acid and Burn Crime Bill Needs Enactment
Entirely fed-up with the double standards of our legislators, informed Pakistanis have started a hashtag campaign, #RaiseTheAge.
On one hand the #RaiseTheAge movement is raising awareness on the ill-effects of child marriages and on the other hand directly reaching out to parliamentarians to take corrective measures.
Children born of teenage mothers are 50% more likely to either be stillborn (dead at birth) or to die within a few weeks after birth. Even if she survives pregnancy and delivery, she develops physical complications like fistula. #RaiseTheAge #StopChildMarriage

— meena gabeena (@gabeeno) January 17, 2018
1. Child marriage is not only violence but it is
2. Sexual violence as well.
3. Child marriage is psychological violence too.
and then children becomes the victim of economic violence.
It leads to #Childlabor #raisetheage @SeharKamran @TheMahiraKhan

— Sidra Humayun #educategirls (@Sid_huma) January 17, 2018
no child protection, no safety possible for children and girls especially if child marriage still allowed, Pakistan it is high time now #raisetheage! @LegalPolitical @imtiazahmed75 @PTIofficial @PPP___Official @pmln_org @ANPMarkaz @OfficialMqm

— Valerie Khan (@valekhan) January 17, 2018
#raisetheage :
Our Children shouldn't be denied anymore from their Constitutional Rights pic.twitter.com/UsgpMUQIyD

— Miqdad Syed (@Miqdadnaqvi) January 17, 2018
As a result of the #RaiseTheAge movement, the Council of Islamic Ideology has agreed to review the recommendations that demand raising the age of marriage for girls from 16 to 18 years. The CII will evaluate the merit of these recommendations in the light of examples set by other Muslim countries. Although, not a legislative body, the Council of Islamic Ideology enjoys immense sway in both public and private discourse and an endorsement by CII would prove a huge success for the girl-child in Pakistan.
Also Read: Veiling Murder in the Name of Honour
As responsible citizens and adults, every Pakistani with an internet connection and a social media profile must put his/her support behind the #RaiseTheAge movement. It is about time, we become brave enough to demand the same happiness, health and protection for our little girls as we do for our sons.