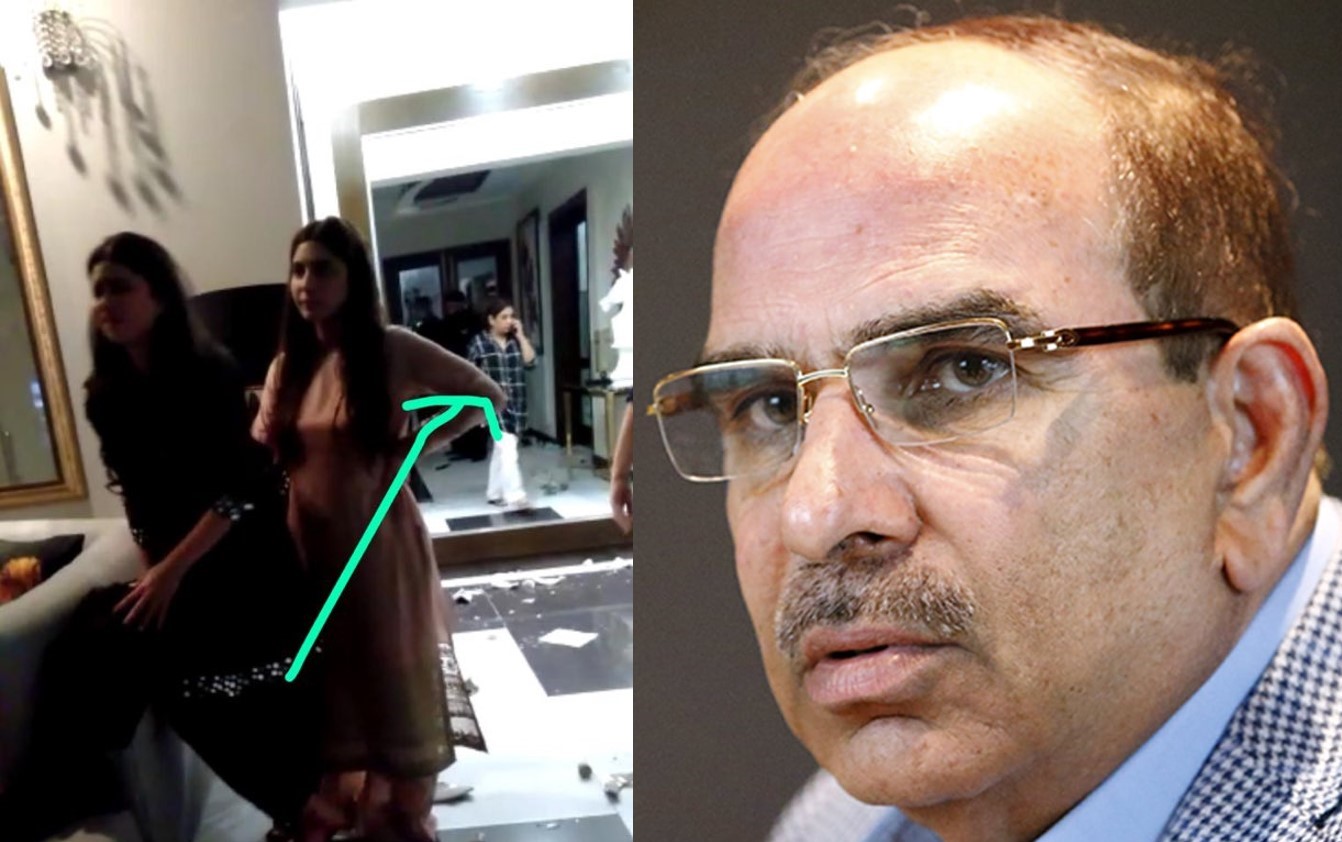 By now everyone in Pakistan has probably seen the many videos that emerged on the internet involving actress Uzma Khan and the daughter of real estate magnate, Malik Riaz.
But just in case you spent the Eid break snoozing, click the video below to catch-up on the most talked about story in Pakistan right now.
As it goes, initially once the first video surfaced, it was alleged that Malik Riaz's daughter, stormed into Uzma Khan's house with armed men, alleging that the actress was having an affair with her daughter, Amna Usman's husband.
However, later it was clarified that Uzma and her sister were in Usman's house when the women barged in.
Read: Atif Mian Wrote An Important Twitter Thread After Malik Riaz Made A £190 Million Settlement & Please Read
Now we understand the wrath of a wife who's been cheated on BUT no amount of anger justifies ordering armed men to sexually harassed someone – even if that someone is the "other woman."
Yes…not only did Riaz's family trash the residence but also asked the armed men to "touch" the actress!
UNACCEPTABLE!
Read: Malik Riaz Gets Trolled For Mispronouncing "Quarantine" As "Katrina"
The whole episode has invited the rage of Pakistanis who can't stop calling out the real estate giant for unleashing terror on two unarmed women.
Leading the pack is the nephew of Prime Minister Imran Khan, Hassaan Niazi who has now formally joined Uzma Khan's legal team.
Actress Armeena Khan is often very vocal on most issues and this was no different.
Actor and feminist, Osman Khalid Butt took all those equating support for Uzma Khan as support for zina (adultery) to task in words that could not have been clearer.
But not just celebrities, a huge number of people from both sides of the ideological divide have come forward in Uzma Khan's support.
Liberals and conservatives both seem to agree that absolutely no one has the right to break-in and harass a citizen no matter what the pretext.
Even Amna Usman's later statement did little to settle the enraged public sentiment against her.
The entire episode has quickly become a litmus test for the authorities and mainstream media. Despite mounting public pressure, it is yet to be seen if the authorities will take any tangible action against Malik Riaz's daughter for having Uzma Khan sexually harassed OR if mainstream media would cover the story without extensive self-censorship.
The actress and her lawyer on their part remain wholly unconvinced by the recently filed FIR.
Have something to add? Share your views on the unfolding battle between Uzma Khan and Malik Riaz in the comments below.