Muhammad Ali Sadpara Summits K2
Pakistani mountaineer, Muhammad Ali Sadpara among two other climbers i.e. John Snorri from Iceland and JP Mohr Prieto from Chile summited 8611 meters tall, world's second highest mountain, K2 on Friday.
Sadpara and his team departed on their journey for the K2 Winter Expedition 2021 a day after his birthday and requested everyone to keep them in their prayers.
During the summit, three climbers from two groups successfully summited K2 while 19 others failed to do so. One of the climbers from Bulgaria even lost his life while returning back to the camp.
Climbers Go Missing
According to the climbers' team, Snorri, Sadpara and Mohr went missing after they pushed for their final summit to K2 from Camp 3. They began their expedition at midnight between Thursday and Friday. The climbers were reported missing on Saturday once they lost contact with their base camp on Friday.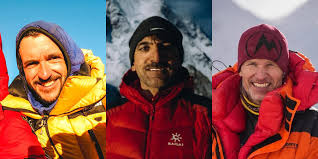 Aerial Search To Locate The Climbers Continues
Once the climbers were reported missing, an aerial search operation was launched to trace the disappeared mountaineers. The helicopters flew to the maximum height to locate the missing climbers. After hours of searching, the operation was suspended and continued a day later. Despite harsh weather conditions restricted the search and so the aerial operation was resumed on Monday.
Sajid Ali Sadpara, son of the disappeared mountaineer while speaking with media said that the search for dead bodies should now be continued. However he further added that considering the harsh weather conditions, and limited oxygen and food supply, their chances of survival for the missing are close to none.
Pakistanis Pray For The Missing Mountaineers As Third Day Enters Since They Went Missing
Pakistanis along with people from all over the world expressed their concerns after the news of missing climbers broke out. They collectively prayed for the mountaineers' safe return.
Also READ: Putting Political Differences Aside, Fawad Chaudhry Sends Good Wishes For Maryam Nawaz's Daughter After Accident
Pakistani Showbiz celebs also took to their personal social media handles hoping for their safe return all the while praying for a miracle to happen.
Also READ: 5 Things I Loved About The PSL Anthem 2021 & 3 Things That Could Have Been Better
Pakistanis pledged to continue to pray for Sadpara till final news came in from the rescue operation. Meanwhile, they also hoped for their safe return.