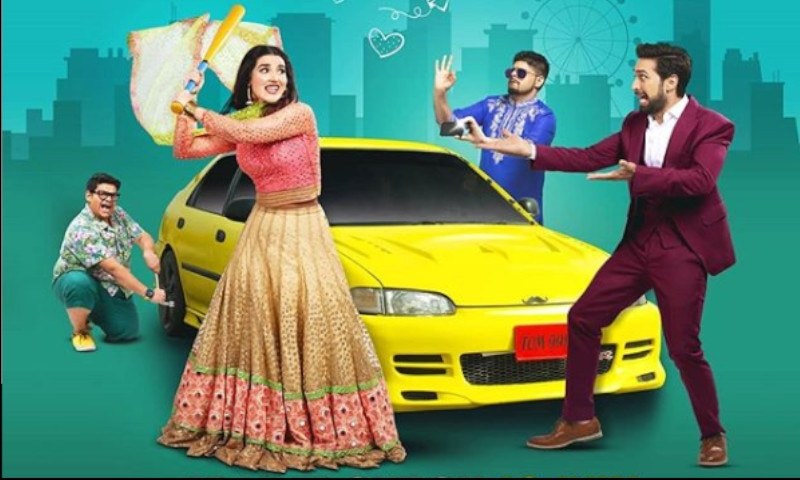 Hareem Farooq and Ali Rehman have fast become one of the most illustrious on-screen couples in Pakistan. They're young, good-looking and reflect a mutual comfort on 70mm that, with time, holds the potential to translate into what's called, "cackling chemistry."
And while youth, good-looks and a comfortable on-screen presence are enablers, they are certainly not the most important ingredients when conceiving a film.
Unfortunately, this is precisely where the film fails its audience. Heer Maan Ja banks heavily on the looks and costumes of its stars rather than investing in a well-rounded script and the cast's ability to effectively emote the feelings of its characters.
Read: Film Review: Baaji Is Well-Intentioned But Lacks Entertainment Value
The result is a half-baked dramady that neither invokes hysterical laughter nor much empathy for its characters.
Heer Maan Ja revolves around, Heer; a bride who's on the run from a marriage that is being forced on her by her cousin and his greedy family. A few minutes into her journey to the unknown, she bumps into Kabeer, an old flame who had ditched her when she had most needed his support.
Together the two embark on a journey that could have made for an excellent coming-of-age experience but is instead spoiled beyond redemption thanks to the countless cliches that the director litters all across the film's length.
From the joggers-wearing bride to the heart-broken hero falling hopelessly to his knees as the love of his life is taken away; and from the "fat friend" to the villain who only embraces someone when he wants to slowly strangle him, Heer Maan Ja is, at best a collection of cliches that entirely robs the film of any shot at originality.
Lack of character development is a huge problem with recent Pakistani films and HMJ is no different. Apart from Heer, the identities and backstories of the characters – including Kabeer – are entirely left to the audience's imagination.
Editing is another weak area. With a script so laden with loopholes, the editor should have been more liberal at the chopping table. Allowing the film to run for more than two hours further served to expose its lacunae and added no real value in terms of content.
The film does try to redeem itself towards the end when it makes an effort to denounce cultural practices such as honor crime. However, this effort is lazy and not neatly interwoven with the film's overall feel. There's really no way of telling if the filmmakers genuinely wanted to make a socially responsible entertainer or only wanted to give the zalim samaj cliche a woke makeover.
Read: Movie Review: Chhalawa Has Its Heart In The Right Place
The performances are strictly alright. Aminah Sheikh's semi-gangster slash wanna-be lesbian cameo entirely wastes an actress whose acting prowess we all so thoroughly enjoyed in Cake.
On the whole, Heer Maan Ja is a random bag of cliches that eventually makes a lazy effort to prove a point. Watch it only if you have nothing better to do in life.