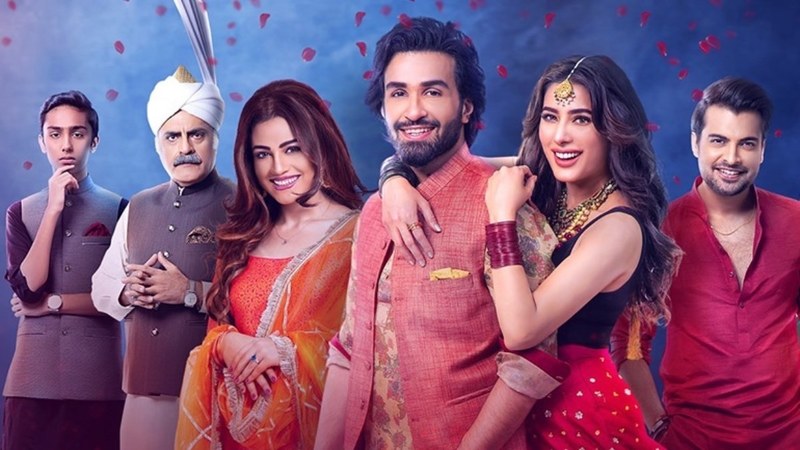 In a world where films largely depend on the star power of their male leads, Pakistani cinema – though still trying hard to place itself on the global map – should rightly pride itself in giving just as much love to its talented heroines as it does to its heroes. Chhalawa being the perfect case in point.
Mehwish Hayat being the only bankable star in the film, Chhalawa has done exceedingly well for itself at the domestic box office. Whether it deserved to do as well, however is an entirely different debate.
Read: Chhalawa Or Wrong No. 2: Which Of These Eid-ul-Fitr Releases Should You Watch!
Being a romantic comedy, Chhalawa revolves around a fairly straightforward premise: Chaudhary Rafaqat (Mehmood Aslam) – a vastly rich landlord wants to marry-off his elder daughter, Zoya (Mehwish Hayat) to his nephew, Jalal Chaudhry. Zoya, on the other hand is already in love with Sameer (Azfar Rehman) and has no intention of marrying her cousin. The fact that Jalal Chaudhry is a certified misogynist does not help tilt matters in Rafaqat's favour.
What follows is two hours of mild twists and turns that eventually give this lighthearted tale of forbidden love a happy ending.
With Chhalawa one would have thought that director Wajahat Rauf would come of age. And while it is true that Chhalawa has more soul, fewer loose ends – and a hint of a story – unlike Karachi se Lahore and Lahore se Aagay, it still leaves a lot to be desired for.
In a hurry to finish the film, there is very little that has gone into character development. Except Zoya and to some extent her younger brother, (played by Aashir Wajahat), the backstories and emotional profiles of the remaining cast are almost entirely left to the viewer's imagination.
The jokes, although in abundance are laden with – as my husband put it – thandi jugtain. While Chhalawa is certainly an improvement compared to Rauf's last two films (at least as far as the story goes), it is a notch weak in terms of humour. There was a certain element of shock in the humour that KSL and LSA boasted; Chhalawa's jokes on the other hand are largely predictable.
Read: Meera Gets Her Bling On In The New Baaji Trailer & We Have Never Been This Excited!
That said, the director and Yasir Hussain (the writer) deserve praise for tactfully taking-up the issue of consent in marriage without being preachy, apologetic or losing the film's light-hearted premise. Thumbs-up for this!
The film certainly benefits from the acting prowess of its colourful characters. Mehwish Hayat, who, in the past has carried complex characters with great oomph effortlessly essays the love-stricken Zoya. Mehmood Aslam is a veteran who knows his craft very well and it shows in every frame that he graces. Adnan Shah Tipu (who plays Zoya's evil paternal uncle, Chaudhry Nazakut) does justice to the role that he is handed.
However, it is Zara Noor Abbas, who plays Zoya's melodramatic younger sister, Haya who steals the show. Given the over-the-top nature of her character, any other actor could have easily fallen into the trap of "over-acting." However, Zara performs with a subtle restrain that is commendable! She keeps the drama in her character alive without reducing it into a cringe-worthy affair.
A special mention for Aashir Wajahat Rauf, who is certainly coming of age. From the quick witted child in his father's previous films to a self-assured teenager ready to take-on more dramatic roles, there is good reason to look out for this young lad.
The film owes a great deal to its editor for ensuring that it strictly remains within the confines of two-hours. I truly wish more directors would turn to Hasan Ali Khan next time they're shopping for an editor.
On the whole, Chhalawa has its heart in the right place. It makes an earnest effort to not rely on offensive jokes to woo you nor does it drag on endlessly without clue. At the same time, it also doesn't go that extra mile that could have made it so much more than an okay one-time watch.