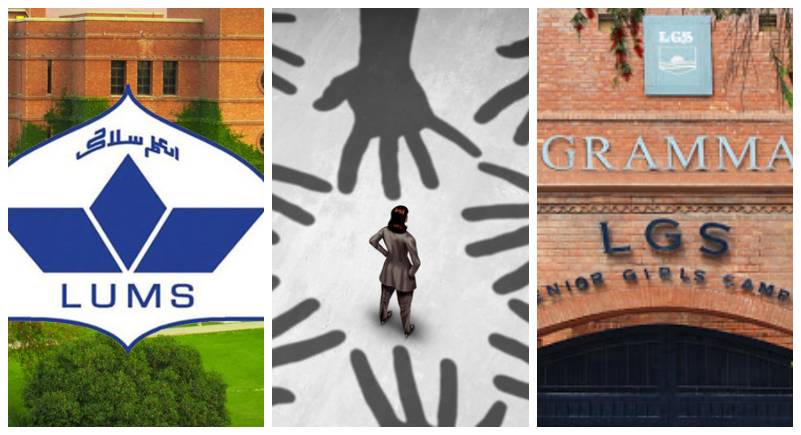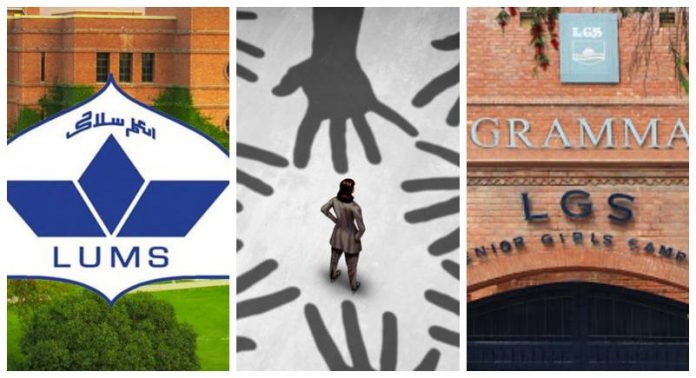 The last few days have seen many female students coming forward on social media to report on-campus sexual harassment and abuse. Shockingly, the testimonies of sexual harassment come from the pupils of top educational institutes in Pakistan including LUMS, LGS and NUST.
In the wake of these testimonies not only have we learnt of the ordeal that so many girls have to go through at the hands of male faculty members across the country but have also, sadly seen how the most prestigious educational institutes seem to lack the capacity to handle sexual harassment complaints once they are reported.
1. Lahore University of Management Sciences (LUMS)
A number of students in a private Lums Discussion Forum (LDF) shared horrific stories of sexual harassment and abuse they had to face on campus.
Many pointed out the loopholes in the "system" that barred them from taking any legal action against the culprits.
Not only do many of the offenders remain on the loose but also hold positions of power and influence over the freshers.
Also Read: LUMS Responded To Backlash Against Fee Hike But Students Aren't Buying It!
2. Lahore Grammar School (LGS)
The testimonies that emerged from LGS shook everybody to the core as the harassers were the faculty members of the institute.
So much so, the students who had been complaining to the administration about their experience had to further tolerate victim blaming for standing up for their integrity.
What is even more enraging is the fact that those who were wronged – and scared in the process – were minors!
The school administration finally ended their contract with the accused. But it was only after the uproar on the social media.
Also Read: Response Of NUST To Speculations Of A Student Being Raped Has Pakistanis Infuriated
3. National University of Sciences & Technology (NUST)
Unfortunately, NUST has a reputation of snubbing any scandal that comes in the way of the university's "reputation."
And not just one but many times students have reportedly been threatened by the administration for raising their voice against quite literally anything.
And while it is one thing to brush scandals under the carpet, it is beyond comprehension to publicly humiliate a survivor with a mean-spirited tweet!
Even though the management apologized for its ill-worded tweet, the fact that the contencious tweets were never taken down showed a clear lack of empathy on the part of NUST.
Have anything to add? Share your views in the comments below!