After a game that kept half of the sub-continent on the edge throughout its run, Pakistan finally won against Afghanistan by 3 wickets. Shoaib Malik's mature handling of the bat coupled with Imam-ul-Haq and Babar Azam's stellar performances snatched the Pakistani side away from the jaws of defeat.
As far as the Afghan team goes, Hasmatullah Shahidi (who remained not out at 97 runs) and skipper Asghar Afghan both deserve a round of applause for together putting up a formidable total for Pakistan to chase.
Read: Asia Cup: 3 Pakistani Cricketers Who Need to Worry After the India Game
However, despite great craftsmanship with the bat demonstrated by players from both the teams, it was the Afghan pacer, Rashid Khan who stood out more than any other athlete in the arena.
Khan, who has surfaced as quite a sensation during Asia Cup 2018 was responsible for taking 3 out of the 7 fallen Pakistani wickets.
Read: 3 Players Who Hold The Key To Asia Cup, 2018
However, it was not just his performance that won him attention but more so his antics on the field that raised many eye brows.
From his unique style of celebration after claiming a wicket to his intense, unforgiving gaze to the many curses he hurled in every direction throughout the game made it impossible for the spectators to not sit up and take notice of the young player.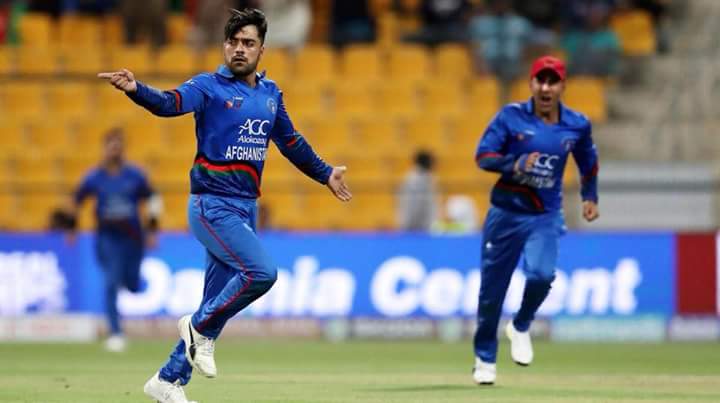 While there is no denying that Rashid Khan is truly an Afghan surprise and among the top cricketing talents to look out for, his narky demeanor left many Pakistani fans offended.
Pakistan wins a great game against Afghanistan. Shoaib, the formidable match winner, does it again. Afghan team's hostility and the cheap antics of Rashid Khan are something to keep in mind. pic.twitter.com/xYhznSiImB

— Syed Talat Hussain (@TalatHussain12) September 21, 2018
Behaviour of rashid khan was not good ,it was not the wicket celebration, it was a pride on his face.
Sad to see!

— Farrukh Kazmi (@kazmi50) September 21, 2018
https://twitter.com/zeexhu420/status/1043232310223618048
https://twitter.com/AqeelSays_/status/1043386093188595712
So angry was one fan with Rashid Khan's wicket celebration style that he wished for someone to do this 👇
Can someone go and show a middle finger to Rashid Khan!!!

— Adeel Azhar (@adeel_azhar) September 21, 2018
The guy's wish was rather quickly granted when a Pakistani kid was caught on camera doing this 👇
https://twitter.com/junaidahmad290/status/1043260237766184962
https://twitter.com/Jaweriyaa/status/1043228632196567042
Best gift for rashid khan from this Pakistani kid…#PAKvAFG pic.twitter.com/efmG7yWu5e

— گلاب جامن (@Xamm_99) September 21, 2018
Others were more cultured in their critique of Khan's behaviour, leveraging on ICC's code of conduct to make a point.
I'm just curious, and no, I do think Rashid Khan is good enough to have that swag, but isn't showing the batsman finger pointing them towards the dressing room, an offense according the ICC code.. @ICC @ESPNcricinfo

— Doctor Whom (@IABurney) September 22, 2018
Truth be told, Rashid Khan's agitated behaviour and the extreme reaction of the Pakistani fans are both a reflection of the complicated relationship that the two neighbours share. 
Had the political equation between Pakistan and Afghanistan been more cordial, neither Rashid Khan nor the Pakistani fans would have shown such haughtiness.
Yes, we think you're both a little messed up!
Beside the game, #Afghan team need to learn some sportsmanship. Clearly witnessed the hostility in Afghan players against #Pakistan. Yet we consider them brothers.
On the other hand, see the brotherly gesture by #shoaibmalik after the winning shot.#PAKvAFG #RashidKhan

— Abdullah Fazi (@AbdullahFazi) September 22, 2018
The behavior of #RashidKhan after taking the wickets and the behavior of #ShoaibMalik and Hasan Ali after winning the match perfectly summed up the relationship between the two countries right now. #PAKvsAFG#AsiaCup

— 🔴Syed Faiq 👨🏻‍🎓 (@syedfaiq24) September 22, 2018
So, we'd just ask all the Pakistani fans to channel the cricket lover in them and take Khan's wicket celebration for what it is: a celebration!
Let's take a leaf from Shoaib Malik's understanding of sportsmanship and give Rashid Khan a chance. Rather than completely writing him off as the "arrogant enemy" let's appreciate him for the good cricket that Khan certainly seems to have in him!