During the first few hours following Jami Mehmood's #MeToo tweets, Pakistani media came forward with the usual zeal it lends to a high profile story of sexual harassment.
However, by the afternoon of the same day, i.e. Monday 21 October 2019, all but 3 – 4 publication (mostly digital) seemed to have lost their enthusiasm entirely.
As per a tweet sent out by Jami, he had confided the name of the culprit to a senior journalist and within seven minutes of this conversation, most of the major print and electronic media establishments had taken down his story from their websites.
The stories had eventually been made live again but only after they had been edited to dilute the content of Jami's tweets.
Any potential clues that could help people ascertain the identity of the accused were either entirely removed from the edited versions or articulated in a way that downplayed key elements.
Read: Dear Dawn, Why Did You Take-Down The Jami Rape Story From Your Website?
Ever since, there has been an alarming scarcity of publications willing to put out follow-up stories on Jami Mehmood's rape allegations even though public interest remains high.
The country's leading English language daily, Dawn has specifically come under public scrutiny on social media.
While more and more people are demanding Dawn and its journalists to explain the sheer absurdity of censoring Jami's #MeToo ordeal, the filmmaker himself also finally confronted the publication on Wednesday evening.
Lashing out at Dawn, Jami demanded to know as to why had the newspaper's website changed the narrative of his story again.
"Dawn Images has changed my narrative again. This is NOT the way i concluded my Thread," tweeted the enraged filmmaker.
He then went on to attach a screenshot of the last tweet in his thread alongside the "conclusion" that had been re-articulated in Dawn after yet another inexplicable round of editing.
"And how does this look in journalistic universe to re-write my narrative? And why? This (is) the cockiness I stopped taking long time back. (Yo)u know (yo)ur jobs just report and don't touch what I wrote! #metoo"

– Jami Mehmood
With Jami having been forced to call out Dawn and speculations on Pakistani Twitter alleging Dawn CEO, Hameed Haroon as the culprit in Jami's #MeToo ordeal, it is certainly in order for the publication to finally issue a statement.
Even though, Jami has corrected people who named ARY CEO, Salman Iqbal, stating categorically that it was not Iqbal that he had hinted at as the rapist…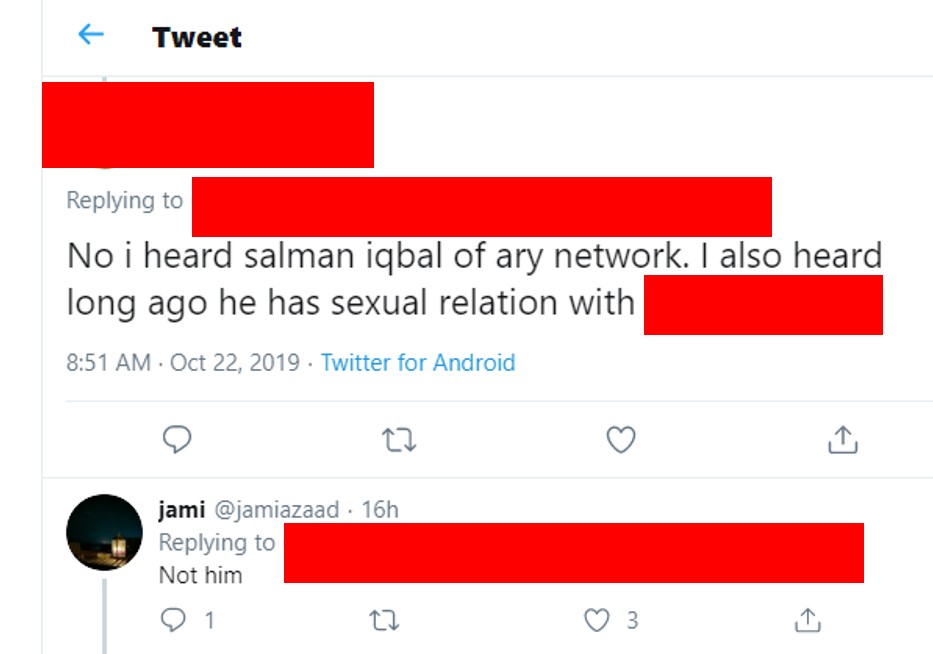 He has not made the same correction under the scores of tweets that are calling out Dawn CEO, Hameed Haroon.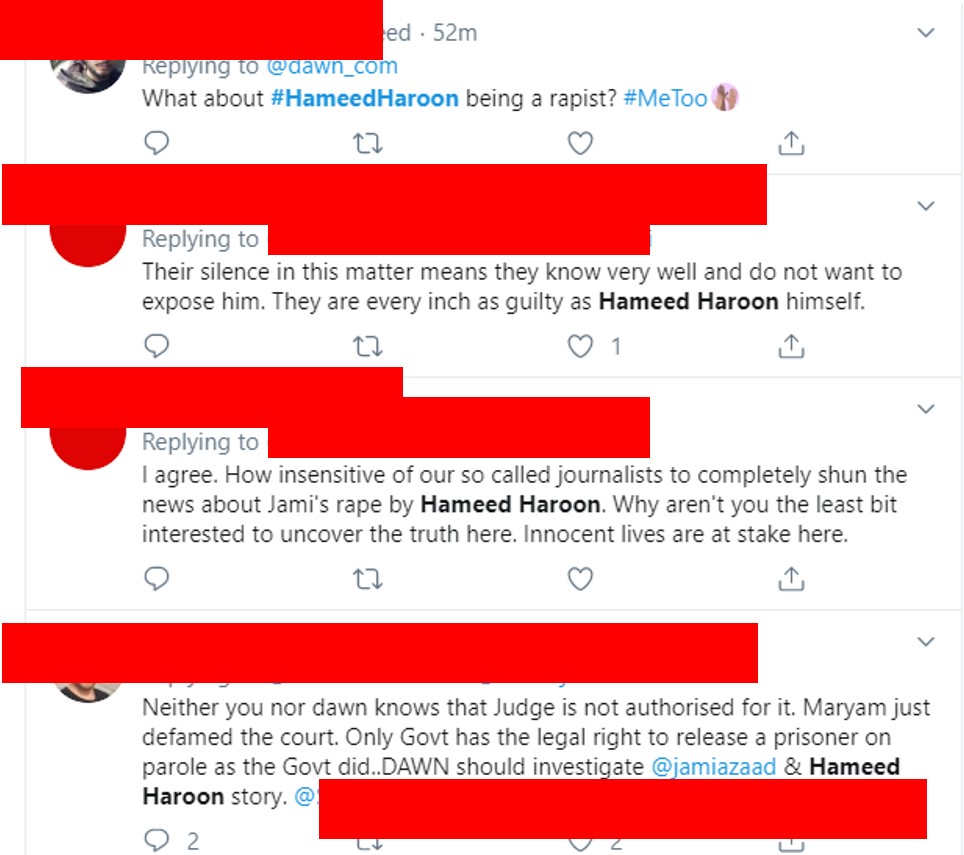 Nevertheless, this could all just very well be speculation and no one can be held guilty until proven. However, what cannot be ignored or written off as mere speculation is Dawn Media Group's censorship of Jami's story and its abstinence from doing a follow-up piece.
The latter is especially problematic since Dawn, being a liberal and progressive media establishment has always readily championed the cause of highlighting issues of sexual harassment and freedom of speech.
That Dawn Media Group is distancing itself from its own values to downplay Jami's harrowing account of rape is then beyond comprehension.
An explanation by Dawn is certainly in order and it must answer not just Jami but also its disappointed readers.