It looks like Rishta aunties on the internet cannot have enough of Imran Abbas, and they're so invested in his marriage that they keep pairing him up with one female celebrity or another time and time again.
Read: Speaking Of Productivity High, 13-year-old Fatima Bintay Salman Authors 4 Books During Lockdown!
The actor took to Facebook to vent out his frustration on randomly being linked up with co-stars by people on the internet. He wrote how this is his fourth marriage since January 2021, and it's not funny anymore.
It was only last week that the Mera Naam Yousuf Hai actor's wedding rumors with Ushna Shah doing rounds on social media. Initially, the two laughed it off, commenting how they forgot to tell themselves about the wedding. However, within a week, the model turned actor has been allegedly hooked up with yet another female celebrity, Urwa Hocane, and Abbas is not having it.
Abbas has literally had enough of these gimmicks.
Read: Here's What Maryam Nawaz Drinks In A Steel Glass, & No, It's Not What You Think It Is!
He wants to take action against these clickbait influencers and YouTubers to stop them from spreading false information about him and his other fellow celebs. Moreover, he has one question for all of them: "Yaar, in bloggers ko koi aur kaam nahi hai kya? (Do these bloggers have nothing else to do?)"
This time around even Shah did not hold back from voicing out her disgust on social media people creating fake content for mere publicity and linking up actors and media personalities for nothing but sasti mashoori.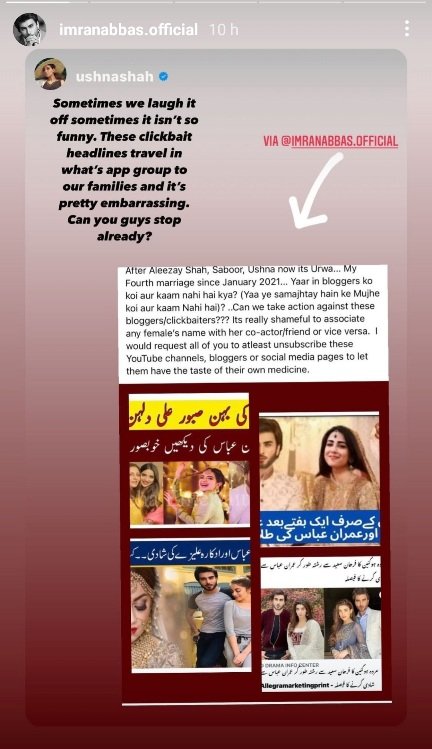 She took to Instagram stories to complain how this is not funny and asked people to put an end to this nonsense.
Do you think people and their obsession with Imran Abbas and his marriage is getting annoying now? Let us know in the comments.