Whenever we need an info we automatically rush to google and never pay any attention to cross checking the facts.
In today's news, as per the google search results the Bollywood actor Anushka Sharma is married to the Afghan cricketer Rashid Khan as opposed to Virat Kohli.
Also Read: Kangana Ranaut Calls Mumbai "POK" After BMC Demolished Her Office & No Babygirl, It's India
You think we're kidding? Here's the proof!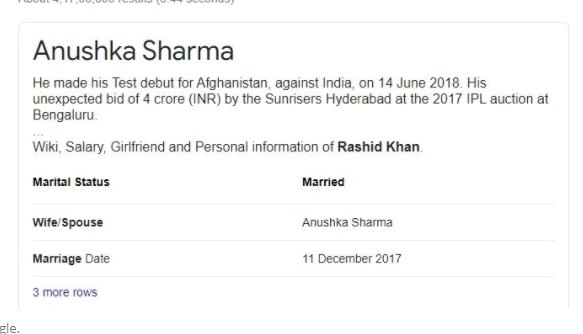 While this may sound a lot strange but google may have a reason behind this search result.
In 2018, Rashid Khan was asked to name his favourite Bollywood actresses during an Instagram chat session with his fans and followers and in response he had named Anushka Sharma and Preity Zinta.
Also Read:Indian Media Is Reporting A Relationship Between Mehwish Hayat & Dawood Ibrahim & What Even
And that was enough for the fans to talk about the duo incessantly on social media making google believe that they are married!
Also Read: Dilip Kumar Wants People In Peshawar To Share Pictures Of His Ancestral House
If you still need clarification, yes, Anushka Sharma is married to Virat Kohli and they're expecting their first child.
Now you know why your teacher never wanted you to rely on wikipedia for information!
Have something else to add to this story? Share in the comments below!