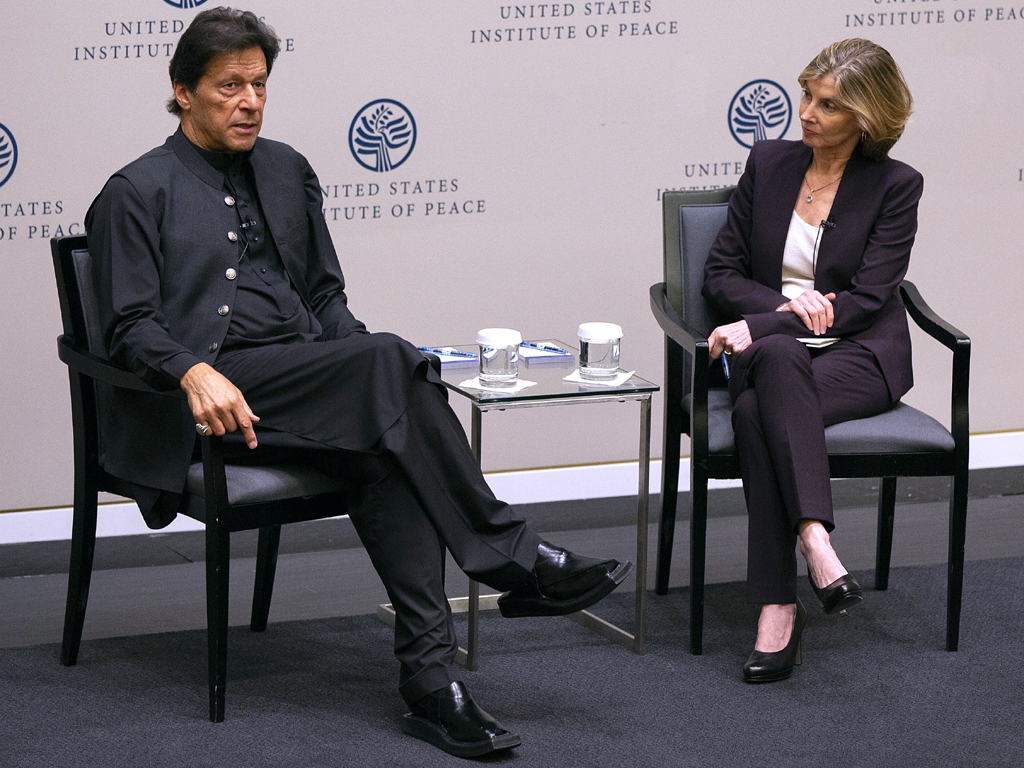 Prime Minister Imran Khan addressed a gathering of American intelligentsia on Tuesday evening from the platform of United States Institute of Peace (USIP).
Once his address concluded, a number of tough questions were asked from Imran Khan at USIP. While the Prime Minister answered most questions to the satisfaction of most, there were certain answers that simply did not resonate.
Imran Khan at USIP: The 3 Sixers
Pakistan's current stance on Afghanistan
After sticking to the narrative of being absolutely bi-partisan as far as Afghanistan was concerned, Prime Minister Khan's acceptance of Pakistan's past interference in its neighbour's internal affairs was an honest and bold response.
It was also extremely welcome to hear the Prime Minister pledging complete distance from Afghanistan's internal politics and supporting the government there to restore peace to the war-torn country.
"Human Rights violations happen whenever military enters civilian areas"
When quizzed about alleged human rights violations in Pakistan's tribal belt, the PM's candid response left many amazed.
"I had opposed military action in the tribal areas and was called Taliban Khan for it. General Musharraf called me an extremist without a beard for my stance at the time," he said in response to the question.
Read: Imran Khan, Arif Alvi & Shaukat Yousafzai Are Under Fire For Exuberant Spending & It Really Looks Bad
The Prime Minister further added, "Armies are not meant to enter civilian areas. Whenever they do, there will always be collateral damage and human rights violations."
When asked a similar question later during the session, the Prime Minister once again emphasized on demilitarizing civilian regions and ensuring democratic rule.
The solution to Kashmir lies with the aspirations of Kashmiris
For the first time since Agra Conference in 2001, a Pakistani leader has distanced himself from the "Kashmir banay ga Pakistan" (Kashmir will become Pakistan) rhetoric, saying, "The solution of Kashmir lies with the aspirations of the Kashmiri people."
This statement demonstrates immense flexibility on Pakistan's part and it is now India's turn to show earnest reciprocity.
Imran Khan at USIP: 3 Times He was Bowled Out
Pakistan's media is freer than British media
The subject of increasing curbs on Pakistani media surfaced a number of times during the session. Each time, unfortunately, the Prime Minister contradicted himself.
At one point he said, "Media in Pakistan is freer than British media," and then followed that up with, "We need to control the media."
Read: UK Paper Alleges Sharifs Might Have Stolen Foreign Aid Sent For Earthquake Victims
Khan did try to redeem himself when he said that by "control" he did not mean for the government to control media but was referring to the "media watchdog." He however, forgot to mention that the "watchdog," i.e. PEMRA is a government controlled institute.
Crackdown on INGOs
When asked about the alleged on-going crackdown on INGOs, Khan spoke about Save the Children's involvement in a covert CIA operation in 2010. He mentioned how NGOs in Pakistan had issued a joint statement condemning the use of humanitarian and development organizations as covers for intelligence operations.
Up until this point, the PM made complete sense.
However, he then made it sound as if the INGOs had left the country only because of attacks by militants and his government was making efforts to bring them back.
This last part was only half the truth given the many restrictions that the government has placed on non-profits, making it very difficult for most to work for genuine causes such as education and health.
On Harassment Faced by PTM Activists
The Prime Minister deserves credit for spearheading the democratic transition in the tribal areas and accelerating the process of FATA reforms. More specific to PM Imran Khan's talk at USIP, he also deserves praise for candidly talking about the grievances of the tribal population against the state and the military stemming from the various operations that had left half the population in those areas internally displaced.
That said, while Khan did acknowledge the validity of PTM's grievances, he shied away from commenting on the alleged harassment faced by PTM activists at the hands of the state.
You can watch the entire proceedings of Imran Khan at USIP by clicking on the link below: