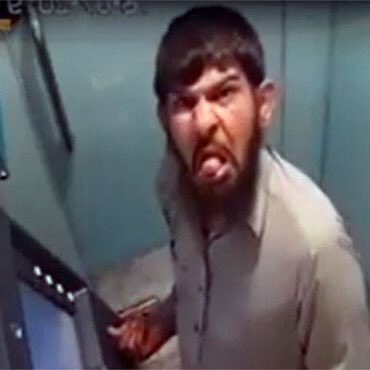 Social Media presents itself as a powerful medium in not just Pakistan but across the globe. Case in point being Salahuddin Ayubi.
Last week in a video that went viral on social media, a man was seen stealing an ATM card after breaking open a machine in Faisalabad and sticking his tongue out in jest at the surveillance camera. The timestamp on the video suggests that it was recorded on July 16, 2019 but went viral only last week.
Salahuddin was arrested in Rahim Yar Khan district on Friday 30, August 2019 when he was apprehend by locals as he attempted to break the exterior of an ATM.  It was later revealed that Salahuddun had been arrested on similar charges in the past but he was able to dodge the police by pretending to be speech-impaired.  However, this time the police, rightly so, had good reason to apprehend him, as they had footage of him breaking into an ATM.
This was not a complicated case that required extensive interrogation or investigation. Police had sufficient evidence in the form of the video footage of the accused.
Nevertheless, police felt compelled to follow its conventional methods of investigation and in another video that went viral, police officers were seen interrogating Ayubi.
In this apparent "interrogation video" – that is now doing rounds on social media – one can hear a police official asking Ayubi, "From did you learn sign language?" To this he wittingly responds, "From where did you learn to torture like this?"    
Sometime during Sunday September 1, 2019 Salahudin was rushed to Sheikh Zayed Hospital where he was declared dead. While the postmortem report is awaited, at the back of our minds, we are all suspecting police brutality.
Salahudin's death seems surreal…
Only last week I was joking about his antics with my co-workers and I can't help thinking that if he had not mocked us all in the camera, maybe his video would not have gone viral and he might very well still be alive.
Read: Salahuddin Ayubi: Another Victim Of Police Brutality Whose Only Crime Was Stealing An ATM Card
The social media uproar will soon subside and as things happen in Pakistan this too will be brushed aside. However, for now government officials feel obligated to comment.
It is ironic that the reaction of the government to the incident is reflective in the tweet of the Minister for Science and Technology Fawad Chaudhry:
Here a federal minister in proclaiming that torture in police custody is a routine matter, and then cites an example in which a person committed suicide after police torture. He then goes on to ask provincial governments to "wake-up" and "take action." Chaudhry's rhetorical tweet conveniently passes the buck to the provincial governments, excusing the federal government from its role to curb police brutality.
On his part, the spokesperson for Punjab government also tweeted, expressing his "remorse" on Salauddin's death in police custody.
The spokesperson's tweet, which seems like a collection of cliches indicates that the Chief Minister's office has directed the Inspector General's Office to submit a report on the incident. 
This is not the first time police has transgressed its constitutional limits and unfortunately, given our past performance in this domain, this won't be the last.
As long as police in Pakistan is complacent about violence and acts as a tool of oppression for political opponents there is little hope for things to improve.
This also makes one wonder about the many promises of police reforms and bold claims of depoliticizing the police made by Prime Minister Imran Khan during his campaign trail and later, after assuming office.
Salahuddin Ayubi is no more but just as he mocked our criminal justice system when alive, in death too, he seems to have challenged the rulers to walk their talk.