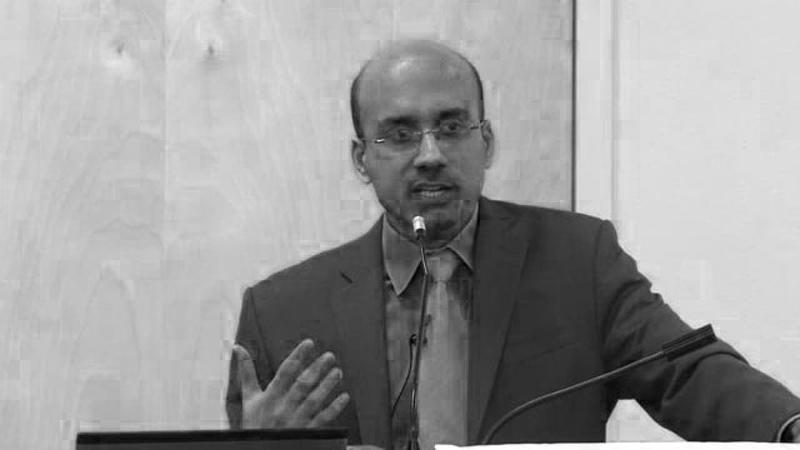 In another case of discrimination against religious minorities in Pakistan, the nation once again found itself vulnerable to the decades-old backfiring policies of the state when an alt-right group felt influential enough to single-handedly decide the fate of the country. As the people of Pakistan continue to mourn the recent Atif Mian saga, let me walk you through another episode of how we failed Jinnah and how forcing Atif Mian to step down from EAC is actually a disservice to Pakistan.
Read: 3 Takeaways From PM Imran Khan's Defense Day Address At GHQ
7 days ago Pakistan's newly elected government formed an Economic Advisory Council (EAC) to help devise policies that can rescue the country's crippling economy. The council included world-renowned Pakistani economists and seasoned scholars related to the subject.
Following the announcement of the members, name of Dr. Atif R. Mian of Princeton University also came forward, the first person of Pakistani origin to rank among the top 25 young economists of the world. A major chunk of the country finally had a sigh of relief over the meritorious selection of scholars in the committee which had a precedent of having inept ministers on board in the past.
However, soon after and as always, exploitation of religious sentiments stripped the nation of the prospects of prosperity when politico-religious parties started a campaign against Atif Mian's inclusion because of his Ahmadi religion. Initially, PTI did put up a fight when Fawad Chaudry, the Information Minister, defended the appointment with the following statement.
BRAVO @fawadchaudhry #Ahmedis #minorities pic.twitter.com/eTm5yjYvb3

— Syedih (@SyedIHusain) September 4, 2018
A few days into the speech and PTI was at the receiving end of countless threats of protests and violence by the likes of Khadim Rizvi, Tehreek-e-Labbaik Pakistan. Following the raging pressure, PTI succumbed to the dissidents' extremist agenda which in fact is a disservice to Islam as well but, that's another debate for another day.
As the world witnesses another example of the disrespectful treatment of minorities in Pakistan, we need to talk about how the whole episode has only been a disservice to Pakistan!
1. Pakistan's Economic Crisis Could Use The Expertise Of Atif Mian
One aspect that has been highly neglected in this whole debate is the fact that Pakistan at the moment needs a $12bn bailout to avoid default. Whether to request IMF for the loan or the Chinese ally is the most critical issue that the South Asian country faces right now and the effort to resolve this dilemma has experienced a major set back with Atif Mian's removal from EAC. It was only 14th August when the genius economist took to Twitter to discuss the crumbling money business of the state.
Read: Faizabad Settlement – Extremism: 1, Pakistan: 0
1/ On Pakistan's #IndependenceDay2018 , why is the country still far from economic independence? (e.g. seeking its largest bail out ever this year)

I'll focus on last 5 years as an example … it will get a bit technical but i'll try to be clear.

— Atif Mian (@AtifRMian) August 14, 2018
The thread ended on the following note!
15/ Let's hope for better economic sense this time.

🇵🇰پاکستان زنده باد

— Atif Mian (@AtifRMian) August 14, 2018
Atif's work is focused on macro-economy and Pakistan, which is dealing with a threatening debt crisis, could really use his expertise to rise to the occasion. Despite the sensitivity of the issue though, the government was forced to choose between the national interest imperative to the state's survival and a misconstrued sense of religious righteousness and guess which one took the back seat!
Moreover, there is a dire need to understand that someone's personal religious views have nothing to do with their merit or ability to perform his/her job. Atif was not selected in some religious council of the government and thus, he has what it takes and more to be on EAC which is a domain completely divorced from the matters of religion. Therefore, Atif's removal from EAC has only created more problems for the already impoverished country.
Read: The Best Among Believers – A Look At The Faizabad Sit-in
Also, two more famous economists, Asim Ijaz Khwaja of Harvard Kennedy School and Imran Rasul of UCL, have resigned from the council in solidarity with Atif. The domino effect has inflicted a major setback on the whole idea that brought hope to the nation in the first place and that's all because of our inability to differentiate between religion and other affairs of a state.
Have resigned from EAC. Painful, deeply sad decision. Grateful for chance to aid analytical reasoning but not when such values compromised. Personally as a Muslim I can't justify this. May Allah forgive/guide me&us all.Ever ready to help.Pakistan Paindabadhttps://t.co/j80LHEhfRK

— Asim Ijaz Khwaja (@aikhwaja) September 7, 2018
With a heavy heart, I have resigned from the EAC this morning. The circumstances in which Atif was asked to step down are ones I profoundly disagree with. Basing decisions on religious affiliation goes against my principles, or the values I am trying to teach my children. (1/5)

— Imran Rasul (@ImranRasul3) September 8, 2018
2. A Moment Of Humiliation For The Nation
Pakistan already suffers from image problems all over the world for sponsoring terrorism, mainstreaming extremist factions and the undemocratic statehood. Yesterday's decision has only strengthened the international community's belief in these rhetorics a little more.
Economic uncertainty and the tendency to falter right has always clouded Pakistan's role as a state in the world affairs and by removing an economist who is revered all over the world on the basis of his Ahmadi religion, the precedent has only added to the maligning narrative that has put Pakistan in severe international pressure post 9/11.
The high number of world-leading economists tweeting about the absurdity of removing Atif Mian is feeding into our image of a bigoted state.

An image we absolutely deserve.

— Shahrukh Wani (@ShahrukhWani) September 7, 2018
Read: After Mashal Khan, Pakistan Loses Another Son, Qutub Rind, To False Blasphemy Allegations!
3. A Blow To Jinnah's Vision!
Pakistanis from across the walks of life have condemned the decision because of how contradictory the notion is to the Pakistan envisaged by our founder Quaid-e-Azam Muhammad Ali Jinnah.
"Atif Mian asked to step down."

Unfortunately the naya Pakistan govt didn't have the guts to see this through.
Quaid e Azam did when he appointed Chaudhry Sir Muhammad Zafarullah Khan 1st Minister of Foreign Affairs for Pakistan

There are some things purana Pakistan did better. pic.twitter.com/nhCyA54l8L

— Fifi Haroon (@fifiharoon) September 7, 2018
https://twitter.com/jalilsoomro77/status/1038156929892270081
Moreover, the decision also hurts the constitution of Pakistan!
Constitution of Pakistan anyone? #AtifMian pic.twitter.com/MJurIoO4Jo

— Haroun Rashid (@HarounRashid2) September 7, 2018
Indeed, all those who claim to be patriotic for taking a stance against Atif's appointment have only done a disservice to the country by failing the founder of the nation. The embarrassing event has once again brought the country to a point of reflection which if not undertaken seriously is bound to doom us all.
For now, I can only hope that may we learn to put our national interests over communal/personal gains! Amen!
Read: These 5 Political Developments In 2018 Will Define The Future Of Pakistan!