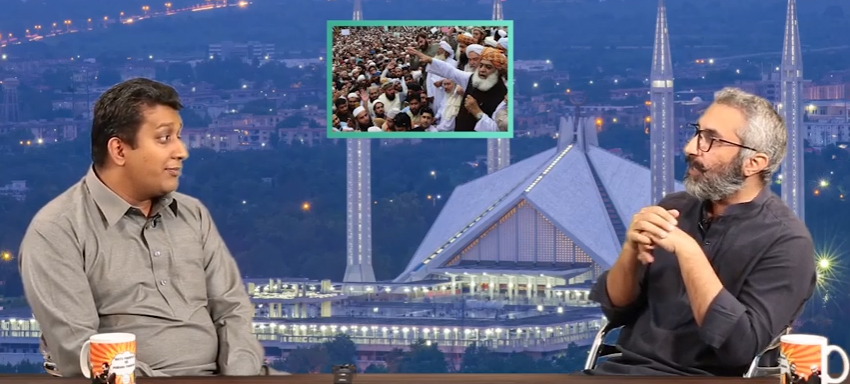 In the latest episode of Naya Pakistan vs Purana Pakistan, the hosts, Haris Mian and Ammar Zafarullah discussed the buzz around Maulana Fazlur Rehman and Azadi March.
The hosts discussed how PTI government was trying to manage a situation that, it seemed like could reel out of its control if taken lightly.
Haris Mian remained confused about Maulana's agenda
For the third straight week, Haris Mian remained unclear about the actual agenda of the march. Maulana Fazlur Rehman had stated that they wanted the resignation of PM Imran Khan but Mian felt that JUI-F had deviated from its original stance and had since remained unable to provide a sound justification for staging a march towards the capital.
Can Maulana Fazlur Rehman incite violence during Azadi March?
The primary point of contention between Zafarullah and Mian sprouted from the fear of violence.
While Ammar Zaffarullah felt there was no reason to feat JUI-F given the political party's long history of staging peaceful protests, Haris Mian felt skeptical after watching the viral video in which JUI-F's workers were seen practicing some form of martial arts with sticks.
Read: This Is How Islamabad Administration Has Prepared For Maulana Fazlur Rehman & His Azadi March
"If they are planning to remain peaceful, why were their party workers trained to use sticks as weapons?" an exasperated asked Haris at one point.
The fear of possible outbreak of violence between JUI-F workers and the state also springs from the fact that unlike the previous rallies that Maulana Fazlur Rehman had spearheaded (e.g. to protest Indian atrocities in Kashmir), the purpose of this sit-in is to topple the government. This inevitably means that the situation is likely to remain tense for as long as the protesters remain on-ground. The slightest mistake from either side can very well trigger violence and so, more than anything else, it is important for both the state and JUI-F to show utmost restraint.
Watch the latest episode of Naya Pakistan Vs Purana Pakistan and let us know your thoughts in the comments below.