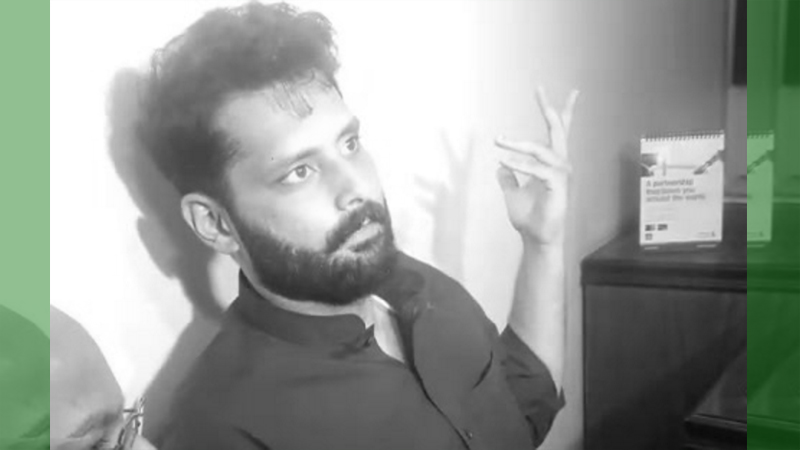 Over the last 10 years, Jibran Nasir has become a household name for giving a voice to the weak, persecuted, poor and oppressed in Pakistan. Now a well-known activist across the country, this fame has come at the expense of being constantly vulnerable to numerous threats to his life, family and friends as a result of his fight against the systemic corruption and injustice. However, last night, the very same fame saved Jibran Nasir from ending up as another victim of VIP culture in Pakistan. Had Jibran Nasir been a common man, things would have been much worse. Here's a summary of what happened yesternight.
Read: What Bothered Me About Maryam Nawaz's JIT Appearance
On his way back from Samaa TV, Jibran unfortunately got stuck in traffic but that, of course, was not the worst part. High Court Judge Faisal Kamal had also taken the same route to reach his destination that evening and on finding the road jammed, his security protocol officers started shouting at the cars to move ahead. When Jibran was ordered the same, he tried putting some sense into the personnel by telling them how traffic jam actually worked.
Everything seemed normal even then. However, once the traffic started flowing, Jibran's car was ambushed by the security protocol and forced into a corner. On asking the reason behind such erratic behaviour, Jibran Nasir became a victim of assault by these security officers who at first thrashed him and then threw him in the mobile.
The disturbing part is that a security protocol has no legal right to arrest an individual and even more disturbing is the fact that those who are responsible to ensure the manifestation of law are actually the ones who show continuous blatant disregard for it.
Read: Update On The Asad Kharal Assault Case
Jibran Nasir being Jibran Nasir (and rightly so) live streamed the assault via his Facebook page.
The next thing we know, the candidate from NA 247 was sitting in Frere police station for not giving a VIP the way on road. Media was quick to take notice of the development and approached Jibran for an explanation of the event. Here's what he had to say.
The most disturbing part of this nine minute video is where Jibran Nasir explains how one of the convoy's members kept threatening, "Consider yourself lucky that it was just a slap and not a bullet!" and that too in front of the DSP.
On recognizing the gentleman under assault as none other than Jibran, the popular activist, the tone of these disrespectful armed men completely changed and they suddenly started addressing him as Sahab.
Had Jibran Nasir been a common man, we wonder what these security men would have done to him. We have witnessed such incidents in the past where innocent lives were taken at the press of a trigger merely because some VIP had to face a little inconvenience on the road.
Jibran Nasir's ordeal is a grave reminder of the ill-treatment a common man faces at the hands of elites and gives us a glimpse into how vulnerable one can be to injustice and violence in our country if they don't have a name that rings a bell.
Read: Watch Video: Jamal Khan Of PML-N Mocks His Constituents & Democracy
While thankfully Jibran came out of the incident safe with minor injuries, the episode has finally exposed what value is attributed to the life of a common man in our system where power trumps law! It's a sorry state of affairs to say the least!