Sustainable Development Policy Institute (SDPI) in collaboration with Malala Fund organized a panel discussion on "Education Methods in COVID-19 Response: Assessing Gendered Impact" on 14th December
The panel discussion was jointly moderated by Ms. Rabia Tabassum, Senior Research Associate at SDPI and Areebah Shahid, Executive Director, Pakistan Youth Change Advocates and Malala Fund Education Champion.
"There are some amazing ed-tech platforms in Pakistan, but a) there's no level playing field when it comes to access to the Internet b) there's a significant discrimination against girls accessing the internet for educational purposes."-Areebah Shahid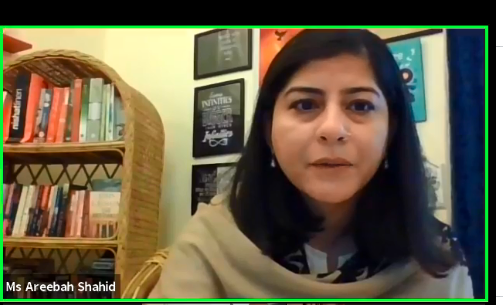 Ms. Shahid, presented a research study, "Girls' Education and COVID-19 in Pakistan" led by Malala Fund and its partners in the country.
The study revealed that only 20 per cent of the surveyed students were using Tele-school, only 2 per cent educational radio programs and only 1 per cent ed-tech platforms across Pakistan. The study findings also emphasized how the pandemic had taken a massive toll on household finances and owing to increased poverty a substantial number of children who had participated in the survey, especially girls were unlikely to return to schools.
Based on the findings of the research, she asked the government to take lead in encouraging parents and communities to not merely ensure the continuation of their daughters' educational journey during and after the pandemic but also to normalize girls' access to the internet for educational purposes during school closures.
She also pointed out at the disturbing trend of the declining education development budgets and urged the government to find avenues to boost public sector investment in education.
"There is a national consensus that is required for education decision making."- Umbreen Arif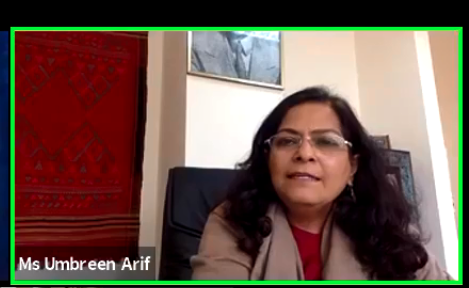 Highlighting the positive takeaways from the emergency situation created by the pandemic, Ms. Umbreen Arif, Education Policy Advisor at Ministry of Federal Education said that the federal and provincial governments came together to form policies as a unit during these trying times.
Another positive consequence of the pandemic according to her was how education issues of the marginalized groups, in particular girls, had come to the forefront.
"Young people have really, really come out as the strength of Pakistan," in terms of refining curriculum, filtering the content for Tele-schools, "and finding the key lessons that children need to learn for academic excellence," Ms. Umbreen said. "We're also working towards localizing the content as much as possible to increase the relatability level," she added.
Also READ: Key Takeaways From The Panel Talk On Youth And Sustainable Population Growth: Opportunities & Challenges
"The focus needs to be on introducing SOPs to resume formal education for girls as soon as possible."- Wajeeha Bajwa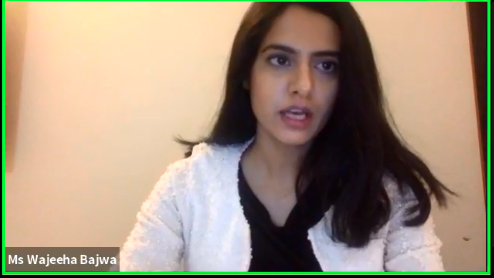 "Virtual or blended learning approaches do not match the learning outcomes from traditional teaching and learning approaches," Ms Wajeeha, Advisor, NORRAG said.
Pointing out some heartbreaking facts, she mentioned how children in erstwhile FATA and Khyber Pakhtunkhwa region had to travel miles to access internet for their education. She also pointed out how this posed an impossible situation for female students in the conservative regions.
She asked the government to develop SOPs in virtual education and tele-education for public schools. "The govt. can use pre-existing resources that can be leveraged to reach out-of-school girls. One such resource is Pakistan Post that can be used by teachers to regularly mail the schoolwork to the poorest and most marginalized girls."
"COVID-19 has really, really highlighted the inequalities in the system, the education system overall and inequalities for girls as well."- Fajer Rabia Pasha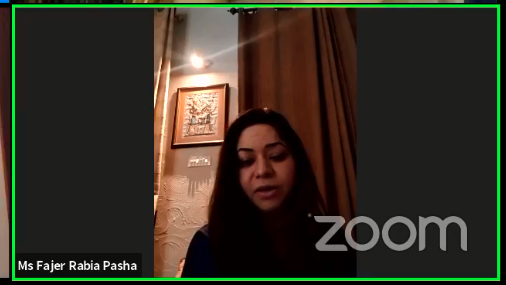 Ms. Fajer Rabia Pasha, Executive Director, Pakistan Alliance For Girls Education (PAGE) emphasized, "We need to have a short-term plan where we use the local resources like hire a local teacher to reach out-of-school girls to face the challenge we have at hand."
She recommended that considering the disparity in access to internet devices, Pakistan could invest in tablets with restricted internet access that have preloaded lessons, so that girls can fully avail them.
"Learn from past disasters and devote in no regret policies. Make sure that girls have access to information and resources of a productive social safety net to mitigate the need to enter the labor market, particularly in high risk work."- Dr. Fouzia Khan, Chief Advisor School Education and Literacy Dept., Govt of Sindh.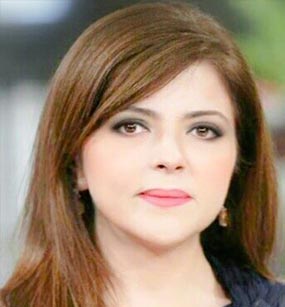 You can watch the entire panel talk here:
Do you have something else to say about the girls education in Pakistan? Please write down in the comments below.