These days it is pretty common to see women taking up jobs that were historically reserved for men. However, Jameela Khatoon challenged the norm and decided to take up her husband's oil changing and repairing shop after he passed away. The brave lady ever since hasn't looked back.
Read: Even If Nida Yasir's F1 Video Is 5 Years Old, We Still Have Fresh Jokes To Laugh At
Jameela's son was a teenager when his father passed away, and she was the only one to look after his needs. Being in the field for almost 35 years, Mrs. Oil is so skilled that she can tell when a person got their motorcycle repaired, without them having to give her any information.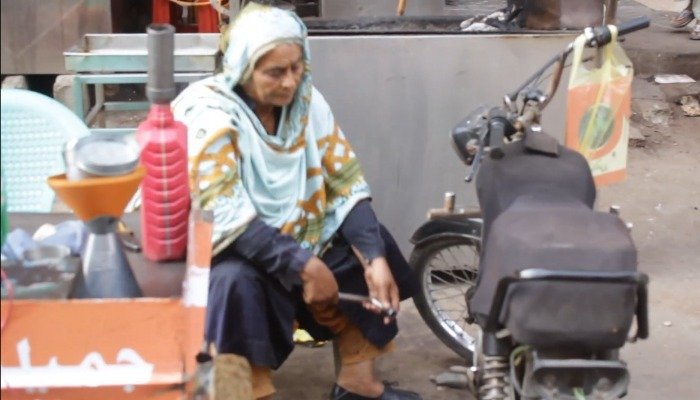 That's not all, when Khatoon was younger and had more strength in her, she also worked as a newspaper hawker before opening her oil and repair shop, which is the size of an average juice stand.
She's passionately running her business because this is her husband's only lasting legacy and there's no one else in her house to take over the responsibilities yet. Unfortunately, her only son, who she had adopted, also breathed his last some time ago. However, she has many mouths to feed as her son left behind a widow and four grandchildren.
Read: Protocols For Home Isolation During COVID 19
With an already challenging life, Jameela Khatoon also had to fight for the ownership of the shop. Earlier, the business was going so well that she had hired 6 laborers to help her out, but then, they tried to forcefully snatch it from her.
She says life was easier when she had their help. Now she has to work extra hours to compensate for them, but she is not someone to give up so easily. It is her strength and bravado that keeps her going despite the difficult circumstances.
Have something else to add to this? Write in the comments.