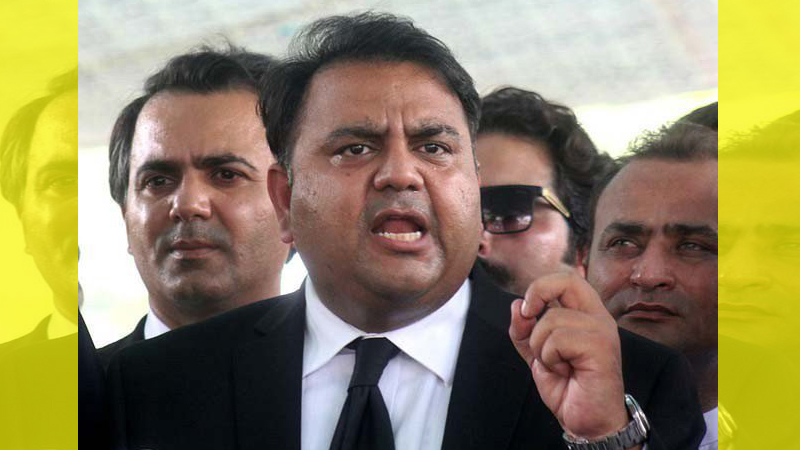 Seems like the new government is suffering from some dominos effect as each morning brings a fresh stock of controversies which is then followed by very sloppy damage control attempts. The latest episode of embarrassment came from CM Punjab Usman Buzdar (his second in two weeks) who used a private plane to visit a friend in Mian Chunnu along with his family. Later that day it was also revealed that PM Imran Khan commutes to PM House from Bani Gala by helicopter. The information dropped many jaws for all the wrong reasons and people took to Twitter to condemn the VIP culture. Then, on being approached for an explanation, Fawad Chaudry talked to the press and stated, "Prime Minister Imran Khan's journeys to and from Bani Gala on the helicopter cost between Rs50 and Rs55 per kilometre." Next thing we know, Twitter was flooding with #helicopter memes and jokes. Here's how amused Pakistanis are by Fawad Chaudhry's cost calculation of a helicopter ride.
Read: This Is How Pakistanis Are Reacting To The Khawar Maneka – Rizwan Gondal Fiasco
I was going to buy a moterbike but now as our information minster told us that it costs 55RS per 13 KM for a helicopter so I'm gonna buy it
Amma committee daal lo#Helicopter

— Muhammad Asjad (@imMuhammadAsjad) August 28, 2018
#helicopter
So now helicopter is cheaper then careem and uber then govt should start helicopter service for all peoples so they can save more money

— Sadia Shaukat (@SadiaShaukat10) August 28, 2018
https://twitter.com/amatulmateenoor/status/1034504472331005952
#Good #news. Found the #helicopter which can give the #mileage of 55 Rupees per Km. #Uber and #Careem are in shock. #TwitterMianInfoOnline #FacebookMianInfoOnline #InstagramMian_Info Fallow us pic.twitter.com/8SxydUsa6i

— MiAn Muzzamil (@MuzzamilOnline) August 28, 2018
Coming soon in #NayaPakistan #helicopter service. ✌️ pic.twitter.com/irCMhlZEiH

— Usman Amin (@usmanaminkahoot) August 28, 2018
This is how @fawadchaudhry searches google for the helicopter expenses on google 😄#helicopter #ImranKhan @PTIofficial pic.twitter.com/NLQpqioHEa

— Mudabbir Khan (@MudabbirPathan1) August 28, 2018
On a lighter note: Positive criticism via #funny yet creative video on the issue of #helicopter commute to and from work. Any resemblance or similarity is purely coincidental. #welldone #Tabdeeli pic.twitter.com/ZUTKCmvsPu

— Raza Haroon رضا ہارون (@mrazaharoon) August 28, 2018
And then there are those who could not help but seriously call out the Information Minister for the shocking statement.
https://twitter.com/ADDYbug666/status/1034496696879906816
Although claim of 55Rs for 8km sortie still sounds absurd even for fuel efficent light weight #Helicopter, its necessary that #PTI should release more credible figures with proof to back such claims. Keep in mind, there is a possibility that such claim might be true!
(4/4) pic.twitter.com/bKPfHUVfwP

— Tipu7 (@AhmAdTipu7) August 28, 2018
So let's do quick maths.
Aviation gasoline=5$ per gallon apox.= 615 PKR
Distance in one gallon =7.19 miles = 11.57 KM
Cost for 1KM=53
Cost for 3KM=159 PKR#helicopter pic.twitter.com/ARGIzq1eM7

— Talha Ubaid (@mtalhaubaid) August 28, 2018
Because spending on Infrastructure Development is a waste of money#NayaPakistan #Tabdeli Buy them all #helicopter coz it costs #PKR55 per ride n its safehttps://t.co/UDcKHoRT4A

— Mehreen Fatima (@IdealistAnsary) August 28, 2018
Read: Twitter Reactions: Prime Minister Imran Khan's Address To The Nation Wins Over Pakistan
Of course, we expected some geniuses to defend the statement.
Only for those people who were mocking on the claim of 55Rs/Km fare of Helicopter. People with common sense can understand the difference. #FawadChauhdry #Helicopter #SachJanKarJeo pic.twitter.com/9DTLzmsUaa

— Ubair (@UbaiR15) August 28, 2018
#helicopter
Helicopter issue is our آٹا گندی ہلدی کیوں ہے؟ psyche.
A PM needs to commute safely & rapidly, if he commutes on roads he is accused of inconveniencing people if he flies, it is expensive? ? What do u want?
Get a life people.

— Asher Azeem Gill (@ashirazeemgill) August 29, 2018
That being said, it doesn't take one to be a rocket scientist to estimate if a helicopter ride would cost Rs.55/km or not. While we don't know the authenticity of the statement, we, like most Pakistanis right now, find Fawad Chaudhry's cost calculation of a helicopter ride hilarious at many levels and thank the minister for giving us fresh content for memes that will entertain us for the ages to come.
Read: 3 Things That Should Remain Unchanged In Naya Pakistan