The Afghan women have launched an online campaign in response to the Taliban's new dress rule for female students. A large number of Afghan women are posting images of their colorful traditional Afghan costumes on social media using hashtags like #DoNotTouchMyClothes and #AfghanistanCulture to amplify their voices.
In protest to the Taliban's dress code, I proudly share these photos in traditional Afghan attire. Vibrant, bright colors adorned with jewels #DoNotTouchMyClothes #AfghanistanCulture #AfghanWomen pic.twitter.com/z73hx9hrhQ

— Wida Karim (@Wida_Karim) September 13, 2021
The women of Afghanistan have been under strict check ever since the Taliban came into power. They've had to run away from their homeland, quit their jobs, and seek shelter. Many of them have claimed that they did what they did because their lives were in danger. It is also worth mentioning here that the Afghan Taliban have mandated segregation between men and women in classrooms and ordained the female staff and students to wear hijabs as instructed by the Shariah law.
Read: A Look At The Extremely Emotional Goodbyes The Afghans Are Saying To Afghanistan
On Saturday, images of a group of female students appeared on the internet where they were seen wearing black veils and burqas in the lecture hall of a government-run university in Kabul, waving flags against the Afghan Taliban to express their disapproval of the new rule.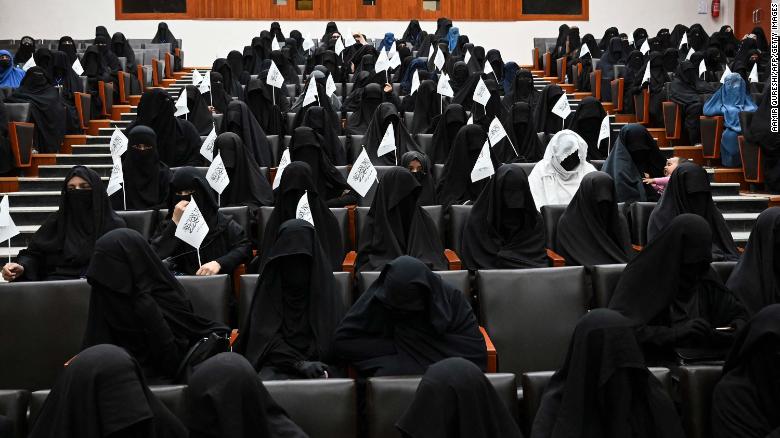 On the other hand, the rest of the supportive Afghan women took to social media to raise their voices against the mandate. They have been using specific hashtags to get more visibility on Twitter. #DoNotTouchMyClothes and #AfghanistanCulture are two of the largely used hashtags in the ongoing online campaign.
Dr. Bahar Jalali, a historian and the founder of the first gender studies program in Afghanistan was the first one to launch the online campaign. Many others then joined her to support the cause.
Following her post, she encouraged other women to come forward to show the world the real face of Afghanistan. Many of them complied with her and shared their photos dressed in traditional Afghan dresses to highlight their homeland's real culture.
One of the users posted a picture of a group of Afghan women to hit back at Taliban saying "this is the culture the Talibans are trying to hide," and that they wll use their voice to fight back.
Traditional indeed.
BBC's journalist for Afghanistan, Sodaba also took to Twitter to join Dr. Jalali in her online campaign.
Have something else to add to this? Write in the comments.