An epic war of words started as actors Diljit Dosanjh and Kangana Ranaut tore into each other over the issue of farmers' protest. Now, B-town celebs have come forward in support of the Punjabi singer-actor. As the verbal fight got nasty, actors Angad Bedi, Shruti Seth, Kubbra Sait and Swara Bhasker posted support for Diljit.
As the farmers' protests gain heat in North India, it is attracting the attention of many around the country. And one such personality is actor Kangana Ranaut. She had posted a Tweet accusing the famous Shaheen Bagh dadi Bilkis Bano of joining the farmers' protest for a mere 100 bucks.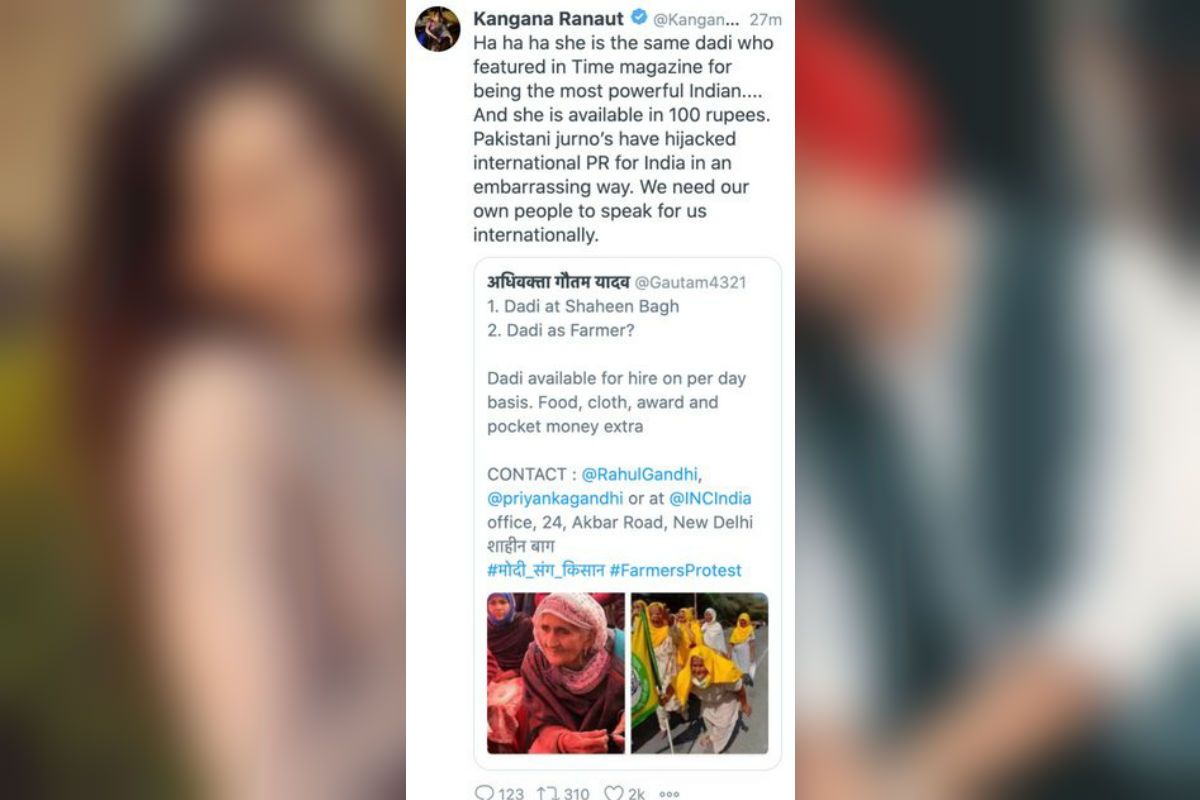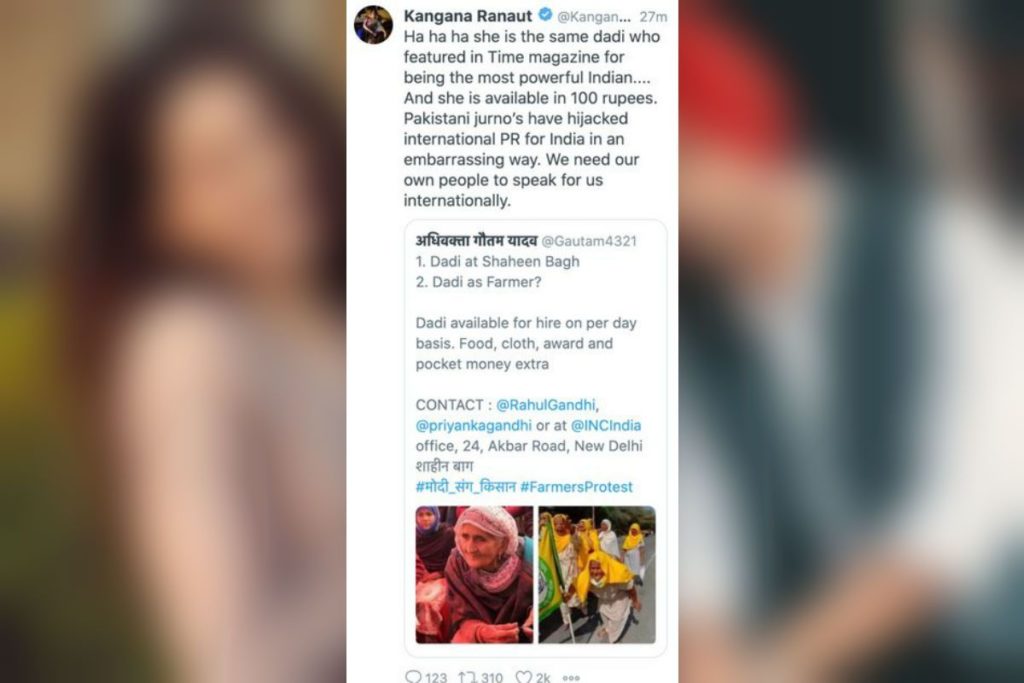 However, the photos are actually of different women. The old farmer is apparently Mahinder Kaur, who even called out Kangana Ranaut for tweeting such disparaging remarks about her. Additionally, it has never been proved that Bilkis Bano is a protestor 'for-hire', as Kangana so easily claimed.
Consequently, singer and actor Diljit Dosanjh, who has been quite vocal in his support for the farmers, shared Mahinder Kaur's video on Twitter and slammed actor Kangana Ranaut for her now-deleted tweet.
Respected MAHINDER KAUR JI 🙏🏾

Ah Sunn La Ni With Proof @KanganaTeam

Banda Ena V Ni Anna Hona Chaida..
Kush v Boli Turi jandi aa .. pic.twitter.com/Ie1jNGJ0J1

— DILJIT DOSANJH (@diljitdosanjh) December 2, 2020
Kangana responded by calling Diljit 'Karan Johar ka paltu', among other things, and soon the two were involved in a Twitter war.
Ooo Karan johar ke paltu, jo dadi Saheen Baag mein apni citizenship keliye protest kar rahi thi wohi Bilkis Bano dadi ji Farmers ke MSP ke liye bhi protest karti hue dikhi. Mahinder Kaur ji ko toh main janti bhi nahin. Kya drama chalaya hai tum logon ne? Stop this right now. https://t.co/RkXRVKfXV1

— Kangana Ranaut (@KanganaTeam) December 3, 2020
Also read: Kangana Ranaut Calls Mumbai "POK" After BMC Demolished Her Office & No Babygirl, It's India
Tuneh Jitne Logon Ke Saath Film Ki Tu Un Sab Ki Paaltu Hai…?
Fer To List Lambi Ho Jaegi Maalko Ki..?

Eh Bollywood Wale Ni PUNJAB Wale aa .. Hikk Te Vajj Sadey

Jhooth bol kar logo ko badhkana aur emotions se khailna woh toh aap achey se janti ho..😊 https://t.co/QIzUDoStWs

— DILJIT DOSANJH (@diljitdosanjh) December 3, 2020
Aa JAA…
Kam Mai Hun Da Ni Karda ..Tuney Kitno ki Chaati Hai Kaam Ke Lie?

Mai Bollywood Mai Strugle ni karta madam..
Bollywood wale aa ke kehnde aa film kar Lao SIR 😊

Mai tainu das riha eH BOLLYWOOD WALE NI PUNJAB WALE AA

2 Dian 4 Ni 36 Sune gi.. https://t.co/KSHb45Xpak

— DILJIT DOSANJH (@diljitdosanjh) December 3, 2020
And the fight gets nastier with each response
Twitter users have found a hero in Diljit Dosanjh who is being lauded for standing up to Kangana Ranaut for her unsavory comments on the ongoing farmer protests and Shaheen Bagh activist Bilkis Bano. Celebs such as Swara Bhasker, Kubbra Sait, Hansal Mehta and director Ashwini Chaudhary and many others tweeted their praise for Diljit.
Diljit Dosanjh is a STAR! Dil-jit actually! 🔥🔥😍😍👏🏽👏🏽🤩🤩 @diljitdosanjh

— Swara Bhasker (@ReallySwara) December 3, 2020
Welcome to another day of Kangana Vs Common Sense 😂😂😂

— Kunal Kamra (@kunalkamra88) December 3, 2020
"@diljitdosanjh ne dil jeet liya," wrote the Scam 1992 director.
@diljitdosanjh ne dil jeet liya. ♥️♥️♥️

— Hansal Mehta (@mehtahansal) December 3, 2020
I love @diljitdosanjh because he's saying what everyone's been feeling for like a year now. Real GOAT.

— harnidh (@chiaseedpuddin) December 3, 2020
Also Read: Zafarullah Khan Jamali: The Former Prime Minister's Life In Pictures
Similarly, Diljit and Kangana trended on Twitter with people and celebrities commenting on the whole issue:
Seriously, tussi saareyan nu public interest vichon daas ne aa , pubjabiyan naal lado ni plz

— TheRichaChadha (@RichaChadha) December 3, 2020
I love @diljitdosanjh
-end credits-

— Kubbra Sait (@KubbraSait) December 3, 2020
What is your stance on this twitter war? Write down in the comments below