3 staff members of departmental store Al-fatah located near Hussain Chowk Lahore have been tested positive for Covid-19.
Earlier, rumors were doing rounds on social media that some employees of the departmental store were tested positive. But Al-Fatah denied the news on its social media platforms initially.
However, eventually DIG Operations Lahore Rai Babar Saeed, confirmed that three employees had in fact tested positive for coronavirus and that the store had been closed.
The store had displayed a notice outside the said branch that read it had been closed because fumigation was underway.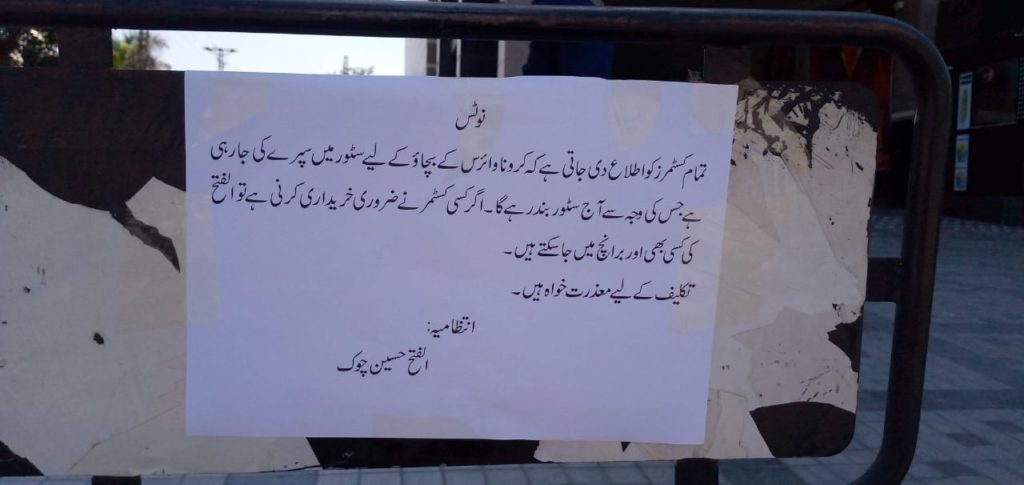 Initially, Al-Fatah denied the rumors circulating on social media calling it fake news.
The store claimed in the notice that, "The news has been wrongfully spread as our store was only closed for the purpose of fumigation as recommended by government authorities."
Later, the post was deleted from their social media pages.
People are fearing the spread as several people had visited the store before the employees had tested positive.
Twitterati are urging those who went to the store's branch in Hussain Chowk in the past few weeks to take precautionary measures.
Pakistanis are demanding to hold the store accountable for misleading the public amid COVID-19 outbreak in the country.
Read: Faisal Edhi Made A Donation To The Prime Minister's Corona Relief Fund & This is How Twitterati Reacted!
Some also called out other stores that were not implementing the SOPs as directed by the government.
Have something to add? Share in the comments below!