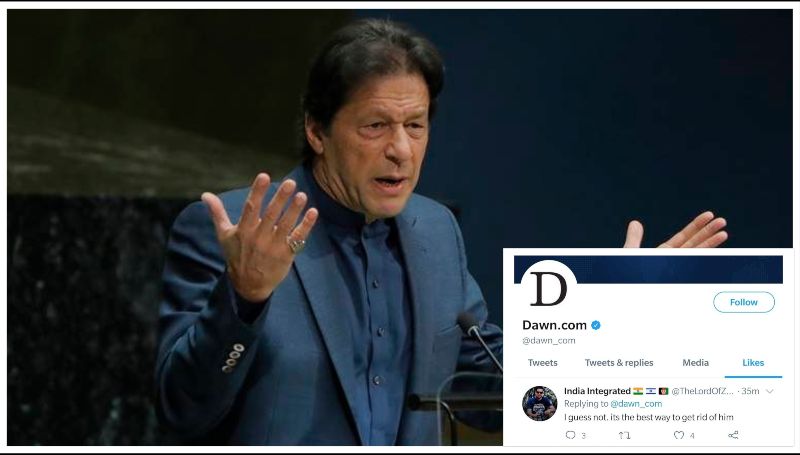 The top headline maker of the country, Dawn, became a headline itself and for all the wrong reasons.
Apparently, the Twitter handle of Dawn had liked an offensive tweet about Imran Khan.
It all started when Dawn started a poll on Twitter after the news of Faisal Edhi being tested positive for COVID-19 emerged. The news organisation asked the public whether Imran Khan should also get himself tested for coronavirus as he had met Edhi recently.
The newspapaper's Twitter handle then went on to "like" an offensive response posted under the poll.
Read: Faisal Edhi Made A Donation To The Prime Minister's Corona Relief Fund & This is How Twitterati Reacted!
To make matters worse for the publication, the offensive tweet had been sent out by an Indian netizen. Yikes!
Twitterati were quick to lash out at Dawn for the tweet fiasco.
The news outlet was bashed for – what some believed – was a pointless poll.
Khan's fans were also quick to label the "like" as evidence for the media outlet's bias against the Prime Minister.
Read: Faisal Edhi Is Covid-19 Positive: From Imran Khan To Murad Ali Shah, High Profile Officials Who Are At Risk
After receiving a huge amount of criticism, Dawn apologized to its followers calling the "like" on the Imran Khan tweet "an unintended human error."
However, the apology wasn't enough to calm down the internet users who are demanding an "investigation" of this issue.
Have something to add? Share your views in the comments below!