Ayesha Omar teared up during an interview with Waseem Badami when he asked her about her #metoo ordeal, asking if she was 'sorry' for not speaking up about it earlier.
(Starts at 9:01)
Life Before Career
The show Har Lamha Purjoosh hosted by Waseem Badami invited actor Ayesha Omar over for an interview. It started off on a light note with Badami inquiring Bullbulay star about her life before she joined the industry. He added how it is presumed that people with a jovial nature are living their best lives and have no worries of the world.
Ayesha went on to tell how mother raised her as a single parent. After the passing away of her father with no penny in hand or in savings, Omar's mother worked tirelessly to get her children a good education.
It was all going well until the anchor asked her about her past trauma. Ayesha responded by saying she was 22 when it all happened, and it was done by someone in power. She told she stayed silent for 13 years before sharing this with someone. To this Badami asked "And you're sorry about that?" After a pause the actor said, "Uh, yes."
She broke down responding to that question and went on to add that she's never cried while talking about this incident, saying "Maybe it was your question," explaining how that question in particular made her cry.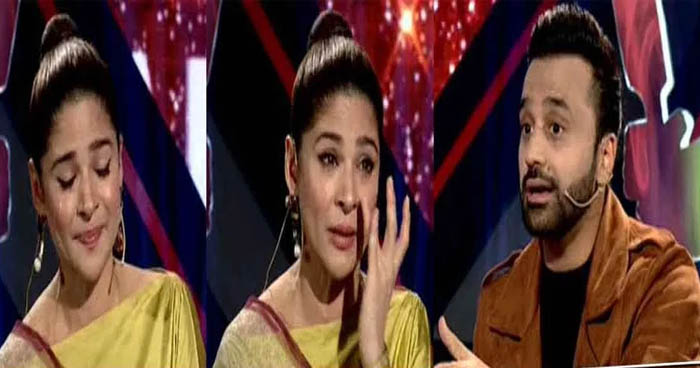 Let's Break This Down
First of all, Ayesha Omar does not have to be sorry for taking however long to speak up about this. The fear of retaliation, backlash, etc. etc. there can be a gazillion reasons for not speaking up and it's completely okay. It is not easy for trauma survivors to share their stories instantly, we need to realize that.
Also Read: Faysal Bank Employee Usman Gohar Case: Dos & Don'ts Of Reporting Sexual Harassment
Second of all, Badami trying his best to keep the environment calm, made the moment seem callous. Being a senior journalist, he should have known that you do not ask close ended, suggestive questions from victims of abuse. You do not make them feel sorry for living this experience.
Badami kept interrupting her in the middle. Asking her questions like, "You still feel emotional about it," the moment she teared up. What does that even mean?
No You Do Not Have To Apologize
Ayesha does not have to be sorry for anything. One of the most important things that we need to understand and realize and take notes of is: It is NOT easy to open up about something as ghastly as sexual assault. Period.
It is this stigma that victims somehow need to be sorry for going through what they went through- stop them from sharing their experiences- making them battle with this trauma all alone.
How about journalists take some responsibility and train themselves before tackling sensitive topics like sexual harassment. Please avoid asking leading questions.
Yes, social media has opened up avenues and changed the narrative around sensitive topics but they are still pretty much a taboo in countries like Pakistan.
How about we take this as an opportunity to stop putting the blame on victims and not make them feel sorry for anything at all.
Have something to add to this story? Share in the comments.