Pakistan, India and their creative collaborations have never historically worked out. Similar situation happened when ordered by the Cabinet Division, the State Bank of Pakistan (SBP) instructed all banks to block subscription services of Indian streaming platforms. Two Pakistani web series, Churails and Aik Jhooti Love Story, are currently streaming on India's ZEE5.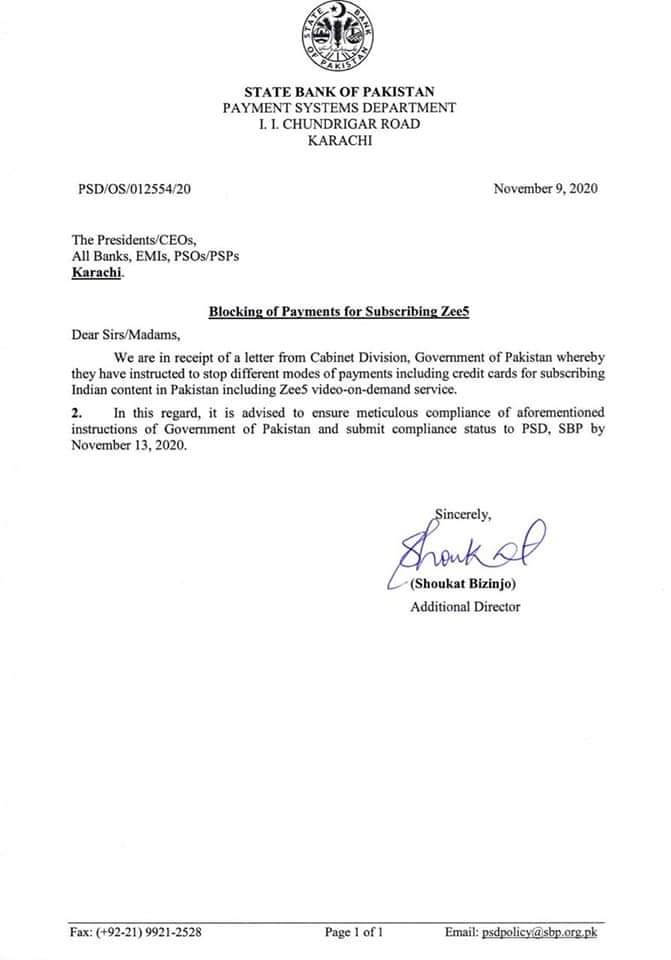 Zee5 is the first online streaming platform that has enlisted local Pakistani directors and actors to create an entire lineup of original content, which will then be released over a certain period of time. Five original Pakistani series were set to broadcast on Zee5. One of them was recently released under the name 'Aik Jhooti Love Story'. It is a romantic, socially relevant drama by Mehreen Jabbar, which was getting recognition and appreciation from viewers, but the audience in Pakistan won't be able to watch it anymore.
People on twitter really wanted to experience the show but are unable to watch it.
My mom wants to watch it again, but I think Zee5 will be banned in a day or two. It's a great watch. Why can't we have such content on TV?

— Ayesha Saeed (@Ayesha2Saeed) November 16, 2020
Any update. Is it still banned? Is thus only way to subscribe Zee5 in Pakistan? When will Zee5 available in USA?

— Nas Khan (@munoo66) November 15, 2020
People on twitter have termed this ban as a curb on freedom of expression. They argued that due to strict censorship in the country, the local shows can't talk about certain topics.
#Zee5 #PSLV
Ban everything! Do not create on your own but banning is the right option.
Pakistan bans online payments for Indian streaming site https://t.co/V4vfVy1z96

— Salima Bhutto (@salimabhutto) November 13, 2020
People showed disappointment over the ban of Zee5 via their tweets.
Really sad to see the ban of zee5 in Pakistan ab aap log khudi socho k 5 webseries Pakistan nay bnai mehnat Pakistan nay ki actors Pakistan k thay Paisa Pakistan nay lagaya or ab pakistani log hi nahi dekh skain gay yar thak chukay iss ban culture sy @ImranKhanPTI

— Haris Butt (@HarisBu55633341) November 13, 2020
Also Read: PTA Unbanned TikTok & We Have Memes Again
I thought zee5 gained recent popularity in Pakistan due to the Pakistani content on it. Isn't the ban self harm lol. I mean.

— hummus bil lahme (@RizwanPehelwan) November 12, 2020
Similarly, celebrities also expressed their view regarding the decision of Govt.
Mehreen Jabbar in a post on Instagram stated:
Asim Abbasi, creator of Churails also expressed his concern.
Laazim hai ke hum bhi dekehnge. 💔 https://t.co/R7Dup30XoV

— Asim Abbasi (@IllicitusProduc) November 12, 2020
Some other, very intriguing Pakistani series, are slated to release on Zee 5 in the coming months: Mann Jogi, starring Naumaan Ijaz and Saba Qamar and directed by Kashif Nisar; Dhoop Ki Deewar, directed by Haseeb Hassan and pairing Ahad Raza Mir with Sajal Aly and Anjum Shahzad's Abdullahpur ka Devdas with an ensemble cast that includes Bilal Abbas Khan, Sarah Khan and Naumaan Ijaz.
What is your view on this banning culture? Share your opinion in the comments below!