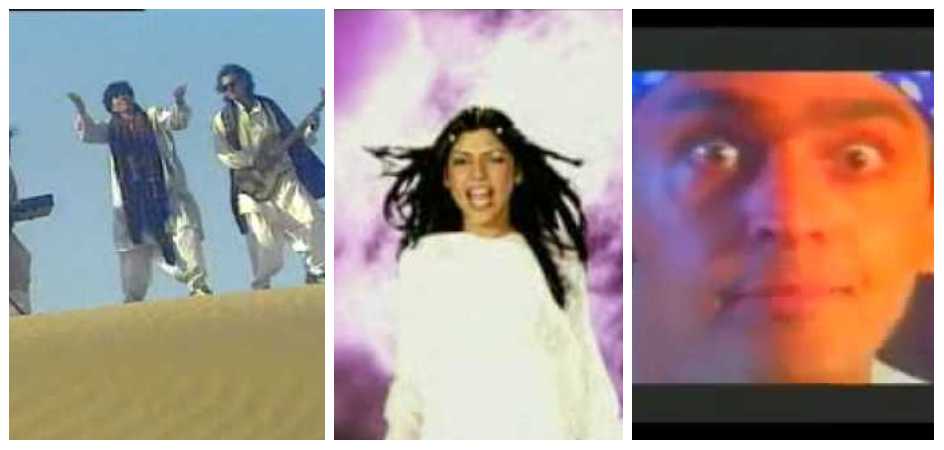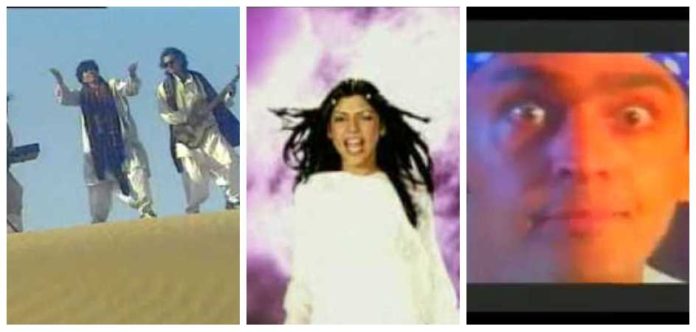 The 90s Pakistani pop songs culture was certainly ahead of the time. The music bands and singers had to take a big risk as the social norms were completely against pop culture and listening to music actually required spending money on audio cassettes.
Nevertheless, throughout the decade, we experienced some of the most epic melodies ever produced coupled with lyrics that were simple but would touch the soul.
Here are 35 most memorable Pakistani pop songs from the 90s that'll leave you pretty nostalgic!
1. Tali de Thullay – Nazia Hassan
One could have this song by Nazia Hassan on repeat the whole day.
2. Dil ki Lagi – Nazia Hassan
No one can sing slow melodies better than Nazia Hassan. The song was so good that numerous remakes were done later by singers.
Take Quiz: How Many Of These Iconic Nazia Hassan Music Videos Can You Recognize?
3. Sanwali Saloni – Vital Signs
Vital signs probably gave the highest number of hits in the 90s and Sanwali Saloni is one of the best Pakistani pop songs to date.
4. Sir Kiye Ye Pahar – Strings
While Strings is still creating music, Sir Kiye Ye Pahar was a masterpiece like none other.
5. Ajnabi – Vital Signs
Another epic song from Vital Signs' second album and the lyrics are just outclass.
6. Aisay Hum Jiyain – Vital Signs
If it comes to National songs then Vital Signs knew how to tweak the patriotism. This song in tribute to Pakistan Airforce is still golden.
7. Purani Jeans – Ali Haider
Ali Haider might have released many albums but he is most famous for his hit single Purani Jeans.
8. Billo de Ghar – Abrar ul Haq
Abrar ul Haq has the best-selling album to his name in 1995 and Billo de Ghar has a lot to do with it.
9. Mera Pyaar – Amir Zaki
Amir Zaki (late) was one of the best guitarist Pakistan ever produced and his hit single Mera Pyaar will always be remembered.
10. Talaash – Junoon
One of the earliest songs of Junoon and their music proved that they were around to rule.
11. Tanhai – Fringe Benefits
The Karachi based group didn't have a lot of albums produced but they did make some songs worth remembering.
12. Neend Aati Nahin – Junoon
Songs produced by Junoon were always charismatic.
13. Duppatta – Hadiqa Kiani
Duppatta was Hadiqa Kiani's way of moving up the ranks in the pop culture and what a big hit it was!
14. Mr. Fraudiye – Awaz
Among many other mega hits, Mr Fraudiye was one of the most famous songs by Awaz.
15. Sayonee – Junoon
Even listening to Sayonee today makes you want to slow get the groove.
16. Saeein – Junoon
The transition of Junoon into a Soofi band gave us the chance to enjoy their music even decades later.
17. Chief Saab – Sajjad Ali
One of the best songs by Sajjad Ali. The song's success on one side, the fans were also in love with hairstyle in the video.
18. Jugni – Saleem Javed
Starting off as a semi-classical singer, Saleem Javed gave some excellent pop hits by remixing old songs.
19. Boohey Barian – Hadiqa Kiani
Boohey Barian turned in to a wedding song and still gets played at weddings.
20. Jazba-e-Junoon – Junoon
Listening to this epic song by Junoon in 2020 still gives the listeners goosebumps.
21. Pyar Diyan Gallan
A major hit back in 90's sung Fakhr-e-Alam, Fringe Benefits and Yasir Akhtar.
22. No Love – Dr Aur Billa
The band Dr aur Billa came up with the most unorthodox music and videos. No Love is still remembered as they best song.
23. Husan Walo – Junoon
Ali Azmat's voice has no match and so this song proves.
24. Janeman – Awaz
Janeman was the first song by the band Awaz and the song as a big hit paved their way to be one of the most popular pop bands in Pakistan's history.
25. Bhangra – Fakhr -e-Alam
Introducing bhangra rap was something completely new back in the days and Fakhr -e- Alam won the hearts with his song Bhangra.
Also Read: If You Haven't Heard These 15 Classic Pakistani Songs, Are You Even A Pakistani?
26. Watan Kahani – Awaz
It was a tradition for every music band to have at least one patriotic song in their album. Watan Kahani was released before the 14th of August and become the office anthem for the occasion.
27. Aag – The Milestones
Back in 90's, there weren't pop bands with female lead vocalists but The Milestones came with a bang and everyone fell in love with Candy's voice.
28. Baat – The Milestones
Baat was another major hit by The Milestones. Too bad the band didn't stay together for too long.
29. Jadu Ka Chiragh – Awaz
One of the very few pop songs which instantly became a hit on the charts and ruled for months.
30. Woh Kaun Thi – Vital Signs
"Who Kaun Thi" We still don't know but definitely a treat for ears even today.
31. Dil Mein Tum – Bunny
Over the years, Bunny gave a lot of hit numbers and the fans especially remember Dil Mein Tum.
32. Ajnabi – Aamir Saleem
The slow and heart touching melodies and lyrics by Aamir Saleem were always a treat. Ajnabi was one of his best efforts.
33. Aitebar – Vital Signs
Many fans of Vital Signs consider Aitebar as their best song and it's not far from the truth. Every millennial has this in their playlist for sure.
34. Jeetain Gay – Vital Signs
Well, we didn't win the world cup but the song Jeetain Gay certainly became memorable.
35. Faasla – Collage
Collage didn't make a lot of music but their song Faasla was on top on the charts for weeks.
Do you remember any Pakistani pop songs from the 90s? Share in the comments below!