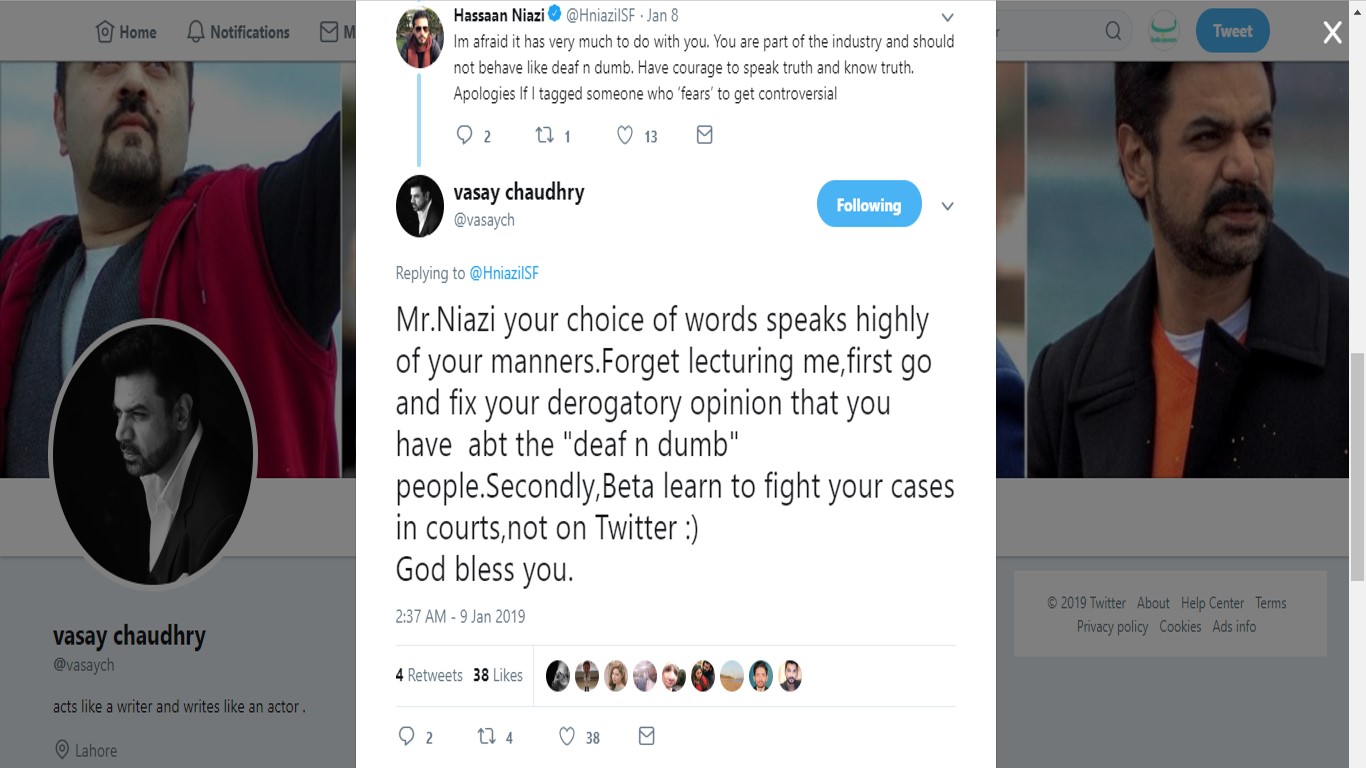 Prime Minister Imran Khan's congratulatory tweet to Indian skipper Virat Kohli had everyone talking in South Asia!
Congratulations to Virat Kohli and the Indian cricket team for the first ever win by a subcontinent team in a test series in Australia

— Imran Khan (@ImranKhanPTI) January 8, 2019
Taking a leaf from the PM handbook, Nabeel Qureshi raved over the trailer of Zoya Akhtar's, Gully Boy!
BAAP RE !!! Don't know what to say !!!!!! have seen this trailer for so many time now !!! just jealous ….. #apnatimeayega #zoyaakhter take a bow !!! #aslihiphop #gullyboy @ZoyaAkhtarOff @RanveerOfficial https://t.co/i3GQAFDnbk waiting desperately !

— Nabeel Qureshi (@nabeelqureshi) January 12, 2019
Shehzad Roy's critique of Pakistan's education system should not be taken lightly!
Graduate degree holders were unable to clear a school-level teacher recruitment test in Sindh. Where does the fault lie? pic.twitter.com/18TUWM9o02

— Shehzad Roy (@ShehzadRoy) January 11, 2019
Farhan Saeed announced the title of his debut film, Tich Button and we can't wait for it to release!
📽🎬 #TichButton #2019 @urwatistic @qasimalimureed#shootingstarstudio @aryfilmsofficial @Salman_ARY pic.twitter.com/hVyHVtu8sC

— Farhan Saeed (@farhan_saeed) January 13, 2019
Sarad Khoosat helped save the life of Khizer Hayat, a death row inmate with Schezophrenia.
https://twitter.com/KhoosatSarmad/status/1084037687219245057
The otherwise cheerful Vasay Chaudhry gave Hassaan Niazi a much deserved clap back for dragging him in a controversy he had nothing to do with!
Mr.Niazi your choice of words speaks highly of your manners.Forget lecturing me,first go and fix your derogatory opinion that you have abt the "deaf n dumb" people.Secondly,Beta learn to fight your cases in courts,not on Twitter 🙂
God bless you.

— vasay chaudhry (@vasaych) January 8, 2019
Read: FAKE NEWS BUSTED: The Jheel Wala Doctor & His Video Is Still On Twitter!
Deepak Parwani spent the week lamenting the loss of culture and heritage and we feel ya brother!
There goes culture and heritage ! https://t.co/wCbdK8HoVT

— Deepak perwani (@DPerwani) January 9, 2019
Usually non-political, Frieha Altaf cheered for the young Saudi asylum seeker, Rahaf for finding refuge in Canada.
Hail Canada and Trudeau for taking in Saudi asylum seeker. Rahaf is 18 was abused by her family n was facing persecution. Saudia has the worst human rights record. Women still need to be accompanied by men even though they can now drive.Saudia also responsible for famine in Yemen

— Frieha Altaf (@FriehaAltaf) January 13, 2019
Haroon Rashid's donation drive for the TCF, a charity working on education is all things wonderful!
https://twitter.com/TheRealHaroon/status/1083285224686010368
Also Read: Malala & Trevor Noah Just Had A Chucklesome Twitter Exchange & We're Amused Once Again!
Malala's new book, We Are Displaced made news for all the right reasons!
My new book #WeAreDisplaced is a collection of stories from refugee girls around the world – harrowing journeys, lost loved ones and longing for home. It shows readers the real lives behind the statistics, news reports & rhetoric we hear every day. https://t.co/PVhd5MZhNh pic.twitter.com/O7tvAZcxzx

— Malala (@Malala) January 8, 2019