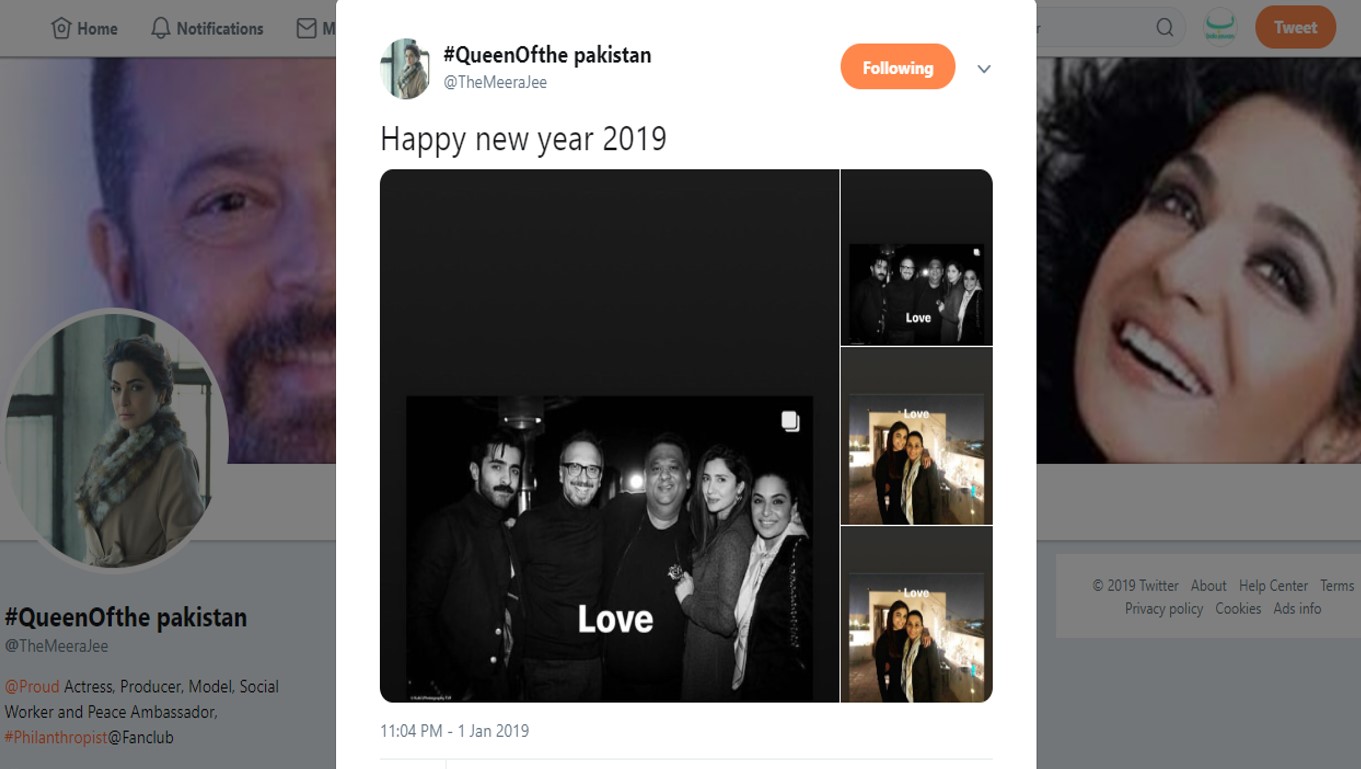 We're back with our weekly list of celebrity tweets that you must not miss!
Samina Peerzada's New Year's resolution was basically the most wholesome celebrity pledge of 2019!
My new year resolution Plant more trees Travel More Learn more Read more Listen more n just Be. What's yours?

— Samina Peerzada (@SaminaSays) January 1, 2019
Shehzad Roy echoed the sentiments of every Pakistani on the martyrdom anniversary of little Aitazaz Hassan…💔💔💔
You are my hero #AitzazHassan pic.twitter.com/TormcCyiE9

— Shehzad Roy (@ShehzadRoy) January 6, 2019
This antique picture posted by Vasay Chaudhry is historic gold!
Film Shahjehan (1946) in Ratan cinema,Lahore. pic.twitter.com/ODKsJ1dc6o

— vasay chaudhry (@vasaych) January 5, 2019
Miss Meera Kee was all 😍 on the first day of 2019!
Happy new year 2019 pic.twitter.com/2mFQAFLyhI

— Meera (@TheMeeraJee) January 1, 2019
Ali Tareen went out and about South Punjab, searching for the name of his new PSL team and it seems there's a winner…!
I spent the last week in South Punjab asking my fellow South Punjabis to #NameYourTeam. Here is what they said. Final name will be announced tomorrow. But I think the verdict is pretty clear… pic.twitter.com/wMaS0tVxed

— Ali Khan Tareen (@aliktareen) January 5, 2019
Osama Khalid Butt has a point to make, Mi Lord! 🤔
I swear, male leads in Pakistani dramas must have super sperm or something – pregnancy rate: 100% that too after just one night.

— Osman Khalid Butt (@aClockworkObi) January 5, 2019
Did you know that Bilal Ashraf is going the FIFA way? ⚽⚽⚽ Indeed!
It's an absolute pleasure to be working with @touchskygroup on such a prestigious event hosting World Soccer Stars here in Pakistan. @KAKA @LuisFigo #UnitedForFootball #Karachi #Lahore #Pakistan @WSSOFFICIAL2019

— Bilal Ashraf (@IamBilalAshraf) January 5, 2019
Muniba Mazari used her Twitter to do what she does best: SPREAD LOVE!
Be kind. Be Human! ♥️ pic.twitter.com/pvRMhqxchI

— Muniba Mazari (@muniba_mazari) January 4, 2019
Saqlain Mushtaq's son became a Hafiz-e-Quran and for once we're thankful to Ahmad Shahzad for a picture that he features in!
Congratulations to the cricketing legend, Saqlain Mushtaq's son , Mairaaj saqlain, for becoming Hafiz-e-Quran.
It was an honour for me to be part of this special occasion. @Saqlain_Mushtaq @Mushy_online @captainmisbahpk pic.twitter.com/BBx1O7Zimt

— Ahmad Shahzad 🇵🇰 (@iamAhmadshahzad) January 2, 2019
Ali Gul Pir's take on Cynthia Ritchie's New Year melt down was legit cray cray!
I also want to join the #WrongBitch group @CynthiaDRitchie Do I bitch out every journalist or just the ones who have a different opinion? I also have a cycle, I can take photos with it and send them in for #WrongBitch group membership card

— Ali Gul Pir (@Aligulpir) January 1, 2019
Read: American Filmmaker Cynthia Ritchie Hurled Abuse At Pakistani Journalist Raza Rumi & Twitter Went Crazy!
Have more celebrity tweets to add to this list? Share them in the comments below!