Yasir Shah has been accused of assisting one his friends in the rape of a 14 year old girl. FIR regarding the case has been registered in Shalimar Police Station, Islamabad.
Read: #NewZealand To Tour Pakistan Twice During The 2022-23 Season
Yasir Shah Named In FIR Of A Rape case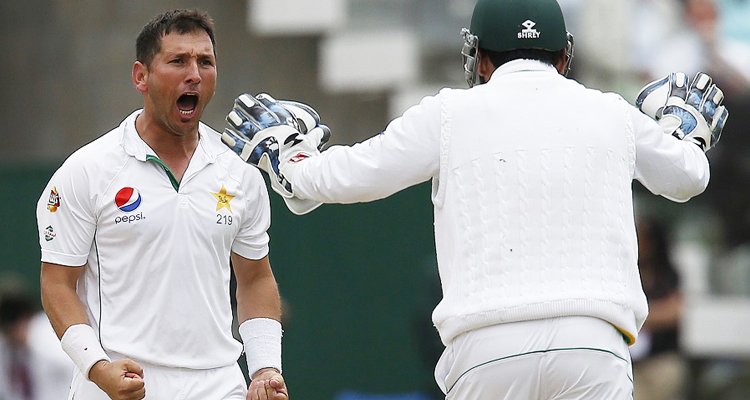 Yasir Shah has been named in an FIR that was registered in the Shalimar Police Station, Islamabad. The Test cricketer has been alleged to have provided assistance in the rape of a 14 year old girl. The 35 year old has also been blamed for sexually harassing the child. SAMAA TV has reported the teenager's aunt as saying that she noticed that her niece seemed "unwell and disturbed". She was further reported as saying that her niece told her that Yasir's friend named Farhan took her number and later proposed her and that, "On August 14, when she (the child) was returning from tuitions, Farhan made her get into a taxi and took her to a flat in F-11 where he raped her at gunpoint and even made a video."
Read: #PAKvsWI ODI Series Postponed, Raja Praises Pakistan's Run Chase
Furthermore, the girl's aunt has also been reported as explaining that month after the incident, Farhan blackmailed the girl again into meeting him and raped her again. The accused has also been blamed for persuading the girl to enter into a relationship with Yasir Shah and making the child talk to the celebrated cricketer. The complainant has also been reported while accusing Yasir Shah of making fun of the matter and telling the child that she was beautiful and that even he liked underaged girls. He has also been accused of saying that in the best interest of both parties, the child should marry the accused rapist. It has also been alleged that the leg spinner negotiated and offered transferring a flat in the name of the 14 year old besides bearing her expenses till the point she turns 18. However, the leggie in return wanted the aunt to marry the child to the alleged offender. Apart from the aforesaid, Yasir has also been accused of threatening the girl of dire consequences which includes death threats as well. The case has been booked under sections that deal with punishment for rape and circulation of pornographic content.
While Yasir Shah is yet to comment on the matter, Pakistan Cricket Board has said that, "We have noted that some allegations have been levelled against one of our Centrally Contracted players. The PCB is presently gathering information at its end and will only offer a comment when in possession of complete facts."