Actor, Mansha Pasha recently opened up about why she retained her surname after getting nikkahfied to lawyer-cum-activist, Jibran Nasir.
She tied the knot with Jibran in April this year in a socially distanced gathering.
Read: Fans Ask Asim Azhar To Announce It Already As He Denies Engagement Rumors In A Clarification Tweet
Religious cleric, Javed Ahmed Ghamdi solemnized their nikkah over a Skype call.
Going against the norm, Pasha chose to keep her surname after her marriage. Therefore, intrigued by the unusuality, one of her fans asked why the Laal Kabootar actor decided to do so.

Responding to the fan's question, the actor said, "yes because it's not required in Islam."
She followed up on the same in her Instagram story to clarify her stance. Mansha clearly spelled out that she is not a perfect Muslim and neither is she implying so. "Like everyone else reading this post, I'm full of flaws and a sinner too. But where I can, I try to do my best to improve," she said.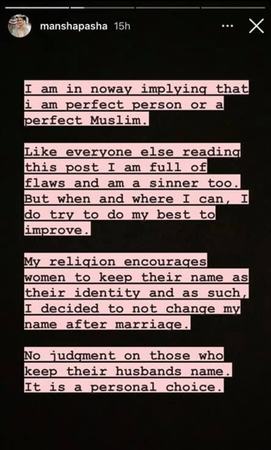 The actor furthered that our religion Islam encourages women to keep their surnames after marriage and there's no compulsion on them to change it afterward. Hence, when given a choice, Mansha Pasha chose to do what she deemed best – to keep her surname.
Pasha penned down that Islam facilitates women in this regard and tells them "to keep their identity as such."
Pasha added, "no judgment on those who keep their husbands' names." "It's a personal choice," she maintained.
Mansha and Jibran's engagement was a lowkey day affair held at his relative's house in December 2019, which was followed by a nikkah ceremony in April 2021.
Have something to say about this story? Write in the comments.