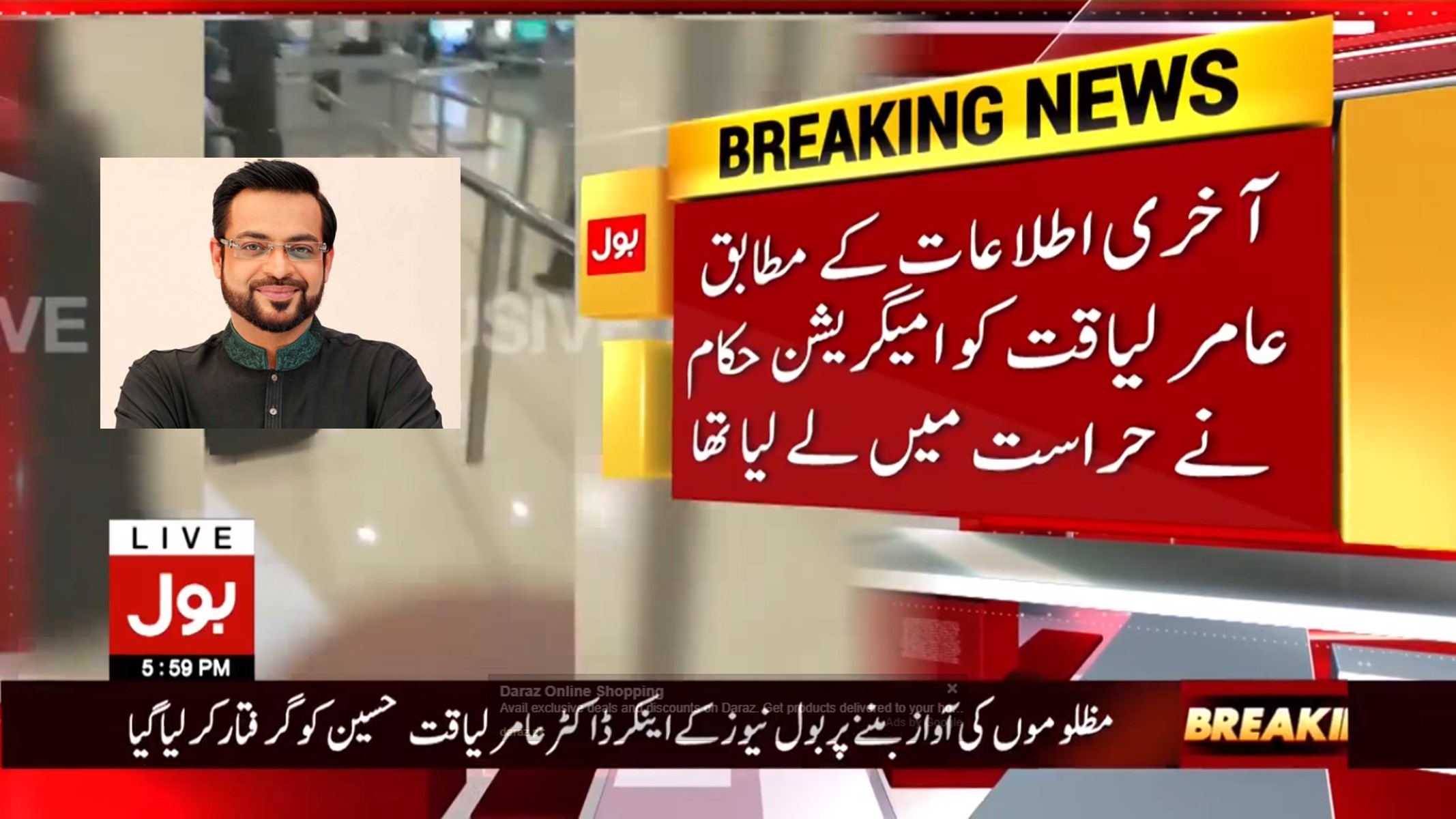 A couple of hours ago the news of (in)famous anchor person, Dr. Aamir Liaquat Hussain's arrest in Myanmar broke on the internet. The source was this video clip aired on Bol TV announcing Hussain's arrest.
https://www.youtube.com/watch?v=gDkfcECiylc&spfreload=5
As the clip shows there's little to no information available to verify the claim regarding Aamir's arrest except the television channel's word.
There's apparently a video that Dr. Aamir Liaquat sent to Bol TV's administration to inform them about his arrest. This video is yet to be made public.
Also Read: Dr. Aamir Liaquat, "The King of Swag"
The last message posted by Dr. Aamir Liaquat that I have seen is this video from Bangkok Airport.
In the video the gentlemen constantly speak about the impending danger and fears of arrest. Makes one wonder, doesn't it?
Amir Liaquat Hussain Last Video Before Getting Arrest in Myanmar: https://t.co/zMHsfl6TGD via @YouTube

— Your Product Storee (@Productstoree) September 9, 2017
Since there's not much to the news except Bol TV's announcement of the arrest, people are turning to Twitter to get details.
How true are the rumours of Amir Liaquat's arrest by #BurmeseGovernment?

— Semal (@semolucious) September 9, 2017
Amir Liaquat arrested?

— Meshaal Perwaiz Khan (@SojaoSub) September 9, 2017
https://twitter.com/samina_sehar/status/906530781534806016
Kindly somebody please confirm if #AmirLiaquat n #WaqarZaka are arrested or not in #Burma
May Allah Help Them In Completing Their Noble Task

— 𝒉𝒂𝒔𝒔𝒂𝒏 (@hi__hassan) September 9, 2017
Of course, since our primary source of information is often the mainstream media, there's no way of learning more about a situation unless media houses step forward and choose to inform us. So, basically there's no way to validate  this news via Twitter.
Given a long history of publicity stunts by both Amir Liaquat and (his mate on the journey to Myanmar), Waqar Zaka, there's a lot of skepticism about the authenticity of the claim.
https://twitter.com/Karachiabad/status/906545696437932033
Apart from the skeptics, there are also hardcore haters. Some of the tweets genuinely made me go, "Yiikeeess! Allah bachaye aisi nafrat sy!"
https://twitter.com/Dr_HKYousafzai/status/906539204460601345
half of it is Amir liaquat………..and he is arrested in burma so yeah good news

— Imperfectionist (@shohratrizvi) September 9, 2017
https://twitter.com/anthonypermal/status/906531351930839041
This guy, it seems was waiting for the "arrest" to happen with held breath!
Finally Amir liaquat arrested in barma.thanks God.

— Nasir Nadeem (@nasirnadeempk) September 9, 2017
Needless to say, memes about the arrest are already popping up.
A brave solider… Major Amir liaquat Shaheed.. #1965_heroes pic.twitter.com/yLoNuHCnEf

— JOKER (@Joker_Abdr) September 9, 2017
But as it goes, Amir bhai has many fans who will not just believe everything he says but will also loudly demand justice for him!
Some want the government to give him "assistants"…
https://twitter.com/SabirHussainSy8/status/906532058503290880
Other are likely to spend the remainder of the evening praying for his safe return.
May Allah protect #AmirLiaquat https://t.co/S51LSEppX0

— Madiha_Aamirian💕 (@ALH_is_love) September 9, 2017
May Allah Dr.Amir Liaquat Husain keep him safe & may Allah give him more strength to protect others! pic.twitter.com/64lil9rjhb

— Shahzaib Akhtar (@Shahzai16867245) September 9, 2017
So, getting back to the headline of this post: what do we know about Dr. Aamir Liaquat Hussain and Waqar Zaka's arrest in Myanmar? Well, if you've read the entire article you would know the answer: NOTHING AT ALL!
Just made sense to use a click bait for the two people whose every media appearance is a click bait in itself! This was a tribute to their talent really!
What do you think about the news?