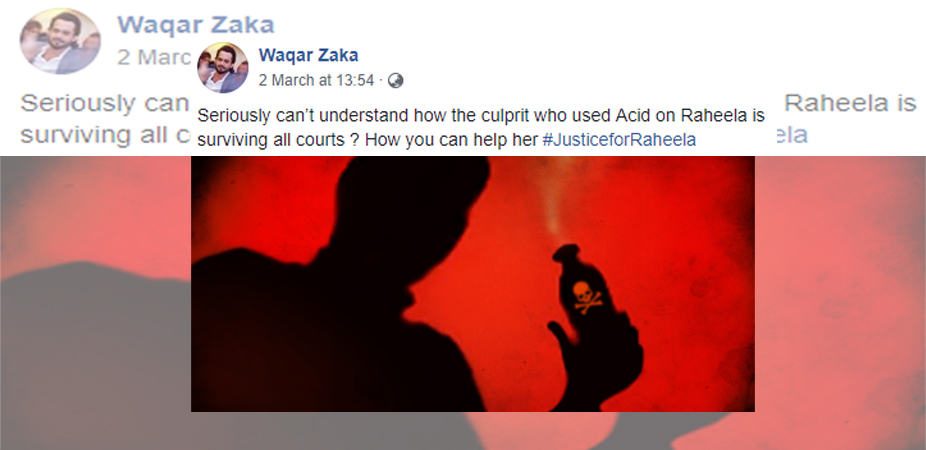 Acid attacks are the most prevalent in South Asia. In Pakistan alone, 200 dreams are burnt with acid every year. Most of these cases go unreported due to several reasons.
Read: Pakistanis Are Enraged Over Fayaz Chohan's Derogatory Remarks Against The Hindu Community!
Whatever little cases that are reported fall prey to systemic sloppiness, corruption, unnecessary delays in the inquiries and many other influences that stem from the weak political will to curb the issue. This leads to many of the cases being undecided for prolonged periods of time.
However, someone is finally speaking up against this ill that has rotten our society for long.
Read: 3 Simple Reasons Why An Indo-Pak War Is Not An Option
A few days ago, Waqar Zaka shared a case of an acid attack survivor in a video. He demanded justice for Raheela whose case remains unaddressed since the last three years.
Like Raheela's, many other cases of acid attack remain unsolved in Pakistan, waiting for the attention of our government. This is the reason why the government must pass an Acid and Burn Crime Bill through which the survivors would have access to free medical care, counseling and support.
Moreover, support groups should be formed so that the survivors have a sense of belonging and that they draw strength from one another.
Read: The Human Angle: 8 Year Old Boy Tortured By Police In Lahore
Waqar Zaka, we hope that your request lands on the right ears and Raheela gets the justice that she so rightly deserves!