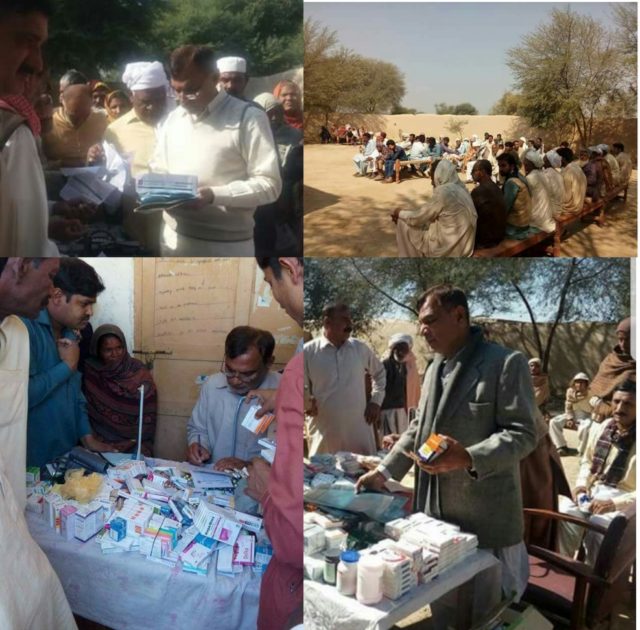 Pakistan is among the most charitable countries in the world. Many prominent figures run trusts, medical camps and NGOs. We often read about these great works of charity in the news or hear about them on television and radio.
However, there are also those who might not be very well-known but they are nonetheless great philanthropists. These unsung heroes use their resources and skills to serve humanity while never caring about fandom or recognition.
Among extraordinary people is Dr. Hassan Raza.
Also Read: Khana Ghar – A Quest by Parveen Saeed
A heart and medicine specialist, and professor at Allama Iqbal Medical College, Dr. Hassan Raza through his welfare organization helps thousands of people who do not have access to quality healthcare.
Dr. Hassan Raza founded his welfare organziation, Ali Hassan Memorial Trust in 2006 following the death of his son from cancer.  The Trust was set up in the impoverished Mouza Massa Kahuta Tehsil, Kehror Pakka in district Lodhran.
Every month, Dr. Hassan Raza travels from Lahore along with his team to set-up a free medical camp for the underprivileged residents of this community.
Medicines for common diseases are provided to the patients, while applications are approved by the Government for detailed procedures like angioplasty, bypass etc. Approved applicants are treated for free in the best hospitals of Lahore.
The records of all the patients are meticulously kept to ensure smooth follow-ups  and future reference.
Dr. Raza ensures his presence during the monthly medical camp at Lodhran and handles each patient personally.
In the past people were informed about the camp through pamphlets and announcements. However, over the years the medical camp has garnered a reputation of its own and now people come from distant areas for treatment at the medical camp on the first Sunday of every month.
Also Read: The News of a Possible IMF Bailout Can Disturb But Not Discourage Me
For most part Dr. Hassan Raza is fulfilling camp's expenses from his own resources but there are also those who entrust Ali Hassan Memorial Trust with their charity.
Dr. Raza aspires to build a proper hospital for the rural communities that he serves so that they have a permanent healthcare facility in the area.