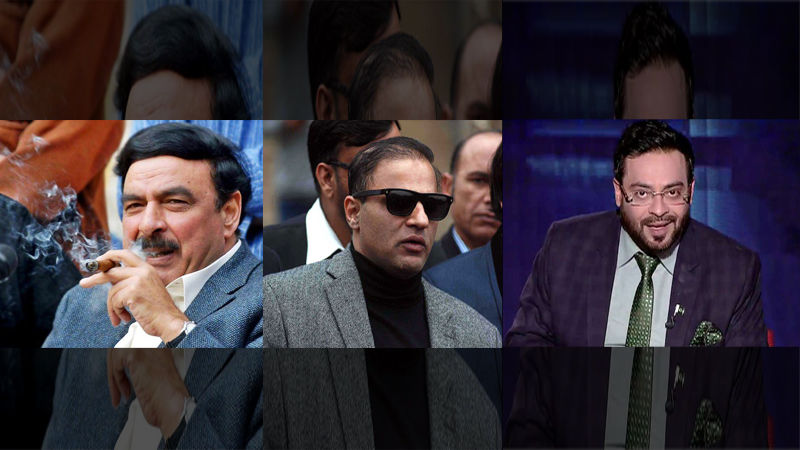 It was the decade of the 1990s. Pakistan had undergone a democratic transition after almost ten years of dictatorship. Politicians who had been waiting patiently for the country to return to the ballot were desperate to seize power. With no concept of electoral observation and in the absence of social media, every and any means was acceptable as long as it led to the power corridors.
See: In Pictures: GT Road and the Politics of Long March
Mudslinging was among the mildest forms of political coercion because even inciting violence against  opponents was not considered criminal at the time. The decade was thus characterized by extreme political intolerance and an absolute disregard for the integrity and dignity of one's adversaries.
It is not the 1990s any more. Most – if not all citizens – are not merely more aware of their civic responsibilities but the digital era has also empowered them with a number of useful tools to have their consent and dissent heard out loud.
Unfortunately however, it seems our esteemed leaders are still unable to bid farewell to the era of political slandering – which is both obsolete and deplorable.
Read: Will Little Asifa Get Justice When Indian Parliamentarians Themselves Are Booked For Rape?
As the general elections draw near Pakistani politics is once again becoming murkier by the hour. The last month alone has seen our leaders – mostly men – making unacceptably crass and irresponsible comments during public rallies, on social media and during media interactions. As disturbing as each one of those irresponsible statements have been – and God knows there have been so many that it's becoming virtually impossible to keep track of them all(!) – the most perturbing aspect is a distinct misogynistic trend that conspicuously makes its unwelcome presence felt each time a male politician opens his mouth to speak.
Be it PTI leaders, slinging mud at Maryam Nawaz or PML-N representatives passing lewd comments about Shireen Mazari, men in politics seem to hold women in very low esteem.
The Misogynistic Politics of the 1990s
Now this is not the first time that misogyny is being used as a  tactic to malign political rivals. In fact, my earlier reference to the 1990 is quite pertinent here.
Read: My Vote Was For MQM, Now No More!
For those who might not remember, during the 1990s, Sheikh Rasheed Ahmad was known to regularly pass sleazy comments about (late) Benazir Bhutto during public rallies while Mian Nawaz Sharif stood gleefully by his side.
However, we no longer live in the 1990s when it was perfectly acceptable for Sheikh Rasheed to call Bhutto, a"Kutti" (i.e. bitch) in a public rally to the thundering applause of those attending. We live in a time and age when women are increasingly pushing the envelope to demand equal rights and respect at par with their male counterparts.
The 90s Are Gone But Sexism Is Still Very Much Alive In Pakistani Politics
It is enraging to see that even after a lapse of over two decades, Pakistani politicians are unwilling to understand that respecting women and their integrity stands taller than their petty political agendas.
The Case of PTI
Let's start with Aamir Liaquat. Once a self-proclaimed scholar, he forayed into politics under the patronage of Altaf Hussain. However, after jumping many ships, he has now found sanctuary with Pakistan Tehreek-e-Insaf (PTI).
One of the first things that he did after announcing his allegiance to PTI was to go on a Twitter spree targeting Maryam Nawaz. Had his tweets specifically spoken about the Panama scandal and her family's involvement in money laundering, one would not have cared much. But Liaquat's tweets were not political. They were personal – very, very personal.
Read: Amir Liaquat Joined PTI And MANY Party Supporters Are "Resigning" On Twitter
From name calling to character assassination, he made no attempt to hide his deeply misogynistic character. His tweets (including the hashtag that he used) entirely focused on how Maryam Nawaz deserved no respect and was a characterless woman because she eloped to marry the man of her choice.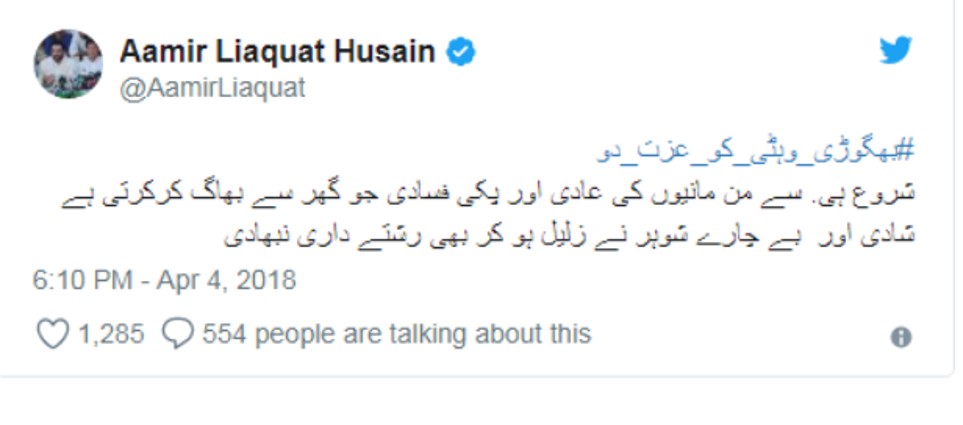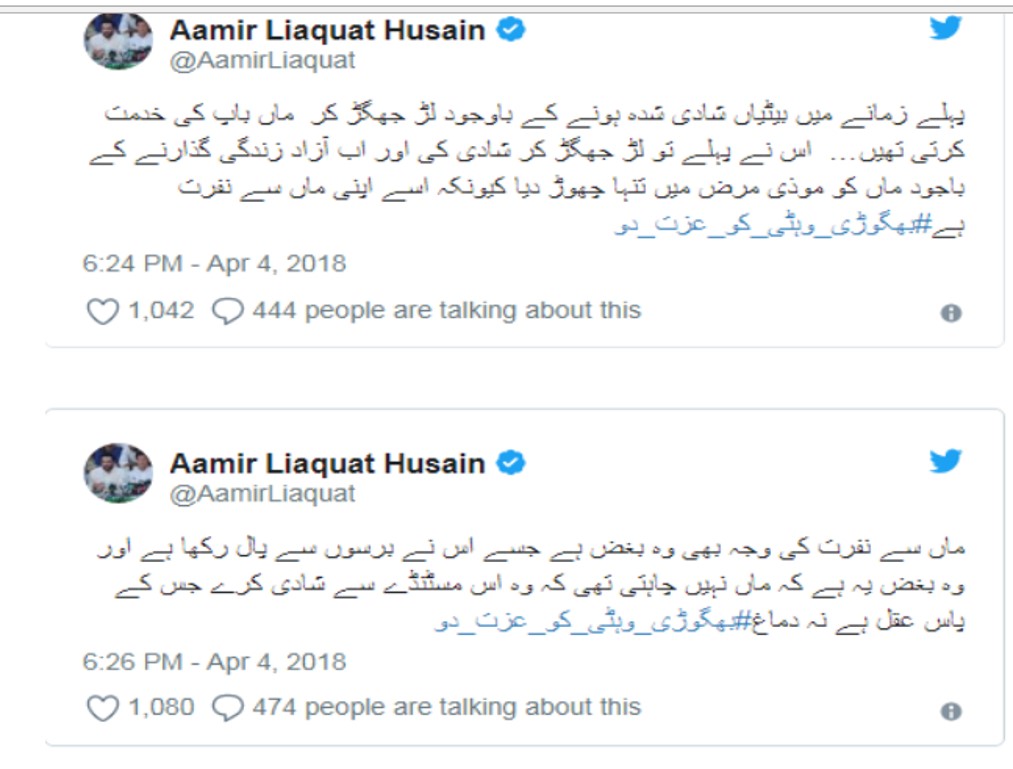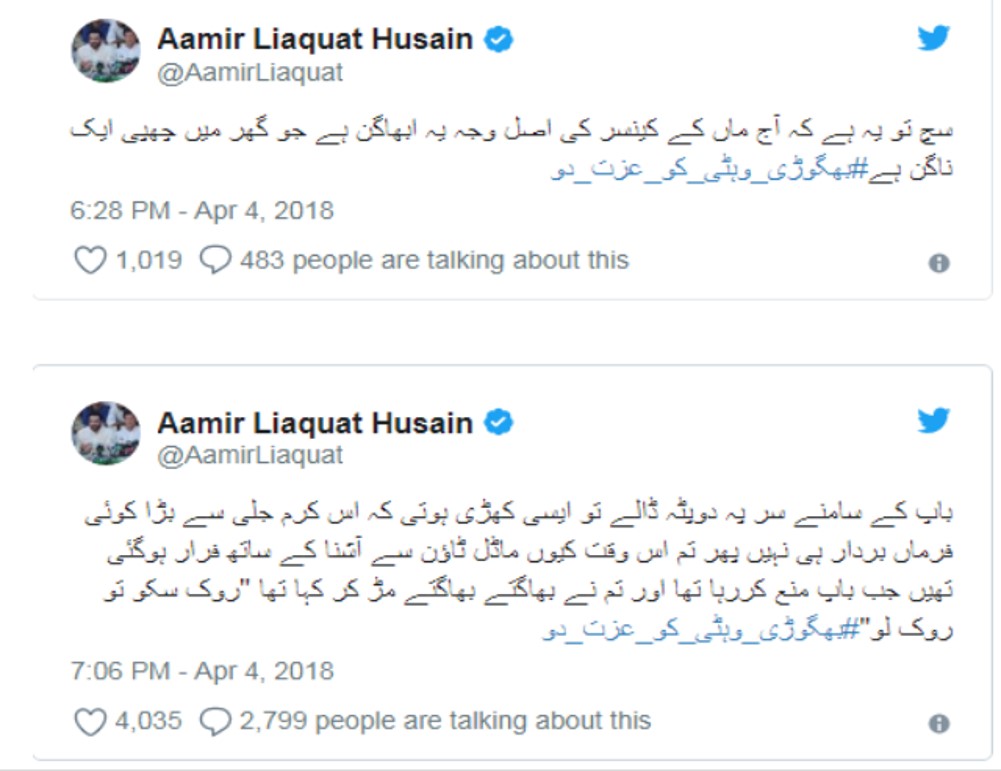 Condemning a woman to marry out of her own choice and endlessly calling her names, is misogyny by every definition of the word. Unfortunately, Aamir Liaquat and PTI perhaps do not own a dictionary.
The Case of PML-N
Now one would wish that a party that has so closely felt the brunt of misogyny would itself not resort to it. However, not one but three PML-N leaders in the previous week not only took distasteful digs at women in PTI but some of their comments masked sexual innuendos.
Rana Sanaullah, began the week by making inappropriate comments about women who participate in PTI rallies. "The women who attended the rally were not from honourable families," he said, "Because their dance moves implied where they had actually come from."
Read: Tallal Chaudry, Are You Trying to Dirty Talk With Bilawal?
Tallal Chaudry followed suit when he condemned PTI chief, Imran Khan for allowing women to dance in his rallies while his wife remained veiled.
Abid Sher Ali, it seems felt left out and decided to leapfrog many stages of decency when referring to PTI Chief Whip, Shireen Mazari he stated, "While she (Shireen Mazari) was protesting against Finance Minister Miftah Ismail's budget speech in the National Assembly, she said, 'Don't touch me.' What is there to touch?"
One does not need to be a learned scholar to identify the acute disregard for the integrity of a woman's body in Abid Sher Ali's remarks.
Those Who Don't Respect Women are Unfit to Lead
Following public uproar, the Government of Punjab was forced to issue a statement condemning its law-makers for their callous statements. However, the condemnation was quickly followed-up by an apologist justification that blamed PTI for introducing sexism in Pakistani politics.
Truth be told, misogyny has always been a part of mainstream politics in our country. The only thing that has changed is the level of awareness that average urban citizens have vis-a-vis women and their rights.
Read: Pakistanis Demand Action After The Video Of PML-N Senator Goes Viral
At this point, thus, irrespective of political loyalties, Pakistanis need to stand united against those who continue to belittle women with their bovine words and demand unconditional apologies from the perpetrators. Respecting women is a cause that is far superior than any political agenda and so, those who refuse to learn should be shunned by one and all – unconditionally.
Respecting a woman should not be dependent on our political affiliation because respect for women is not about politics. It is about basic human decency and if someone does not possess this attribute, s/he is simply not fit to lead Pakistan.