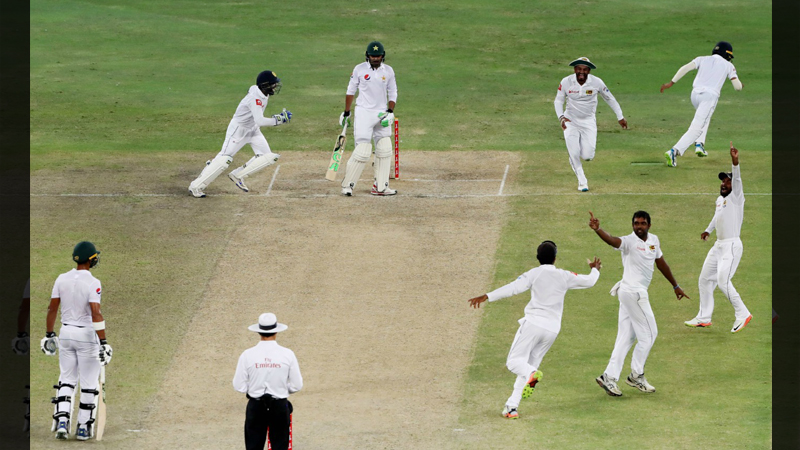 Despite the Misbah Younis retirement experts believed that Pakistan would be able to do well against an unsettled Sri Lankan side. However, not only did the boys in green struggle against an inexperienced Sri Lankan team in UAE but the series also ended up in spoiling whatever plans they had post Misbah-Younis era.
Here is a look at how the Islanders exposed the green shirts and why they have a lot of work to do before the next Test series.
3. An Inconsistent Bowling Unit
Pakistani bowlers were twice exposed when they gave away over 400 runs in the series but then they also performed brilliantly twice to dismiss Sri Lankans with in a handful of runs. Other than Amir all bowlers were able to pick up a few wickets still, the inconsistency of the bowling unit was such that it will remain a worry for Pakistan's think tank particularly, when they play a better opponent in the months to come.
2. A Feeble Batting Line up
Openers Sami Aslam and Shan Masood failed to impress again. Asad Shafique and Harris Sohail play well down the order but both middle-order batsmen could not deliver when they were asked to bat at the all important number four position. For Babar Azam it was another Test series where he had failed to make use of his limited over's form.
Also Read: 3 Pakistani Cricketers Who Are Under Pressure to Perform Their Best This Time
Pakistan might have thought they have covered all bases before the series but for now it seems they have little idea about how they can make up for the absence of Misbah and Younis. Moreover, they also need to find a permanent batting position for Azhar Ali, Asad Shafique, Harris Sohail and Babar Azam to feel comfortable again.
1. A Team that Lacks Balance
Now because Pakistan's top 6 are both unsettled and not performing consistently there is no way the men in green can afford to play an all-rounder which they desperately need to do before they lose Yasir Shah because of an unwanted injury that is likely to happen if they keep over-using him.
With an unsettled batting order, with a bowling line up that is unpredictable and with a playing eleven that lacks balance Pakistan has been exposed by a weak Sri Lankan side owing to which they now have more than one issue to take care of when they meet England next year.
Also Read: Here's How Yesterday's Abu Dhabi Test was Historical!