A Twitter account has appeared out of nowhere in the name of Samantha A. Gerry, expressing her wish to visit Pakistan in the very first tweet and if that's not weird enough, the tweeter has been busted by Karachi Khatmal aka Ahmer Naqvi within 36 hours of sending out this fishy tweet. 😂
Read: 10 Celebrity Tweets That You Probably Missed This Week!
When I told my parents I am visiting Pakistan, they asked if I was going to join Al-Qaeda. OMG the ignorance in America!

How do I convince my friends/family Pakistan is a lovely friendly place? 🙁

— Samantha A. Gerry (@SamanthaAGerry1) January 21, 2019
Who in their right mind starts with a tweet so random? 😂 Well, the answer is, "FAKE ACCOUNT!"; at least that is what Pakistanis are saying after Karachi Khatmal has successfully exposed the foreigner who seems way too much interested in promoting the soft image of Pakistan.
Read: PSL 4 Anthem Is Out & Pakistanis Are Having A Meltdown!
See for yourself the discrepancies in the information shared by Samantha A. Gerry as highlighted by Ahmer Naqvi!
Hey @SamanthaAGerry1 the website where you got/also shared the picture of your family from seems to identify you as Catilyn?

(h/t @Eustacebaaaang for noticing the stock image nature of this) pic.twitter.com/4FmAZCnyWo

— Ahmer Naqvi (@karachikhatmal) January 21, 2019
Turns out whoever decided to go online as Samantha A. Gerry didn't do in-depth research and ended up using stock photos that have already appeared on different sites with different names. The revelation has left many in splits! 😂
Since then the tweet has also gone viral and Pakistanis are having a good laugh about it. 😂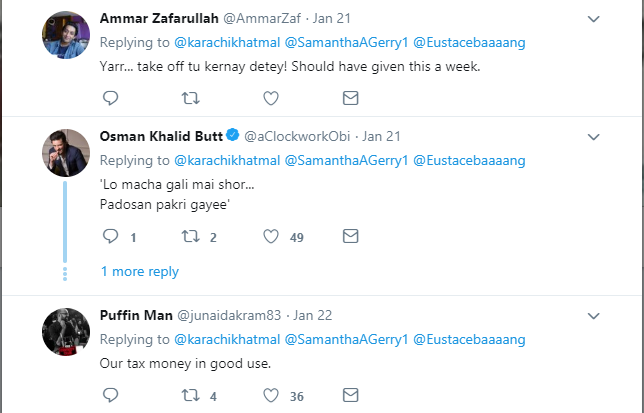 However, it has gotten even better with this thread curated by Khushal, another big name on Pakistani twitter, that has many website links using the same picture as Samantha A. Gerry uses for her Twitter profile.
LMFAO – Her display picture identifies her as Joan on this page at the bottom: https://t.co/Qvt6FpuPf4, She is on cover photo on https://t.co/ACJxhcqG20 and identifies as Alexa Stedman in this story https://t.co/d1bj3zrri2

To be continued…

— Khushal (@Khushal) January 21, 2019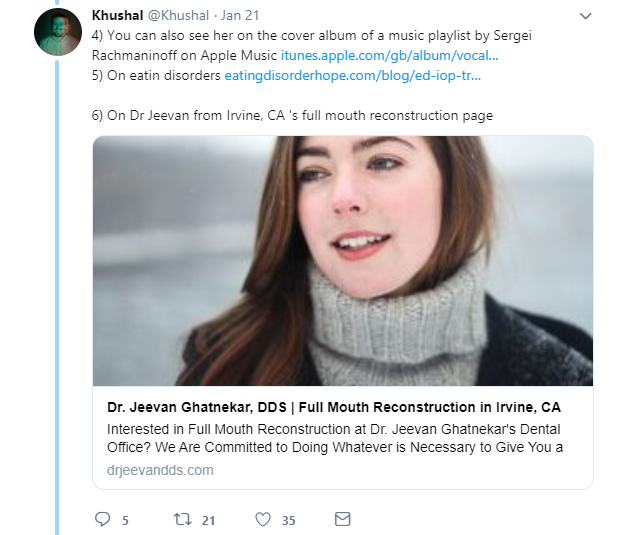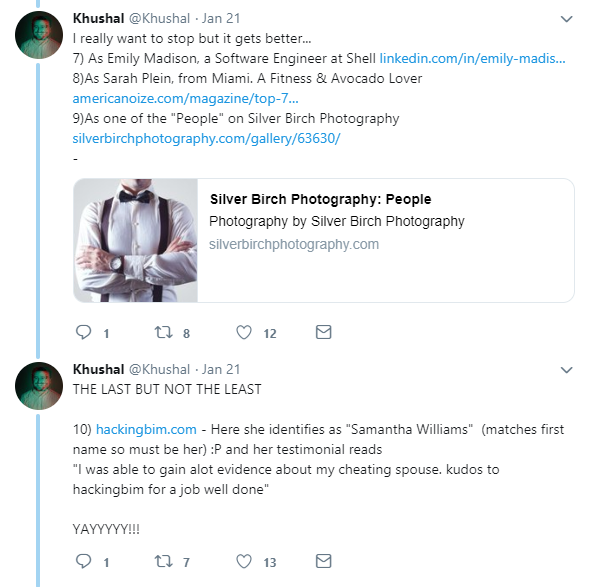 While any sane person would erase their existence off the internet altogether if they get busted so bad, looks like Samantha A. Gerry is too desperate to make Pakistanis believe that she is another angrez who wants to show the world the real Pakistan. 😂
Read: These 8 Hilarious Reactions To #10YearChallenge Will Crack You Up!
This is why the fake account has decided to entertain us even more by sending out this tweet to Karachi Khatmal. 😂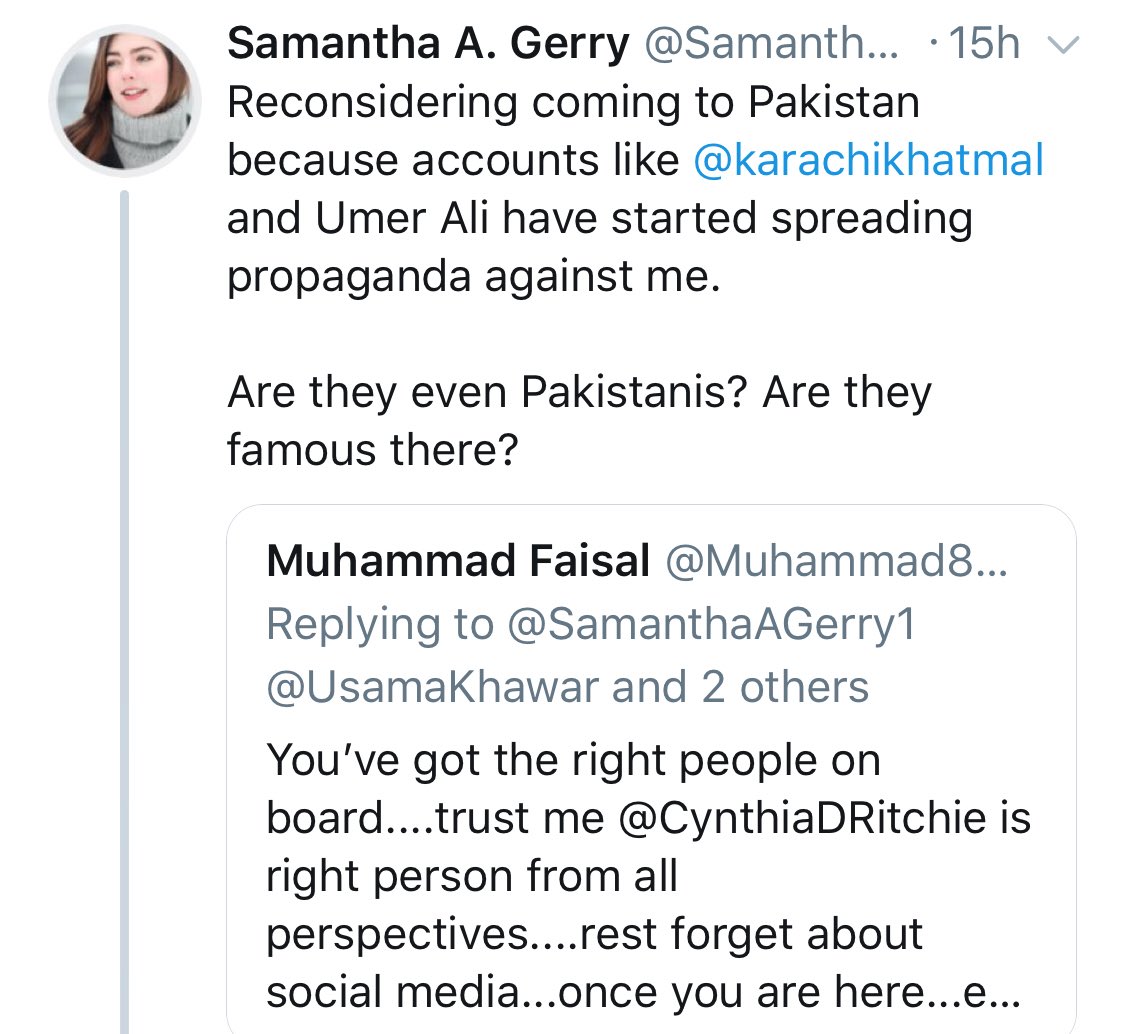 Oh, the irony!!! Golddddd! 😂😂😂
She has a sloppy explanation as well! 😂😂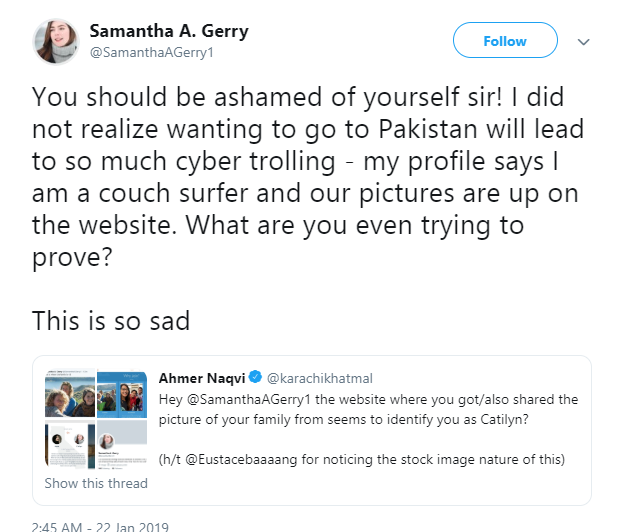 The audacity has definitely added to the hilarity of the situation and more big names are chipping in to get their dose of epic. 😂
Osman Khalid Butt kicking the fake account's b**t! 😂😂😂
Hello Pakistan, I am your white savior Seymour Butz, will be visiting your country soon to take on The White Man's Burden – what am I hearing about most of you lot hating your country, that's proper naughty.
Say no to the hate, let's all ride unicycles in Darra Adam Khel! pic.twitter.com/UiKdRGJZTJ

— Osman Khalid Butt (@aClockworkObi) January 22, 2019
Guys, this is most probably a fake account. The profile picture is a stock image taken from here: https://t.co/7Yvl9Z4Dix https://t.co/gbtPD2KR9g

— Umer Ali (@IamUmer1) January 21, 2019
And she is replying to each and every tweet! Whyyyyy!!! 😂😂😂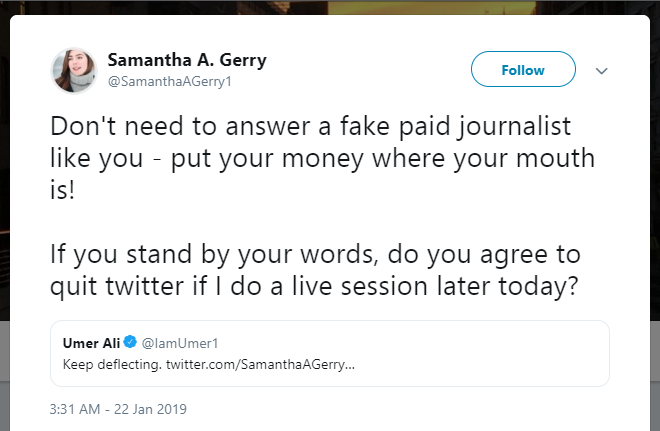 Needless to say, Samantha A. Gerry is a treasure that keeps on giving! 😂😂😂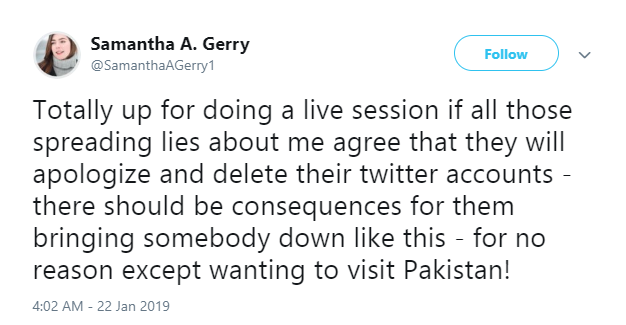 And Pakistanis are loving it! 😂😂
https://twitter.com/ahidamzair/status/1087645158802374657
Samantha Gerry created a new twitter account just for her trip to Pakistan and this is how you native savages repay her?

— Abnoxiuos (@Abnoxiuos) January 22, 2019
Even the one who Samantha A. Gerry said inspired her, is not falling for it! Whattay fail man, whattay fail!!!😂😂
#جا_ماموں_کام_کر_اپنا#JaMamooKaamKrApna https://t.co/Wcjb8aSnEr

— Cynthia D. Ritchie (@CynthiaDRitchie) January 22, 2019
As Pakistanis continue to guess whose work of art Samantha A. Gerry is, we hope that next time they do their home-VIRK right before drawing any such plot or else they will end up becoming the joke of the century! 😂😂😂
Read: My Mother Was At The NED Convocation & Here's How She Felt About Ashraf Habibullah's Viral Speech!